Boarding Testimonials
Want to see more comments?
Click here.
---
We were extremely happy leaving our puppy with Tucker Pup's! Everyone there was so nice, friendly, and seemed to really like our puppy. It was our first time leaving him with Tucker Pup's so I emailed to see how he was doing. I got a great response within 30 minutes letting me know how his stay was going. We also really loved seeing the picture that they emailed us. We will definitely be bringing him back.
- Janel Golden
---
We had Penny Lane stay at Tucker Pup's over the Thanksgiving holiday, and although we were very hesitant to leave her, while we traveled home to Denver, she was in great hands. I appreciate all of the phone calls I received back when I called to check on Penny - even on Thanksgiving Day! Thank you so much for all of the photos of Penny as well - they made me feel at ease.
Thank you to all of the wonderful staff - they are fantastic!
- Erin Carroll
---
We left our elderly dog (on phenobarbital ) with you for four nights. She came home happy!!! That is all we can ask.
- Josie Lutz
---
This is the first time we've boarded our dog. We were nervous but I really felt your screening was thorough which was reassuring that you were serious about his safety and satisfaction. We increased our reservation from 5 to 9 days confident he would have fun and your prices are more than fair especially for a big dog. Sadly he was a stinker and wouldn't eat while he was there. Chris called us and troubleshot options. I was so embarrassed my big beast was being such a baby, but I was never worried. Chris went above and beyond to give him TLC and earn his trust. Chris and the rest of the staff eased his nerves with personal attention beyond what I ever expected. They spoiled him more than grandma does (she can no longer keep up with him).
Please thank all of his care givers! I loved the photos and reports of his activities. I have already told his doggy friends and my coworkers about your amazing care.
- Kimberly Leslie
---
Stanley is always happy and excited just driving up in front of Tucker Pup's. He always seems very happy.
- Bernie and Barbara Padilla
---
Everyone at Tucker Pups is great. I finally found a place for my dogs that I feel comfortable with. Thank you.!!!!
- Toni Fox
---
It was so nice to be able to leave on vacation and have the peace of mind that Olive was in such good hands. Your facility is great. It's so nice that the dogs have so much space to run and play together. When Olive got home she was really tired and slept all night. Thank you so much for taking such good care of her for me.
-Theresa DiCesare
---
Jack always looks great - love the grooming and boarding at Tucker Pup's!
- Paul Styrna
---
I am very pleased with our experience at Tuckers Pup's. Papers did indeed come home tired but we were expecting this. Every staff member I encountered gave me detailed information on what to expect as well as feedback on Papers' experience. This of course went a long way in reassuring me since it was Papers' first experience boarding. Everyone seemed very patient with her since she was a little nervous meeting new people. In fact, because of her positive experience there, we plan to join playgroups on a regular basis to help Papers socialize positively. I especially appreciated Stephen's comments as did Papers appreciate his kind, assured attention. Thanks to all at Tucker Pup's, and see you soon.
- Madeline Silva
---
Comet seems very happy and seems less stressed out then where we have placed him in the past.
- Amy Telpner
---
This was my first boarding experience with Finn at Tucker Pup's and I was extremely pleased and pleasantly surprised with the amount of communication and understanding the employees at Tucker Pup's exhibited. Finn is a sensitive dog, he has high anxiety and a lot of energy. I got consistent, unprompted updates by the staff including some pictures! Additionally, the staff was patient with Finn and gave him the chance to get comfortable with group play. Because of that I'll now be enrolling Finn into the daycare program as well. Thank you!
- Laura Brist
---
Very informative to prepare dog owners. Great pre-checkin system. Organized and friendly staff. Helpful with making me feel my dogs were in good hands. Welcomed phone calls for updates and sent photos. It seems to be a good team. I would recommend to friends and family.
- Leeann Foley
---
Excellent experience. Harley was so happy when we picked him up. He obviously had a great time judging by how tired he was.
Thanks,
- Kelsey, Nick and Harley
---
Tori just came home from her boarding and bath. She is squeaky clean and looking extra adorable!! She seems like she had so much fun with the other dogs. Thanks for taking care of her!!!
- Jacob Johnston and Sarah Day
---
We loved that your staff took the time to give us details on how Millie's stay was.
- Bridget Kulla
---
Both of my boarding experiences with Tucker Pup's have been wonderful. I love hearing from the staff about how much they love my two dogs. Thank you for taking great care of them! These are my kids!
Thank you,
- Betsy Laborde
---
It's clear to me that customer service is a top priority at Tucker Pup's, which is why I continue to drive a long distance to bring Mollie to you, even though there are many boarding facilities much closer to my home. The staff members are always cheerful and attentive. They obviously pay close attention to each dog -- I can get answers to specific questions (such as "did she poop today" so I know when I take her home if I'll need to walk her again or not). Everything about my experience with Tucker Pups communicates that you love dogs, you love making dogs happy, and you love making dog owners happy. Thank you for another wonderful boarding experience for Mollie!
- Nancy Hall
---
Always great. Thanks for everything!
- Timothy Fotsch
---
Chestnut enjoyed his stay at Tucker Pup's. It was our first experience and he seemed fine when we picked him up. He was extremely tired and didn't really return to his normal self until late Monday. Which according to your notes, was normal. We will be looking into doggie day play as well in the future.
- Miriam Moore
---
Scout is a newcomer to Chicago and Tucker Pup's. She is a rescue pup and is a bit anxious in new situations; however, she has always spent time in daycare which I think has helped her adjust to TP. Tucker Pup's made her feel very comfortable from the beginning. The staff was aware of her circumstances and always took time to talk to us about her experience each day. When we arrived yesterday, her fourth visit, she was very excited to see where she was and excitedly exited the car.
She also had her first boarding with a one-night stay last night and had a great experience. As a result of her daycare visits and her overnight stay, we purchased a 20-day pass for her knowing that that would be the first of many!
- Denise Bouquet
---
Our dog Riley absolutely loves Tucker Pup's. She gets super excited when we drop her off, and always comes back happy, perky, and healthy. She displays a healthy appetite when she arrives at home. Other customers have told us that she gets along well with their dogs during playtime, and that they seem to have a great play environment there with a watchful, attentive staff. We trust Tucker Pup's to not only ensure the well-being of our dog while we are away, but to create a home-away-from-home environment where she feels comfortable and loved. We recommend them to everyone with a dog who wants to make sure their pup's emotional needs are attended to as well as their physical health.
Thanks, you guys!
- Nina Wilson and Brent Stephens
---
I am always very happy with the way Ben is received and the way he is returned to me. Your facility allows me to get away without worrying about Ben one bit.
Thank you,
- Kathleen Tonelli
---
Staff was excellent/very kind and happy to assuage a mom's guilt when I called to check on her!
- Beth Duncan
---
Gibson has a great time at Tucker Pup's. I can leave him there and have the piece of mind that he is well cared for by the friendly staff.
- Louis Gomez
---
Margot came home and immediately crashed on the couch. Needless go say, she must have had a lot of fun. Not only were you guys accommodating on such a busy holiday, but you always put the needs of the dog first which is super comforting as this is the first time she was boarded.
Thanks!!
- Kate Bush
Want to see more comments?
Click here.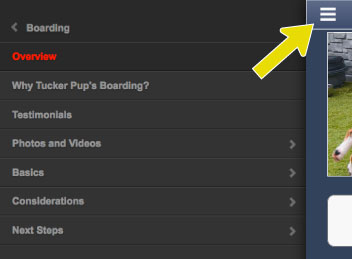 Click on the menu icon at the top of the page to reveal much more information about our boarding services.