Daycare Testimonials
Want to see more comments?
Click here.
---
Zoe can be an anxious/shy dog who isnt really into "playing" with other dogs - though she likes to be around them. She always enjoys going and even knows the code word - play date. I always receive feedback when I ask and she seems to be very well behaved and loved by staff.
- Sheila Noonan
---
Our dog loves playing with other dogs so he loves coming to Tucker Pup's. He pretty much drags me through the door and when I come get him he's happy and worn out from playing all day. The staff is great too, even though I'm a newer customer they know my dog by name and seem to genuinely care about him. I would recommend Tucker Pup's to anyone, it is a great place and a great value.
- Nikki Heilskov
---
Gigi loves his time at Tucker Pup's! Staff is always incredibly sweet, accommodating with last minute Saturday drops off and always great with G!
- Caterina Mazzotta
---
I am SUCH a big fan, I recommend you to anyone who will listen. I actually just told my sister's friend Jenny about you, so she may be calling. She has a puggle, too.
Thanks for taking such good care of my best girl!
- Katherine Geraghty
---
Sue the Frenchie is always so excited to see your staff every time I bring her in for day care. They all know what a little princess alpha dog she is and they love her for it. I couldn't be happier with you guys. She enjoys being outside in the space you have--always attacking the hose and getting wet, all at the same time telling all the dogs what to do!!! We will be long term clients!!
- Marcella McGuinn
---
We take our high energy lab Cooper for day care once a week, and recently we took him for boarding, it was his first time being away from us, and I think he didn't even miss us!
Thanks Tucker Pup's for taking great care of Cooper! He comes home happy and tired every time! :)
- Lorena Zalles
---
We absolutely love Tucker Pup's! Emily knows the day, and always gets so excited!!
- Rebecca Sandstrom
---
Chicory has an awesome time at daycare. We are so happy that she has a safe, fun environment to get all of her pent up energy out! Thank you!
- William Ferguson
---
Duke was so excited to come home (he's just excited to go anywhere and do anything). Once we got home, he passed out for quite a while so he must have played hard and had a great time! Thanks for everything!
- Catherine Keefner
---
Great staff. Great attention to details and follow up.
- Cara Wallace
---
So glad I was recommended to Tucker Pup's for my dogs daycare and boarding. I took my Black Labrador puppy in for his first day of daycare and the staff could not have been more friendly. I felt at ease that he was in good hands and they even encouraged me to call later in the day to check up on him. When I picked him up, my pup was in great spirits! I actually wish he was a little more tired out, but that will come with age! :-)
- Sean Costello and Ioana Popescu
---
On days I am not able to leave the office and walk my dogs, I want them to play and exercise....to exhaustion. Since my dogs will eat and go straight to their beds when we get home after a day visit to Tucker Pup's, I think they are getting a good workout. I'm very pleased. The email process of making a reservation has worked well for me. I receive a confirmation typically by the end of the day, if not, in the morning. The staff is courteous and attentive, which makes it nice when I drop off my dogs in the mornings. The staff also seems to enjoy their work which instills confidence when I leave my pets.
- Patricia Dortch
---
Love, love, love everything you guys do! Kane is always so happy. Thank you so much we appreciate everything you guys do for Kane and every other dog that is brought In.
=)
- Amy Spreng
---
I was in Chicago for a weekend. Alexia seemed very happy and relaxed after going to Tucker Pup's daycare. She's a little dog, a Chihuahua mix. She seemed very happy to return the next day. I found the staff very helpful and polite. The first day free policy is very generous. When/if I return to Chicago, I'll go back to Tucker Pup's.
- Caroline Brown
---
Patty absolutely loves going to Tucker Pup's for daycare! We have loved everything (boarding, daycare, grooming) about Tucker Pup's since we started taking Patty here since she was a puppy. She is now 5 1/2! From the minute we pull up, Patty knows exactly where she is at and doesn't even look back. She comes home exhausted every time which the best part since Patty is full of energy and life. The staff is always helpful, friendly and gives insight to Patty's day. Thank you to all at Tucker Pup's for always taking such great care of us and most importantly Patty.
- Lisa Osika
---
I just wanted to let you know that Tucker Pup's provides excellent service to both Carlo and to us. When we bring Carlo in, he is already excited BEFORE he gets out of the car. When we come in, he is wiggling to go play... he knows where to go, he goes in without looking back and he IS wiped out at pick-up time. That says alot to us. I am always concerned that he does well and behaves himself, but I always get good feedback. When I say 'Carlo,' your staff always says good things about him.
Your attention to customer service is excellent... So when asked about grooming, daycare and overnite boarding, please know that Ruben and I DO refer people to Tucker Pup's.
Regards,
- Theresa and Ruben Cantu
---
I am very happy with the staff and services. It is very nice to know that someone is attentive to your pet and is capable of giving specific info relating to your pet's daily activities.
- Octavio and Hanna Zavala
---
Tucker Pup's team has been fantastic - very professional and friendly.
- Dave Neiswander
---
Yates and I wanted to tell you how pleased we are with Tucker Pup's. We are especially grateful to a girl who went above and beyond for us on Sunday morning. I thought that daycare opened at 7am, but when we got there, I realized that was not the case. The girl working that morning heard Yates barking outside, and came out and saw that I was rushing to get to work. She let Yates in early and everything was fine. Please thank her again for me.
Sincerely,
- Erik Haney
---
We feel very comfortable leaving our dog, Penny, at Tucker Pups. We feel that she's safe, well cared for and has a fun time.
- Jeff Eckerling
---
I wanted to say thank you to the staff for taking such great care of my English bulldog, Karl. He has some behavioral special needs that the staff is aware of and I'm always so grateful that he is accommodated and kept happy. I'm a regular customer for daycare as well and he loves it. So, thank you.
- Manny Fernandez
---
The staff at Tucker Pup's goes above and beyond. They are pleasant and professional, genuine and caring.
- Abigail Savage
---
Amazing service. Our big guy absolutely LOVES coming to Tucker Pup's. And without fail, he is thoroughly pooped the rest of the day every time we put him in daycare. Every staff member is great to work with. We can tell how much they care about people's dogs which is very important to us. We trust Tucker Pup's 100% and we have never had any issues. Great service, great people. Thanks so much Tucker Pup's, we don't know what we would do without you!!!!!!
- Sophia Tamvakis
---
Joel and staff-
Again and again we are "wowed" by the Tucker Pup's staff. We are so lucky to have found you!! Our Olivia has been going through a rough time (hopefully has passed) where she has been very out of routine. We have officially moved to our new apartment and we haven't seen her this calm, happy and smiling in a long time. She has had a few incidents during her rough time and I need to call out four people who have made this process so easy, comforting and tranquil. Rachel, Chris, Lily and Alexis have gone out of their way to work with Olivia. Rachel spoke with us many times to keep us completely in the loop about everything, Chris greets us at the door each time with a detailed report and Alexis/Lily would/does call and gives us updates to put us at ease. I know there are many more who have helped in the process I just don't know their names. We could not be happier with Tucker Pups and I rave about you wherever I go. Thank you, thank you, thank you for everything you do. You have no idea how good we feel leaving our two pride and joys with you guys.
Thank you for being the best!
- Kate DeForge
---
My dog Max (Min Pin) is a very shy and skittish dog. We have tried another day care and he would always be petrified when we would drop him off and pick him back up. After a few times at Tucker Pup's he is not scared when we drop him off or pick him up. He has even become better around other dogs and people when we take him to the dog park since coming to day camp. Any time I have questions about how he's doing the staff is always able to give me a detailed description of how his day went and was even able to show me a picture of him one time. I am very grateful for your friendly staff and great facility. It has made us much more comfortable leaving Max for the day and not feeling like we have to rush to pick him up because we know he is in good hands.
- Heather Bunting
Want to see more comments?
Click here.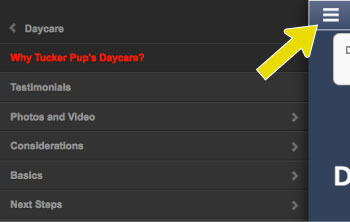 Click on the menu icon at the top of the page to reveal much more information about our daycare services.