Grooming Requirements
Appointments only.
Our grooming services are by appointment only. You can call us at 312-829-TPUP (8787) or make an
online request.
Proof of vaccinations
We must have documentation at all times that all required vaccinations are current. We'll remind you when they're due, and you can fax them to us at (312) 276-8588 or bring them in.
Required vaccinations:
Rabies (if more than 7 months old)
Distemper and Parvo (typically combined in a vaccination called DHLPP or something similar)
Bordatella (aka canine cough or kennel cough)
Canine Influenza (the strain called "H3N2" at a minimum, although we recommend combining the vaccination with the strain called "H3N8" for full protection)
You may substitute proof of titers over vaccinations if your vet believes titers are sufficient.
We may be able to waive certain vaccinations if your veterinarian supplies a written letter stating the medical reasons.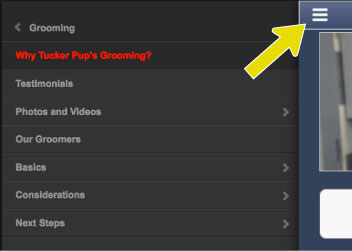 Click on the menu icon at the top of the page to reveal much more information about our grooming services.