Grooming Testimonials
Want to see more comments?
Click here.
---
I love it that my dog came out very happy. You guys did a great job. Love that you're open on Sundays.
- Wanda Baez
---
My kids typically come on Fridays for daycare and then occasionally for a bath and/or full grooming. Last week a groomer was out sick and they had to move or cancel the baths. I was happy that I got a call in advance and that we could work out the best of both worlds in that they got to play for an hour or two before their new bath time. The staff at TP's was wonderful and I'm always happy to bring my kids in.
Great service! Keep it up!
- Alexis Webb
---
Kelly did a great job on Spots. She listened to what I wanted done and took very good care of him. I can see his eyes again! He looks perfect. He will be back for his next grooming and he'll see Kelly.
- Carmella Tomaso
---
The groomer did a great job! Not only was it really fast (maybe an hour) but my pooch looks amazing and she was very sweet and attentive when I mentioned a cracked nail to her. Definitely will be back!
- Emily Vandenbroucke
---
Staff is always kind and friendly. They remember my dog by name tho I only really come there for grooming. Their way if interacting and bonding with the dogs there is heartwarming and allows you to feel confident leaving your best furry friend behind. Thanks for all your services and kindness to my pup Charlee.
- Jovan Kalahiki
---
Another great groom! We posted the cutie pic of Rockie on Facebook a few minutes ago.
Thanks!
- Ann Hufford
---
We are very happy with Lovey's grooming. She looked so cute!!! I loved that the groomer was able to leave her hair long, even with all of her knots.
Thanks,
- Peggy Feldmann
---
I am very pleased with our first grooming experience at Tucker Pup's. Wolfgang looks and smells so great and I can tell he feels better too now that he's been groomed. Everyone at Tucker Pup's was very friendly and warm to Wolfgang, which I'm sure calmed any nerves he had about being there.
Thanks so much!
- Amy Peters
---
Very professional. Prompt. Kind to dogs. Overall grrrreat!!!
- Toni Fox
---
Another great experience! My two year old rescue (that I love to pieces) is a super nervous, occasionally aggressive and an overall handful of a furball. In addition to that she has a mix of course and fine hair that can be a bit wild. Joanna is amazing... she's so kind, calm and reassuring that my dog has a great time. She comes out looking adorable and the bows are just so cute.
HIGHLY recommend for grooming (and likely all services, I've just only used the grooming section)! PLUS they allow you to pick up your dog after the grooming, so they are only there for an hour instead of all day.. like most places. Also, go online... they have a coupon for 50% off your first visit.
- Christina Bradley
---
My main concern was shedding and after the previous grooming three months ago, Mocha didn't shed for 4 weeks, which was good for me. We continue brushing. Now after the grooming yesterday there is no shedding at all, I hope she will stay this way for more than the 4 weeks but if it is even 4 weeks that will be ok. Everyone in the place is friendly and dog lover which gives me a good feeling about the place.
Thanks,
- Kamal Ibrahim
---
The groomer Kelly, and front desk workers were all very nice and easy to talk to. I was thankful that just minutes after getting off the phone and being told that there were no openings today or tomorrow, I was given a call back and offered a spot that had just opened. There's no reason for me to bring Sirius anywhere else!
- Lindy Cashdollar
---
Tina did an awesome job grooming our puppy, Oliver! Seriously the best grooming we've had for him yet.
It was his first visit to Tucker Pup's and only his second trip to a groomer, ever. He looks awesome and we could tell he felt comfortable at Tucker Pup's. Tina called us to let us know she was running behind schedule because she had been playing with Oliver-- we really appreciated that because not only were we able to plan our arrival to pick up Oliver perfectly, we knew that she was going above and beyond in caring for our little guy and making him feel at home. She also talked to us afterwards to go over what we liked/didn't like about how she cut him, so she could take notes for next time. We had nothing but great things to say, and will definitely be back.
On a related note, multiple people stopped us on the way back to our apartment and asked where we got the grooming done because he looked awesome.
- Brett Schroeder and Jana Kovich
---
Let me start by saying what brought me into your place of business was the fact that my dog would not at the groomer's all day. My appointment was scheduled for 8:30am with Tina and as soon as we meet her I felt comfortable, she showed care for my dog Bubblez who was so nervous. I just want to thank Tina for her service and I look forward to bringing my dog to your facility again where I know she will be cared for.
Thank you for having a great place to bring my baby to.
- Denise Martinez
---
Chevy looks wonderful. He has received compliments from everyone who sees him.
- Dolores Dowdle
---
Great job, really helpful and prompt service at the desk as well.
Thanks again!
- Abby Agliam
---
Zoe's cut looks great. I am really happy with the quality of the grooming. She looks so cute!
- Colleen Nelson
---
Very energetic staff that seemed to generally care for my 3 dogs. I was extremely pleased with the service and attention.
- Jason Conway
---
We brought in our dog, Bernie, for the first time and the groomer, Joanna, gave him an excellent haircut! Everybody we spoke with was very polite and friendly.
- Garrett Pinzur
---
Joanna did a wonderful job grooming Spots. I'm very pleased with his "summer" cut. I'm also happy that Tucker Pup's has Sunday grooming. It's very convenient for me. I highly recommend Tucker Pup's for grooming. The staff is very nice and very friendly so we're going to try out daycare this week. I think Spots will have a good time.
- Carmella Tomaso
---
I enjoyed everything about Tucker Pup's!! The people were AWESOME and the service was great!! I really appreciate you all going the extra mile and having a true concern for the pets.
Polo had a slight ear infection and the groomer noticed it. The front desk gave me a referral to a very nice clinic up the street and sure enough there was an infection. Needless to say I was grateful to know and was able to catch it in time due to the expertise of your staff. I will truly refer as many as I know to TUCKER PUP'S!!!
Thanks for all of your hard work and dedication!
- Joyce Jackson-Ablakwa
---
Kelly does a great job! Always explains everything and asks the appropriate questions. Everyone in the outer office is very nice and efficient.
- Gail Helms
---
Sherlock was very clean and soft after his bath even with some playtime included. Asked for the grooming on short notice but the staff were happy to accommodate us.
Love the bandanna that was attached to his collar and would definitely use the service again.
- Christo Coetzer
---
Marley got an adorable haircut. And your price is almost 1/2 what I've paid elsewhere. Very satisfied.
- Hetty Chang
---
The bath and cut that Murphy received from the groomer at Tucker Pup's was great. She took just just the right amount off so he looks trimmed, but still has enough hair to keep him warm for the winter. The part I like best is I can send him to daycare and have his grooming done that same day. It's very convenient for me!
- Julie McSweeney
Want to see more comments?
Click here.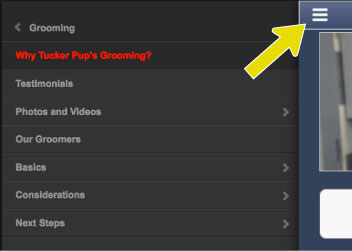 Click on the menu icon at the top of the page to reveal much more information about our grooming services.