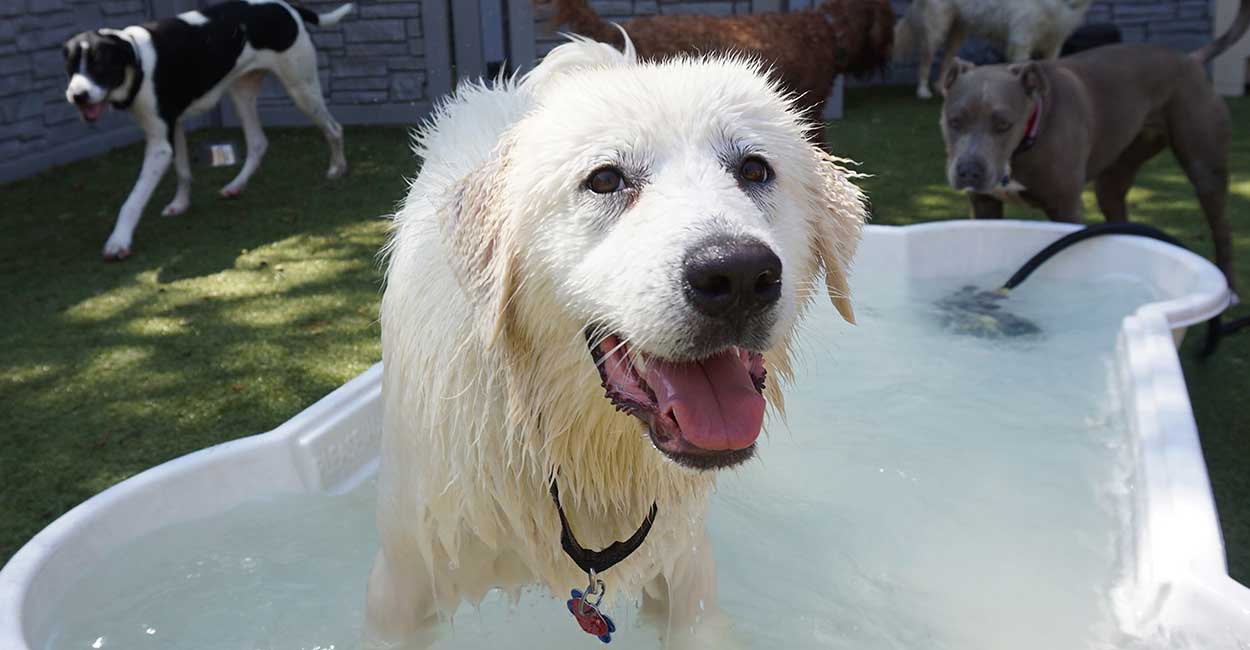 Coronavirus Update
Tucker Pup's is considered an "essential service," will remain open during the Illinois coronavirus shutdown, and many dogs are still coming here on a daily basis.
We are a vital part of peoples' lives, including regularly providing daycare and boarding for emergency response personnel and people in other essential jobs.
We have adjusted our process in order to minimize contact and risk. This primarily involves "curbside checkin," where you come to our side door and stay outside until we bring your dog to you. See details below.
We want to make life as easy for you as possible during these difficult times. Sometimes that's as simple as taking your dog off your hands for the day, or even multiple days, while you focus on your personal life. Even though you may not choose to fly, you may need to go visit family. Boarding can still be a very useful option for you in this scenario, if you want to stay focused and give your dog a fun experience.
We also want to help your dog continue living a normal, happy life. They have done nothing to deserve anything less. We want to give them safe shelter and an outlet for play, help them stay well-groomed, and help shape and improve their behaviors through our training program. There is no reason those things can't continue, albeit with some minor adjustments.
Can dogs get or pass coronavirus?
According to the Center for Disease Control (CDC):
"The CDC has not received any reports of pets or other animals becoming sick with COVID-19 (coronavirus)."
"In the United States, there is no evidence to suggest that any animals, including pets, livestock, or wildlife, might be a source of COVID-19 infection at this time. However, it is a good idea to wash your hands after handling any animal."
Tucker Pup's bears no liability or responsibility if your dog shows signs of sickness linked to the coronavirus. If your dog is coughing or sneezing, that may be due to canine cough - talk with your veterinarian if this is the case.
Operational adjustments
We have instituted the following adjustments immediately, to help manage risks to you and our staff.
Some of these changes are due to having a reduced staff, in addition to minimizing how many items our staff handle that come here from peoples' homes.
Tucker Pup's bears no responsibility or liability if you contract coronavirus and believe it may have come from here. We are taking extra precautions and managing the risks as well as can be expected. It is impossible to know where and when it was contracted, and there are factors that must be considered such as a person's age and immune system.
General
All customers must come to the side entrance for any of our services.

We will have staff waiting there, and will be working to keep any line moving as quickly as possible.
The front door will remain locked
Stay 6-8 feet apart from other customers while in line. We will likely have cones spaced out properly in order to help achieve this distance
PLEASE make sure your dog's collar is tight enough for him to not slip out.
We will let one customer at at a time into our side entrance, and pass off your dog while the door is closed.
You assume all responsibility for your dog's actions and safety while in line and during the handoff.

We will e-mail you an invoice and ask that you pay online in a timely manner, or will verbally ask for your card number. Unless you have a daycare package with at least one more day remaining, please pay online before you leave, even while you are standing in line. Payment is very quick and doesn't even require logging in to our website
Please do not come to our facility if you are showing signs of the coronavirus (coughing, sneezing, fever, respiratory issues). We are giving the same instruction to our employees
Please notify us right away if you have come to our facility or been with any of our trainers, and have tested positive for the coronavirus or believe you have symptoms
If you have been ill and want to bring your dog for daycare or boarding, we may need to give him a bath as the first step. The charge for this would be reduced from our normal fees
Please wash your hands for 20 seconds with soap and water directly before and after coming here. Our staff are instructed to wash their hands regularly throughout the day
Stay 6-8 feet apart from other people, whether you are in line or even speaking to one of our staff members
We do not want to keep any belongings here when checking in for any of our services, besides the absolute essentials. We will ask you to keep your leash.
Please e-mail us vaccination updates, or have your vet fax them, instead of handing them to us in person
Please keep tissues or toilet paper in your pocket, and use it if you must sneeze or cough. Throw it away immediately
We will have a reduced receptionist staff during in the short-term. therefore, we ask the following:

Please use our "Book Now" tool as much as possible
Please use our online login tool to see your upcoming reservations for any of our services. Access the tool by clicking "Log In" at the top of our website

We are disinfecting surfaces regularly throughout the day, including door handles, keyboards, phones, floors, and much more
If you are elderly or have a weakened immune system, we suggest not coming to any facility
None of our hours are changing
Boarding
Please see the "General" section above
Please use our Online Checkin tool before you arrive, so you can drop off your dog as quickly as possible
Please arrive before noon, and walk your dog before dropping off
Please do not bring any bedding - we will supply it here
Please do not bring treats or toys - just food and medicine
Please do not bring any food containers - ideally baggies, or all of your food in one baggie for the stay. Please do not bring large bags of dog food unless staying for a very long time
Daycare
Please see the "General" section above
We have more availability than normal at the moment for daycare. If you already come here for daycare, we will likely be able to accommodate coming more frequently for now. If you are already on our wait list for daycare, we may be able to accommodate you in the short-term, but cannot guarantee the same schedule indefinitely once our volume returns to normal. Normalcy may not happen for many months. If you have not been here for daycare, and wish to start coming, please call us to discuss
If you work in emergency response in any capacity (including the healthcare system), you are guaranteed to have daycare reservations as you need them, assuming your dog has the proper temperament for daycare
Coming too often for daycare is not necessarily good for certain dogs, who may become too overwhelmed, tired, or reactive. Our staff makes the final decision about whether a dog is coming too often, and whether more break times are needed. Please be respectful of their judgment, which is always in the best interest of the dogs in our care
Please don't bring lunch for daycare
We will not be using our barcoding system for daycare dogs
Training
All training services are postponed until at least April 7, when the statewide lockdown expires. The government may push this date back, so we will be watching for their guidance
If you have signed up for a class or private lessons and need immediate help, please call your trainer for assistance over the phone
Classes

Classes are postponed until further notice
Until classes resume in person, we will be offering virtual classes, where you will participate each week through your device at home. You will view webinars without your dog, and the trainer will present important information, show videos of the exercises, plus answer questions from the participants. It would follow a similar curriculum as our classes, so you would receive the same information as you normally would. There would likely be options for participating at night, as well as during the day. The schedule would be different than what we e-mailed last night. If you miss a virtual class, you would be able to watch a replay or just participate in another one. You would still have access to TrainTrack, where you can see the homework, watch the videos, and track your progress on any Internet-connected device. We are working on this plan and will give more information as we get closer. We recognize it is not the same as an actual class, but given the circumstances, it may be the only realistic option for now. Our goal is to get back to our normal classes as soon as possible, but we don't know how many months away that would be, and we all must make adjustments until that day comes, for the sake of the dogs.

Puppy socials

Puppy socials are postponed for now

Private lessons

Private lessons are postponedfor now
Private lessons can also involve videoconferencing or simple phone calls, where the trainer can speak with you about your challenges, plus give recommendations and exercises virtually. This can be especially helpful for the first lesson in a series

Turnkey training

Turnkey training is postponed for now
Grooming
Please see the "General" section above
If you need to speak with the groomer, they will come out to you at the side entrance
We keep photos and notes from previous reservations, which can help fulfill your instructions
Retail
If you want to purchase retail products and are here for a service such as daycare or grooming, please create a request through our "Book Now" tool on our website before you arrive. We can prepare the item(s) and have a bundle waiting for you when coming to drop off or pick up your dog
We will also have photos of our retail space at the side entrance, so you can point to an item in the photo and we will go grab it for you. The online request tool mentioned above is preferred, in order to keep the line moving
We keep a history of your previous retail purchases, so you could say something like "The same bully sticks as last time"
We will send you an online invoice - please pay it in a timely manner