Staff Profile
Return to Staff Summary Page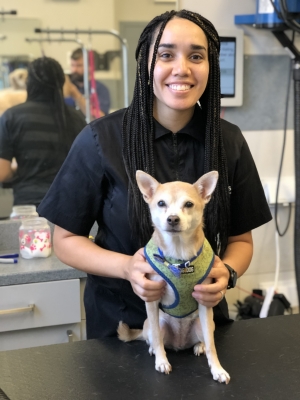 I graduated from grooming school
I have been grooming since 2010
We have four dogs at home! Two Chihuahua mixes (Taz and Peanut), which are a father daughter pair, a chi-weenie named Chuck, and a Yorkie named Bella.
I went through an apprenticeship program at my grooming academy
I love Frenchies, Pomeranians, and poodles, just to name a few!
I enjoy traveling, going to festivals and concerts, trying new cuisine, and watching movies.
One day I hope to own a grooming salon.
Playing my guitar and cooking
I received my Bachelor's Degree in Business Management at CSU-Northridge.
I moved to Chicago from Los Angeles to find a career in my field and fell into grooming. My cousin got me my first job in a grooming salon and I really enjoyed working with the dogs. I have always enjoyed various different art forms such as drawing, painting, and ceramics. To me grooming is also art form. It makes me happy to be able to transform a pup into the best version of itself.