Staff Profile
Return to Staff Summary Page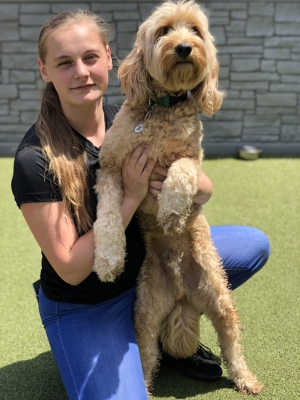 I previously worked at Pawadise in North Carolina, as a kennel assistant and a bather. When I was a kennel assistant, I cleaned kennels, gave medication, supervised play groups, assigned dogs kennels, and did all chores that were needed for the day. As a bather, I clipped dogs nails, trimmed their sanitary areas and paw pads, gave baths, blowdries, brushouts, plus painted nails when requested.
I have two dogs, Cujo and Lucy. Cujo is an American Eskimo. He loves to play fetch, is really good with his sister, Lucy, and loves to run. Lucy is a Lab mix who is the sweetest dog you can meet. She thinks she is as small as Cujo. Lucy was my first ever foster dog that I ended up adopting. She loves to cuddle, play with other dogs, and always wants attention. She is amazing with kids. She does not like to leave the side of my baby.
My favorite breeds would be Labs, doodles, and Doberman pinschers.
My favorite activities include spending time with my family, swimming, and going on walks.
I love dogs. I want to learn everything about them. In the future I plan on managing a dog facility. I want to learn everything including grooming and dog training.
Other interest include learning new recipes that are healthy and finding new places for my family to visit.
I graduated from Back of the Yards College Prep in 2018.
I have been to Jamaica and Mexico.