Staff Profile
Return to Staff Summary Page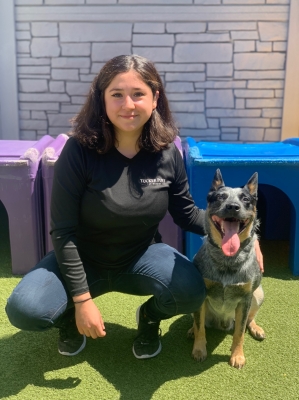 I have grown up around dogs and other animals my whole life. My first dog was a beagle named Lucy - she came into my life when I was just about two years old. Then I got my current dog, Paloma, when I was 16. I raised and trained her since she was two months old and she now lives with my parents in Texas. My relatives are also dog lovers and I have had to babysit for their pups when they go on vacation.
I live with three mini schnauzers named Marley, Roxy, and Chippie. Marley is the oldest one, about five, and she is always calm, ready for snacks, and loves playing Frisbee. Roxy and Chippie are about two years old and they are always full of energy. The love to howl and zip around the backyard chasing each other. Apart from the three dogs, I also live with a cat, my crested gecko Yoshi, my two turtles Gorgonzola and Gouda, my betta fish Lotus, and my community fish tank.
My favorite dog breed would have to be Greyhounds. I love their long athletic build - I find it very unique.
I love to ride my bike, especially through forest preserves. I also enjoy writing from time to time. In high school I helped produce a poetry magazine that also featured art work from the students in my school. I was part of the editing team and had work published within the magazine. I also enjoy going to see movies, especially at the Landmark Theatre.
Currently I am undecided on a career goal but I hope to continue working with animals in the future as well as work to solve sustainability and environmental issues.
I really enjoy taking care of reptiles. I have owned chameleons, a day gecko, and a crested gecko. I hope to adopt more reptiles in the future and attempt to build bio-active enclosures.
I am currently a student at the University of Illinois at Chicago. This will be my senior year working towards my psychology major.
I took French for four years in high school and went to France my sophomore year for about two weeks. I also speak Spanish - it was my first language.