Staff Profile
Return to Staff Summary Page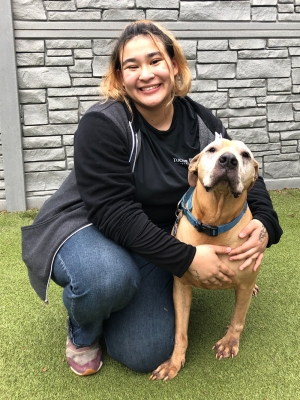 Previous to Tucker Pup's, I worked at a different doggie daycare as a dog handler. I also walk dogs and do home visits in my free time!
My childhood dog is named Ink, an eleven-year-old black lab mix. Quill was my fourteen year old Bichon Bolognese pup who recently past away. We found her on the street two years ago on Christmas day and miss her more and more each day.
I am a sucker for mutts of all kinds, but I also have a soft spot for pit bulls, greyhounds, and Chihuahuas.
Other than playing with pups, my passion is in the arts, particularly in theater! I am a stage manager and props designer for various theater companies in Chicago!
I hope to work in the arts while continuing to care for dogs. I would love to continue to work on theater productions and be involved in live music. The ultimate goal is to create my own venue that could be used as a gallery, music venue, and theater in order to give marginalized people a voice in the arts.
I love attending concerts, particularly at independent venues. I love the Chicago music scene with all my heart. In my free time, I create zines and other mixed media art, and play a lot of Animal Crossing.
I graduated from Lyons Township High School in 2016 and am currently working to receive my Associate's degree from Harold Washington College. I hope to study theater production and business at UIC next year!
I am trained in puppetry! I have created and puppeteered several puppets over the years, and I have created a short toy theater show about my dog Quill!