Staff Profile
Return to Staff Summary Page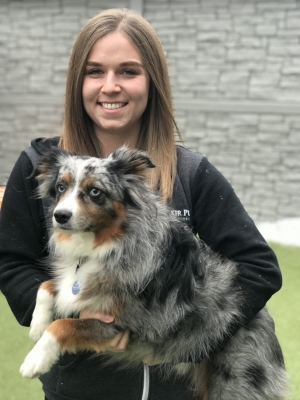 I grew up with a flat-coated retriever and later owned a border collie, Domino. I used to dog-sit for friends and go for runs through the forest with Domino. Recently, I walked dogs professionally and have experience with grooming and bathing pups.
I currently own a greater Swiss mountain dog, Atlas, who is eight years old. He loves drinking copious amounts of water and his favorite toy is a stuffed spider. I also have a golden retriever, Cache, who is ten years old and loves to swim, play fetch, and eat human food at every opportunity.
I love dogs of all breeds, but a few have a special place in my heart. These include, but are not limited to: border collies, samoyeds, Siberian huskies, French bulldogs, Cavalier King Charles spaniels, and of course, golden retrievers and greater Swiss mountain dogs.
I enjoy practicing yoga, whether it be Hot Yoga, Power Yoga, or Yoga Sculpt. In addition, I enjoy reading and writing, drawing, and playing video games.
I am currently working toward a degree in data science. Eventually, I plan to do research in the field of neuroscience, and am interested in artificial intelligence.
Writing is my favorite hobby, along with reading non-fiction and science-fiction novels. I also enjoy running and doing yoga, and am generally interested in health.
I attended Harold Washington College and graduated with an Associates in Science. My focus there was on Biological Sciences.
When I was two years old, I had a golf-ball sized lump removed from my neck, which was believed to have been contracted from a petting zoo. It was not cancer. Instead, I was diagnosed with Atypical Tuberculosis (not contagious). I survived.