Staff Profile
Return to Staff Summary Page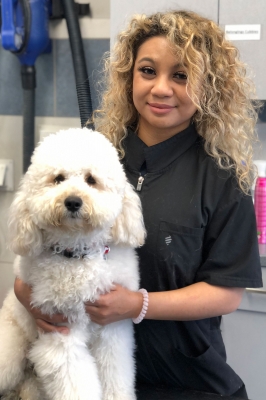 I am a Certified Pet Stylist
I started working with dogs as a dog adoption advocate and dog foster in the Los Angeles area for Ace of Hearts Rescue. After moving to Chicago, I was a dog walker for a company based in Lincoln Park.
I am the proud dog mother to three lovely dogs! I have two tiny nuggets, a Chi-yorkie mix named Rufio and a Chihuhua named Oliver. I recently adopted a sweet pit bull mix, who is lovingly known by all as (Princess) Fiona.
I love all the dogs, but I am a huge fan of complex coats (doodles, cavipoos, Bichons) and also a huge fan of Yorkies because of my baby Rufio at home.
I am also a freelance hair and makeup artist, as well as a wellness enthusiast.
To become an International Certified Master Groomer
I am an avid reader, anime enthusiast, and lover of documentaries
I was in a WIz Kahlifa music video!