Staff Profile
Return to Staff Summary Page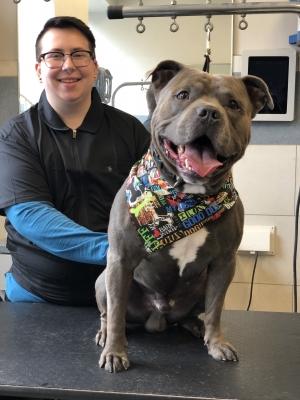 - Tofu, a pit bull / boxer mix
- Atticus, a Bernese Mountain Dog
- Daphne, a standard Schnauzer mix
- GiGi, a Chihuahua.

I also have two naked rats named Scratch and Sniff.
Pit bulls, cane corsos, and French bulldogs.
I am a stand up comedian, writer, performer and producer.
I would like to go as far as my grooming career can take me!
I am very involved in my community and dedicate a lot of time to activist work.
I graduated from The Chicago Academy for the Arts as a Theatre major.
When I was a child I lived on an ostrich farm for a short time.