Staff Profile
Return to Staff Summary Page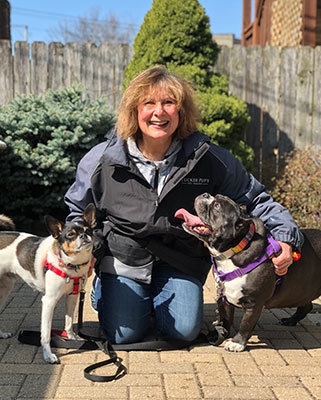 - Applied Animal Behaviorist - University of Washington

- Certified Professional Dog Trainer - Certification Council For Professional Dog Trainers

- Learning to Live with Animals - Course for Applied Behavior Analysis

Professional Memberships:
- Behavior Education Network
- Pet Professional Guild
- Animal Behavior Society
- Association of Pet Dog Trainers
- Animal Behavior College Mentor-Trainer Program
- AKC Canine Good Citizen Evaluator

Mentor for aspiring dog trainers who are studying at Animal Behavior College
After graduating from the Animal Behavior College, I worked as an apprentice at the Anti Cruelty Society for a year and then became a staff trainer. I was the Training Coordinator for The Dog Saving Network, the Enrichment-Program Creator for a local rescue organization, and most recently the lead trainer for a large pet business in Chicago.
I love animals and if I could I'd have more, however I have plenty to keep busy with my four amusing rescued animals, collectively known as the F-Troop!

- Fanny the Bulldog-Pittie mix
- Fonzie the Rat Terrier-Pug mix
- Felix and Flint, the cats
I have taken training courses in manners, plus nosework
I love all breeds (especially pit bulls), plus all types of animals. Growing up I had dogs, cats, birds, horses and an assortment of reptiles, so it was no wonder I ended up working in the animal industry
Living my dream by heading up the apprentice program in order to create a home-grown pool of positive, enthusiastic, dog trainers for the ever expanding Tucker Pup's organization!
Striving to move out of last place within my Fitbit community

Folding my socks the Marie Kondo way

Checking things off my to-do list from 1989
University of Washington, with a degree in Applied Animal Behavior
I'm a late bloomer, taking up running when I was 45 years old and completing four marathons before I was 50!