Staff Profile
Return to Staff Summary Page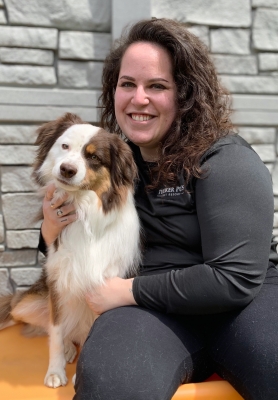 I am PetSafe certified in Canine CPR and First Aid
I've been working with dogs since I was old enough to sweep hair in my mom's dog grooming salon. Over the course of the last 20 years I have worked with dogs in Boston, Chicago, and Salt Lake City. I've worked as a bather in various salons, a kennel technician in several doggy daycares and even as a swim instructor at an indoor aquatic dog facility complete with dock diving.
I have two dogs that are made up of some of the cutest spare parts you've ever seen! The first is a two year old corgi/Chihuahua mix named Cheddar. The second is a year old Chiweenie named Spooky. He is five pounds of pure attitude but his brother keeps him in line!
Not only do I have firsthand experience, but I have logged many hours learning about animal body language, reactivity, safe handling protocols, safe grooming holds and administration of medication, just to name a few. Many of these topics are covered extensively online in the FetchFind Training Program, which I completed over the course of last year.
While I do love, adore, and appreciate a good mutt, I love working breeds. My number one would be the Australian Shepherd. Other breeds I have a fondness for are Border Collies, Bernese Mountain Dogs, English Shepherds, and Chesapeake Bay Retrievers.
When I'm not loving on dogs, I sing and play guitar and piano. I am actually the former lead singer for a band named Moon Wizard! I'm in the process now of recording my second solo album.
I've moved back home to Chicago after being out west for the last few years. It is my goal to further advance my career in the pet industry, where I feel most at home! Chicago is a dog city with so many leadership opportunities and I intend to rise to the occasion!
I am a huge movie and TV buff. I also know a little bit about a lot of things. As a result my friends won't watch Jeopardy with me anymore.
I graduated from New Trier High School in Winnetka, IL. After that I attended Emerson College in Boston, where I was an acting major and continued that education after moving back to Chicago at the Second City Improv Training Center.
I am a triplet! All girls, fraternal, and two of us are left-handed!