Staff Profile
Return to Staff Summary Page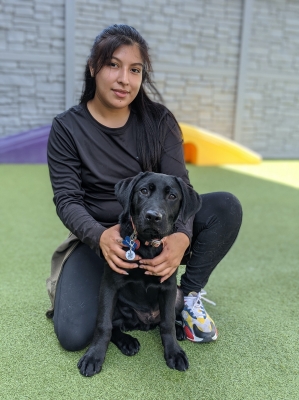 I have a lab mix named Hoover who I rescued from my previous job where his last owner surrendered over. He is the sweetest boy and is also a certified emotional support dog. I also have a black kitten I recently adopted named Mochi.
I have participated and assisted in training classes at another training facility in Chicago, where I assisted professional dog trainers with techniques and behavioral cues.
I love Labrador retrievers, shiba inu's and Australian cattle dogs. I love each of their personalities and their energy levels.
I enjoy taking long walks, dancing, and listening to music. I also enjoy doing dyi projects, scrap-booking and sewing.
I hope to become a professional dog trainer in the near future and have my own business. I wish to continue to work with dogs and helping dog parents maintain a happy and healthy lifestyle with their fur baby.
I am a huge plant lady. I love having my home look like a little jungle. I also enjoy thrifting and finding goodies with pals.
El Cuarto Ano High School.
I lived in three other states before coming back to Chicago. I speak fluent Spanish and I am a mother to twin boys.