Staff Profile
Return to Staff Summary Page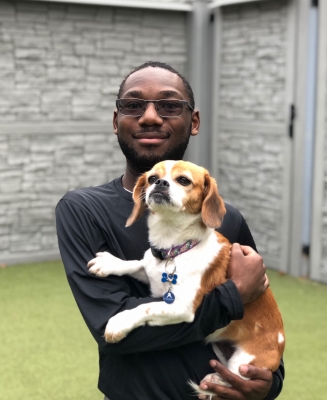 I walk dogs for Wag! on the North side of Chicago.
I have owned dogs for 8 years, and I have worked in other pet care facilities for one year before starting with Tucker Pup's Pet Resort.
Shadow is my baby boy, he's a 7-year old Malamute/Chow mix who loves long walks on the beach, barking at geese, and playing fetch.
Keeshonds, Australian Shepherds, Rottweilers, German Shepherds, Dobermans, Huskies, and Pomeranians are my favorite breeds!
My big hobbies outside of loving on animals is playing Magic: the Gathering, or practicing my art skills.
In the future I aim to become a community advocate for equality and representation.
My other interests include rock collecting, hiking, and video gaming.
I graduated from Darnell-Cookman School of the Medical Arts in Jacksonville, Florida
Once when I was a child, I was bitten by a Stingray, but not stung!