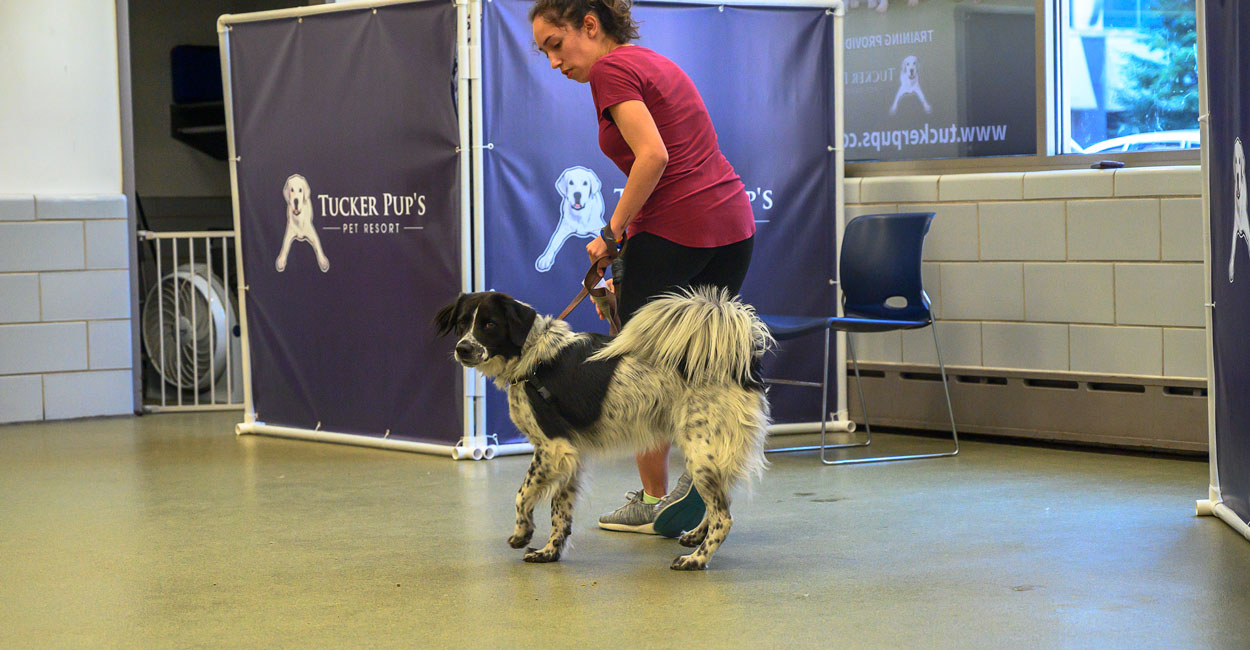 Leash Reactivity Dog Training Classes
Enroll
Return to Specialty Classes
Does your dog growl or even snap at other dogs while on leash? If so, you probably already know how challenging it can be to work on training - in order to build tolerance towards other dogs, you need to be around them, and this can make the problem worse. That's why the leash reactivity course is so great! You can practice being around other dogs, in a very controlled environment where all the participants are in the same situation.
In our Leash Reactivity class, we use large barriers that keep the dogs hidden from each other until they are brought out for various exercises, usually no more than one or two at a time in the beginning. The exercises are geared towards desensitizing dogs towards each other, such as seeing them from a distance, and from the use of props. By the end of the 6-week course, many of the dogs can pass each other and are much lower on the reactivity scale.
We also give you home exercises, so you can keep practicing in between sessions.
The room is spacious, so the dogs have plenty of room to spread out. The class size is small, so it is not overwhelming to the dogs. In addition, the trainer is highly expererienced in helping dogs with reactivity issues. No dogs are ever allowed off leash during this course.
Highlights from a Leash Reactivity Class
David is excellent. He is obviously a pro at this. I loved that he was very sweet and understanding my girl (Fugee) but could handle and love the big dogs as well. I think he has a good sense of humor and really ran the class well. I would highly recommend it to anyone who needs a training class.

Brian was a great support too. He has worked with Fugee privately and does a fantastic job.

Both are dynamite.

- Karen Larimer
Number of classes:
6
Time duration:
1 hour per class
Prerequisites:
None
Ages:
No age restrictions.
Schedule and prices:
Click here
Have questions?
Call us at
312-829-8787
, 365 days per year between 7am and 7pm
Not sure?
You can have a
free consultation
with one of our experts to help decide if this is the right class for you
Don't delay - we take enrollment 365 days per year, and answer calls from 7am to 7pm each day. Any request submitted after 7pm will be processed the next morning. Classes fill up quickly.
More information: