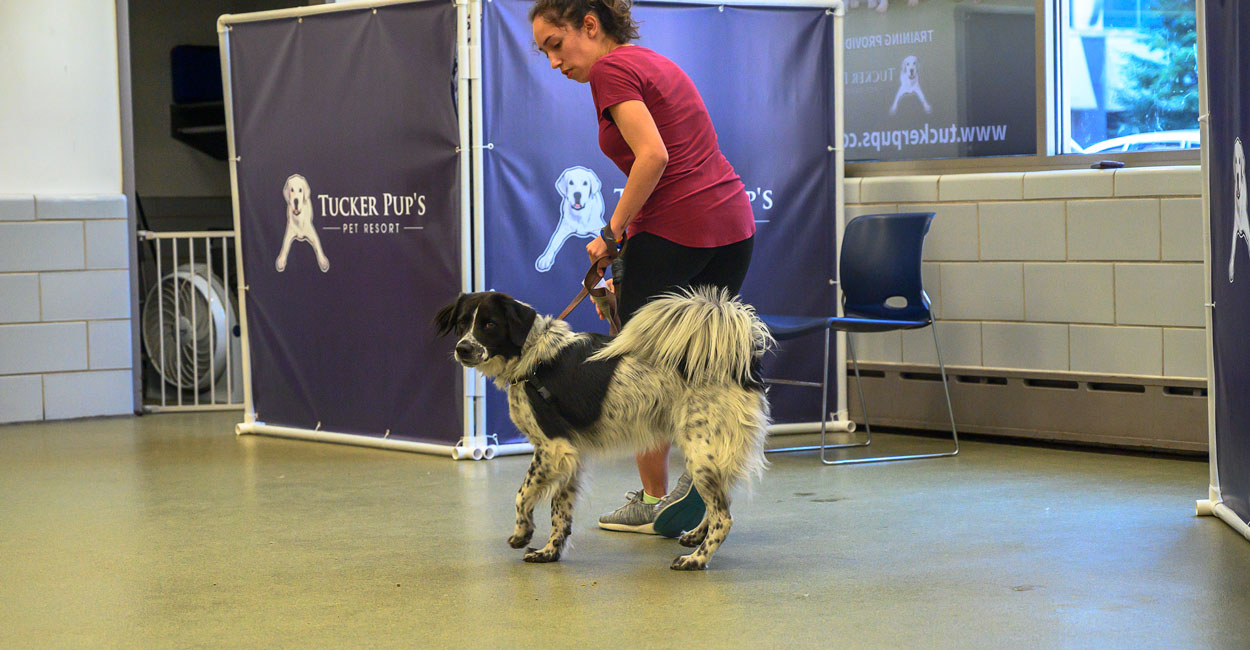 Leash Reactivity Dog Training Classes
Enroll
Return to Specialty Classes
Does your dog growl, snap, or lunge at other dogs while on leash? Are you a night walker, only going out at night because your dog cannot easily handle walking near others?
If so, you probably already know how challenging it can be to work on training - in order to build tolerance towards other dogs, you need to be around them, and this can make the problem worse. That's why the Leash Reactivity course is so great! You can practice being around other dogs, in a very controlled environment where all the participants are in the same situation.
In our Leash Reactivity class, we use large barriers that keep the dogs hidden from each other until they are brought out for various exercises, usually no more than one or two at a time in the beginning. The exercises are geared towards desensitizing dogs towards each other, such as seeing them from a distance, and the use of props. By the end of the 6-week course, many of the dogs can pass others and are much lower on the reactivity scale.
We also work on loose leash walking, and basic training fundamentals to help your dog become better at listening and being responsive to you.
We give you home exercises, so you can keep practicing in between sessions.
In addition, we have an orientation where we cover important topics such as:
Why dogs are reactive.
Recommended treats and equipment.
Training fundamentals such as voice tonality, posture, the reward process, corrective techniques, and more.
How to gain your dog's focus and attention, especially on walks when your dog becomes highly distracted and tunes you out.
An overview of the strategies we recommend when encountering situations. We will work on these strategies in the classes that follow.
The room is spacious, the class size is small, and the trainer is highly experienced in helping dogs with reactivity issues.
Please note that this class is for dogs who are reactive towards other dogs, but not towards humans. If your dog has issues with humans, you should call us for private lessons.
Please also note that if your dog is simply excited when seeing other dogs, but not acting aggressively, this is probably not the right class for you. You might want one of our Manners classes or private lessons.
Highlights from a Leash Reactivity Class (2:26)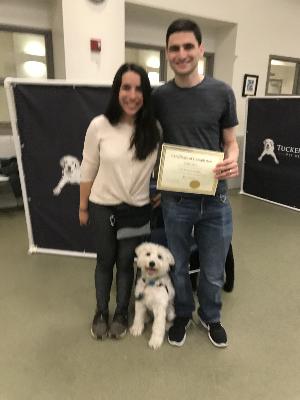 The Leash Reactivity class was very helpful. We made great strides with our dog and are really happy we did it.

- Michelle Silver
Number of classes:
6
Time duration:
1 hour per class
Prerequisites:
None
Ages:
No age restrictions.
Requirements:
Click here
Schedule and prices:
Click here
Have questions?
Call us at
312-829-8787
, 365 days per year between 7am and 7pm
Not sure?
You can have a
free consultation
with one of our experts to help decide if this is the right class for you
Don't delay - we take enrollment 365 days per year, and answer calls from 7am to 7pm each day. Any request submitted after 7pm will be processed the next morning. Classes fill up quickly.
More information: