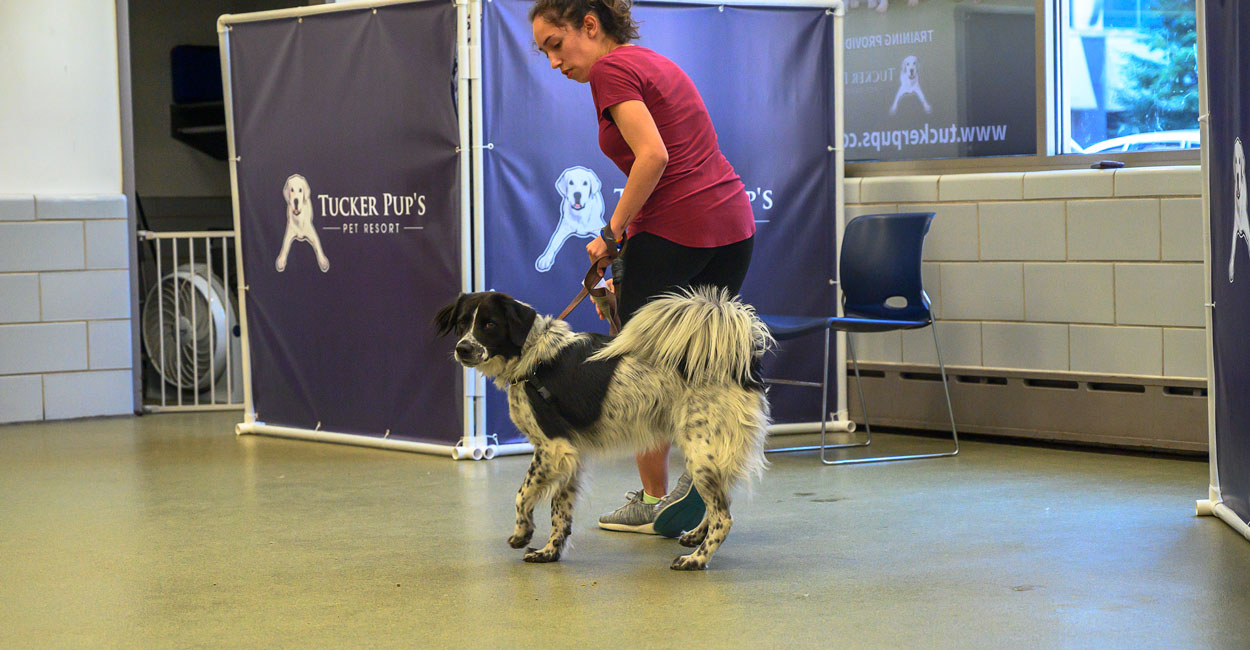 Leash Reactivity Dog Training Classes
Enroll
Return to Specialty Classes
Does your dog growl, snap, or lunge at other dogs while on leash? Are you a "night walker," only going out at night because your dog cannot easily handle walking near others?
If so, you probably already know how challenging it can be to work on training - in order to build tolerance towards other dogs, you need to be around them, and this can make the problem worse. That's why the Leash Reactivity course is so great! You can practice being around other dogs, in a very controlled environment, where all the participants are in the same situation.
By the end of the 6-week course, many of the dogs can pass others and are much lower on the reactivity scale.
The course includes:
Core training skills.

The course teach core training skills such as loose leash walking, listening the first time, focusing on you, and more.

Leash reactivity strategies.

In-depth strategies for navigating potentially challenging situations when approaching another dog or other triggers.

Large barriers.

We use large barriers during class, to keep the dogs hidden from each other until they are brought out for various exercises, usually no more than one or two at a time in the beginning. These barriers help your dog become desensitized towards others, see each other from a distance, and learn to build trust.

Class discussion.

Why your dog may be reactive
How and why dogs learn
How many people uninentionally create unwanted behaviors in their dog
How to successfully use your voice, posture, body language, and more
Corrective techniques that work
Training equipment and rewards that we recommend
And much more

Access to TrainTrack™

Videos of the exercises taught in class
Written descriptions of the the exercises taught in class
The homework for each session
Ability to log your exercises and keep track of what you need to work on next

Equipment.

To help ensure you are as sucessful as possible:

Treat pouch
Optional clicker
The room is spacious, the class size is small, and the trainer is highly experienced in helping dogs with reactivity issues.
Please note that this class is for dogs who are reactive towards other dogs, but not towards humans. If your dog has issues with humans, you should call us for private lessons.
Please also note that if your dog is simply excited when seeing other dogs, but not acting aggressively, this is probably not the right class for you. You might want one of our Manners classes or private lessons.
Highlights from a Leash Reactivity Class (1:00)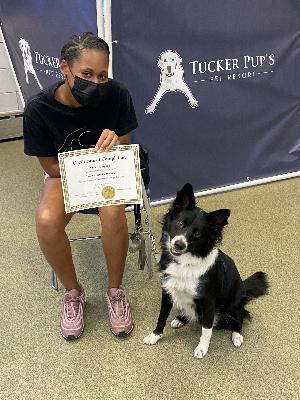 I'm very happy to have taken this leash reactivity course. The group class format/curriculum coupled with Cailin's ability to adjust based on your individual dog was extremely helpful. I also appreciate that Cailin was able to guide the owners on how best to engage their dog and maintain focus. We still have some ways to go with Violet, but I feel much more confident now that I have tools and an understanding of when to deploy them to manage my dog's reactivity. After taking this class, I've already noticed that Violet is more focused on me, with a lower recovery time to certain triggers. Thanks Cailin and Tucker Pup's!

- Brittney Hopgood
Number of classes:
6
Time duration:
1 hour per class
Prerequisites:
None
Ages:
No age restrictions.
Requirements:
Click here
Schedule and prices:
Click here
Have questions?
Call us at
312-829-8787
, 365 days per year between 7am and 7pm
Not sure?
You can have a
free consultation
with one of our experts to help decide if this is the right class for you
Don't delay - we take enrollment 365 days per year, and answer calls from 7am to 7pm each day. Any request submitted after 7pm will be processed the next morning. Classes fill up quickly.
More information: