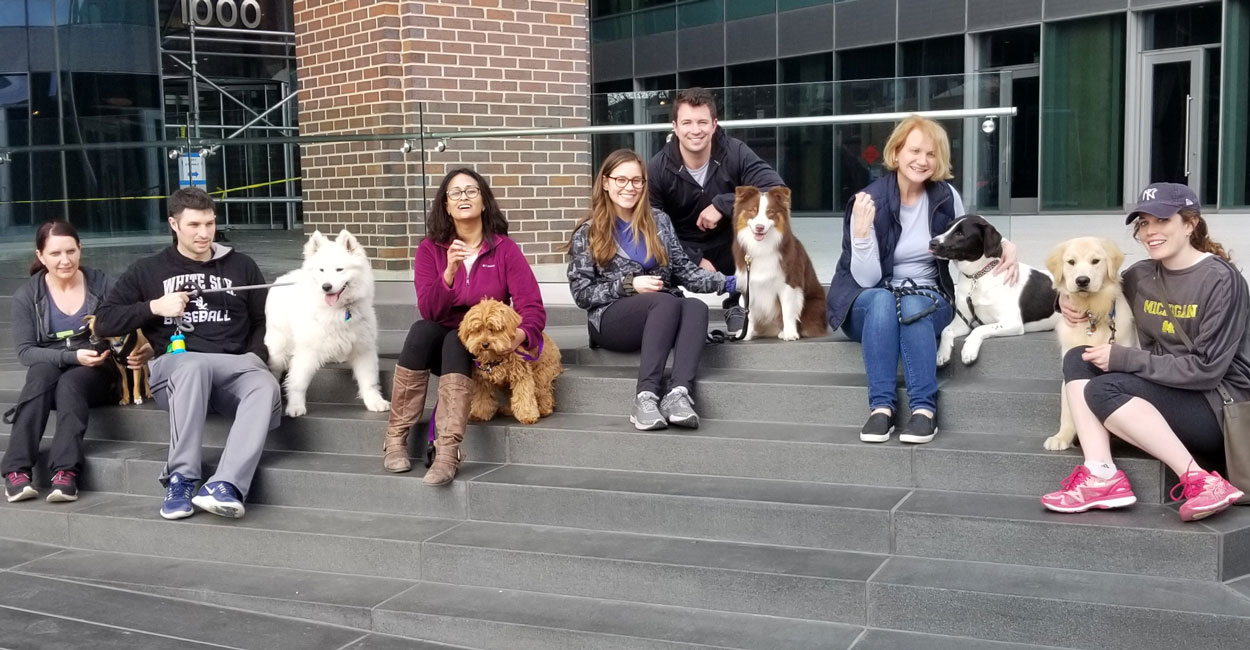 ---
David was so helpful and wonderful!

- Katherine Harper
---
Our puppy manners class with David was excellent! We plan on signing up for the next intermediate class with him to continue our puppy's training.

David was very attentive to all puppies and owners during the class making sure each got their turn to practice and watching each owner and making any corrections as needed. He was always available for questions whenever we had them and even gave us some great tips on how to correct behaviors specific to our puppy we were seeing at home! He was always very friendly and extremely fun and made the class such a wonderful experience! He had so much knowledge on training dogs and brought so much excitement to the class. We could not have asked for a better trainer.

- Hailey Vraney
---
Your staff is excellent and very experienced. I have a leash reactive dog and it is nerve racking for us. We did turn key training with Rachel and Brian. We couldn't be more pleased. They were very knowledgeable and patient. We then began day care and stay and train. Again we cannot be more pleased. From the moment we arrive with Paulie to the moment we leave there has never been any problems. The staff is aware of Paulie's leash reactivity and accommodates us when we arrive. Paulie also seems to be well behaved around staff. This indicates to me the professionalism of the staff and ability to work well with difficult dogs.

Thanks again!

- Megan M.
---
I really enjoyed the way we we're able to get corrective feedback on our training technique. I also liked how we were taught a few minor tricks in puppy class.

- Ryan Sabherwal
---
Clear directions, Angela was inclusive and encouraging to all members of the class. Upbeat instructor, ready to answer all questions and make you feel so good about your dog's progress! I will be back when the time is right for more training.

- Audrey Perrott
---
First, our dog Franny was one of Tucker Pup's early customers. She attended manners class, agility class and boarded multiple times over the past 12 years. We trusted Tucker Pup's with Franny and your team never let us down. Thank you for taking such good care of her.

We now have a new dog and our first thought was get her to Tucker Pup's. Millie is an 8 month old puppy/dog from PAWS. She came to us with bad manners, difficulties socializing, and, is nothing like Franny! We were very hesitant to bring her to a group class and so we had your trainers come to the house. Rachel and Brian met with us, explained the training plan and immediately went into action. They kept us posted and engaged throughout the process. After each session, Rachel provided a progress report and gave us homework. She used videos, text messaging and face to face meetings to help us reinforce the training plan. Rachel always made herself available to for questions or comments. Within a couple of sessions, we saw significant improvement in Millie's manners. By the end of training, we knew what do and how to handle Millie. We had a new dog!

Just as important as being expert trainers and communicators, Rachel and Brian care, and are willing to go out of their way to address an issue. For example, Millie is slow warming up to other dogs and gets nervous when several dogs approach her. To make her feel more comfortable, your trainers took Millie to a dog park and then to Tucker Pup's one Thursday to meet other dogs. Rachel even suggested we have Millie attend day care to help her get ready for a boarding stay. Rachel worked with Tucker Pup's staff to make this happen. When we dropped Millie off for boarding last week, Rachel was there to help Millie settle in and get acclimated. Brian and Rachel even checked in on her throughout the week. Millie is still working on becoming more social but she is much better thanks to Rachel and Brian.

We trusted Tucker Pup's with Franny and were never disappointed. This is why we turned to Tucker Pup's with Millie. Rachel and Brian reaffirmed our trust in Tucker Pup's.

- Maggie Crulcich
---
Rachel was such a great trainer with knowledge, kindness and patience. She gave us a lot of tips to train our puppy. We were very happy with our classes with her and will surely take intermediate course with her when our puppy turns 6 months old in May.

- Cee Reyes
---
Lily loved Angela! And she learned lots. We're looking forward to signing her up for agility.

- Kim Griffin
---
I had a 20 minute+ consultation with Rachel Lewis about our 6 year old female labradoodle whom we just adopted on Saturday. Our dog Isla is extremely timid and frightened because most of her 6 years were lived in a kennel as a puppy mill breeder. Rachel gave us very good advice about helping Isla feel comfortable. Rachel also introduced us to Happy Howie's beef treats which is the ONLY treat that Isla seems to like, and I should say love. She goes crazy for it and it has helped Isla come out of her shell tremendously.

- Lisa Gilchrist
---
When we started your class, Zoey didn't even know how to sit! Rachel was a wonderful trainer and now Zoey can sit, stay, lay down, wait, etc.! Thank you!!

- Zachary Zelisko
---
Rachel was great, and we learned a lot! I hope she posts the photos from our final class because all the pups looked so cute in their graduation cap! :)

- Alexander Bandukwala
---
The trainer did a nice job addressing individual needs for each dog. She did a great job! We definitely would like to try another training program at Tucker Pup's!

- Lauren Coval
---
Rachel was an excellent trainer.

- Tia Ung
---
When I made the decision that I wanted a cane corso I knew I would need excellent training. Late April, Tucker Pup's was referred to me as a possible training source. Angela Love, Tucker Pup's trainer, entered our lives in May. She is professional, knowledgeable, reliable and results-oriented. Our corso, Saber, loves her and it has been a wonderful experience! Prior to the training I was concerned about walking my six (6) month-old corso, his pulling, his jumping, my shoulder, etc. Today, I can confidently walk him just holding the leash as he walks in almost perfect heel position; and immediately sits when I stop. We are excited about our next phase of training.

Thank you Angela!

Thank you Tucker Pup's!

- Melodie Kern
---
Angela was awesome. Bentley loved her. She did a great job of training him, and so far we feel very fortunate.

- John McDermott
---
We really enjoyed training with Angela. Our dog made huge strides during the class in becoming more well mannered. Angela offered great training tips and lots of one on one instruction if needed.

- Anthony Tonelli
---
Angela was great! She helped us make significant progress on several issues we were facing with our dog, Zeus. She gave us enough context / explanation to understand why the behaviors were happening and how best to address them. We would definitely recommend the training to others. Having the 1:1 attention in our home made a huge difference and was well worth the expense.

- Aris Theologis
---
Rachel and Brian were excellent - very easy to work with, obviously love dogs and their jobs, always communicated excellently. Could not recommend them more!

- Carolyn Langham
---
Angela was a great personal trainer for myself and Scottie. She had an amazing connection with Scottie from the second they met. She helped me deal with his leash aggression and improve his leash walking. He is not "cured," but has improved a lot and I feel much better walking him now with the strategies she taught me.

- Elisabeth Beerkens
---
Rachel and Brian were a GREAT team. They're clear, consistent, patient, flexible, enthusiastic, and have lots of love for the dogs. I feel confident after finishing our last session today that Teka will pass the test with flying colors!

- Barb Miles
---
The trainer was very patient and knowledgeable. My dog Louie loves her and my mother and I enjoyed this experience. My mother can be frugal but she commented this was the best money you ever spent.

- Tony Rokita
---
Angela was great. Very interested in coming back for more training classes with her.

- Nicholas Liacone
---
My dog, Brady, did the stay and train while we were away on vacation. Brian spoke with me multiple times before he worked with Brady so he knew exactly what we wanted to work on. He also kept us updated with a video and sent us what all he had learned. When I went to pick up Brady on Wednesday, I got to speak with both Brian and Rachel regarding continuing training for Brady. Both were very helpful.

- Rachael Brucks
---
Angela is a wonderful trainer. You can tell she is passionate about what she does and she makes class fun. I am so happy I chose Tucker Pup's.

- Dara Richards
---
Tucker Pup's is excellent for our puppy. Friendly, professional, and caring staff take great care to make each visit positive. We always feel confident leaving our 4 pound puppy toy poodle in their care. We just completed turnkey training for Benito. The trainers, Rachel and Brian, were great, and really cared about Benito and his training. I highly recommend Tucker Pup's for your pup!

- Kymn Harp
---
David knows his stuff! Everything that was applied from class worked on changing our dog's behavior.

- Mike Kaskel
---
Brian and Rachel together did an amazing job with Zella! Rachel was always available to help with questions on behavior issues. Zella loves them and has greatly improved in all areas since we did the turn key training. I definitely recommend it!

- Jyothi Tirumalasetty
---
Rachel is an excellent trainer and has great recommendations. My little guy has made huge strides and is now learning all the tricks.

- Andrew Rizzuto
---
David Roos was an excellent trainer and class leader. He listened to and addressed individual concerns, instilled confidence, and taught with clarity and joy. I learned a lot. My puppy did too. Highly recommend.

- Liz Olson
---
Angela very diligent and nice. The classes helped to reinforce what we were doing right, and what we were doing wrong, and show us additional things to work on. The experience was great.

- Norma Campos and Scott Sundquist
---
My partner and I just concluded the 6-week Puppy Manners with Rachel for our almost 5-month mini goldendoodle (Penny). Some of the new dog owners reading this may feel the same way we did six weeks ago - is Tucker Pup's training worth the premium price compared to a Petsmart/Petco? Without a doubt. Over the course of 6 weeks, Rachel did an exceptional job teaching the dogs (and more importantly, the owners) various skills and training exercises that have made our puppy experience at home so much more enjoyable and manageable. (Note: the exercises are meant to be practiced twice daily, for 15 minutes; you will only get out of the class what you put in). Rachel was particularly good at paying close attention to our puppy, while managing the needs of all the other dogs. I believe that every other owner in the class felt the same way. The facilities are always clean, and as soon as you step into the lobby and are greeted by friendly and professional staff, you realize that signing up for this class was well worth it. We'll be back for Intermediate!

- Minji Kang
---
Previously, we had taken a puppy training class through another service and were overall dissatisfied. We decided to take another stab at it through Tucker Pup's and are so glad we did!

The trainer was extremely knowledgeable and the small class size allowed our trainer to both work with the group as a whole and make time to help us individually. The commands we learned are useful in every day situations and the other tips and tricks provided have been helpful as we continue training on our own.

- Courtney Wilson
---
We had a great experience at Tuckers with Rachel and Brian. They were very attentive to each dog even though there were 4 others in the class. We saw great improvements with our pup Bauer and we are excited to see him continue to improve. We highly recommend this class and are even thinking of enrolling in the agility class this summer.

Thank you again!

- Stacy Widerman
---
David Roos was unreal. I was so impressed with his training and his strategy. Our dog was a piece of work, haha and David's patience and stern attitude really helped him become a better trained dog. I loved this training and LOVED David. He was exactly what we needed.

- Catherine Orf
---
We used Tucker Pups for Puppy 101 Training. David Roos is a fantastic trainer. He works well with the puppies and the owners, often correcting or tweaking little behaviors throughout the class. He is encouraging without being demeaning, like some trainers can be with stubborn dog owners. He ultimately wants the puppies to grow and adapt to be beneficial to the owners' lifestyle, and if something doesn't fit, he provides guidance on changing the command or behavior to something that does fit. I'd recommend David for any new puppy or owners.

- Stacey Randolph
---
We absolutely loved David's Puppy Basic Obedience class. We have all learned so much in the last 6 weeks and Gus has really improved with everything we were taught in the class. David worked with us on his jumping (both on people and tables/counters) and it has greatly improved. I feel like he gave us the tools we needed to raise a happy pup. We had taken another training class at a pet store and we would leave class stressed and frustrated. I never had this with David's class; we always had fun and felt like we had accomplished something. I would highly recommend training courses at Tucker Pup's.

- Kate and Dan Ahasay
---
I loved the structure of Puppy 101. The ability to answer questions at the beginning of class while our puppies burned off some energy is what sets Puppy 101 apart from other training options. David introduced new commands at the right frequency, it was amazing watching Floof master new commands week by week. I look forward to continuing Floof's formal education with the upcoming intermediate course.

- Allison Fox
---
The outdoor leash class was very productive, and my dog is walking with out pulling, and also listening more.

- Jackie Fegan
---
David was very professional and extremely patient with our puppy. His tips were helpful and we are continuing with our at home training. I would highly recommend Tucker Pup's to all our friends!

- Steve and Lisa Pascua
---
David is a great trainer! I emailed him a few times with questions and he was very responsive. The techniques he uses produce results. I would highly recommend him and Tucker Pup's for training.

- Elissa White
---
David and the puppy training class was great! My entire family looked forward to the class all week. We learned how to train our dog easily through this class, including even our 8 and 10 year olds. We even learned tricks we didn't know that we needed to know - like touch! After completing the puppy class our dog can sit, stay, lay down, and come when called. Very satisfied with the small class size and David clearly knows what he's talking about. He was able to get any dog to do the task at hand easily!

- Jordan Robson
---
Classes were great, we learned a lot of training tips and tools that we will be able to use outside of class. David is a great teacher and is very knowledgeable.

- Joe Wilush and Alex O'Connor
---
I just wanted to thank everyone at Tucker Pup's for doing a phenomenal job in every aspect of your services. We have been taking our dog Joey to daycare for the past 9 months and we have enjoyed the experience through its entirety. Joey loved going to daycare and the staff has been nothing but professional through our experience. We also had to board Joey a few times while we went out of town and they took excellent care of him while we were gone. In addition to this, we also went through puppy training at Tucker Pup's and that was an excellent experience as well.

We unfortunately had to move due to being relocated for work and we will surely miss Tucker Pup's. Thank you for everything and I just wanted to let you know how great of a job you and your staff are doing.

- Eric Recker
---
We just completed Good Manners One. I could not have been more impressed. Instructor trained us to train the dog. I especially liked that we did not bring our dog to the first class.This method made understanding how a dog learns that much clearer. We adopted an 8 month old Collie that had spent 6 months of his life in a cage. He had absolutely no training. At the end of the program he could sit, down, stay, walk on a leash, wave, leave food on command and was learing to roll over and play dead. Instructor was always on time, actually if we arrived early she was there and would happily answer any questions. We are planning on enrolling for Good Manners Two.

- Joyce Durante
---
I loved the course and instructor! I\'d recommend it to friends definitely! I learned a lot, and so did my dog. It was a lot of fun.

- Sara Baillie
---
My little wapoo (chihuahua/poodle mix) , Tank, was only 2 months old when he started going to Tucker Pups and he LOVES it! Everyone there takes such great care of him and he is always so happy to go play when I take him in.

He is now 4 months and still loving it! The grooming services are fantastic and the Polite Puppy training classes are really working!

Thanks to Tucker Pup\'s I have a well socialized happy puppy!
---
I was really impressed with the class and especially the instructor. Theo is doing great and we've been working on things using the excellent training materials binder. We are happy customers and definitely found value for the price.

- Danah Fisher
---
I just wanted to send a quick repsonse back over to you about the puppy course.

Everything did meet our expectations and the trainer was wonderful, knowledgeable and patient with is something I get a bit nervous about when Oscar tended to act up in certain situations. I would definitely recommend to a friend based on the success and progress we've seen with Oscar over the past 6 weeks. I felt it was time and money well spent and have noticed a significant increase in obedience and maturity since starting the course. With the methods covered in class I am confident we have a much better understanding of the tools we need to use in the future to continue to move forward in a positive and trusting relationship with Oscar.
My fiancee and I will be discussing the Good Manners 2 course over the next several days and will likely be back in touch.

Thanks,

- Jeff Eisel and Megan Moser
---
The course did meet expectations and I would recommend the trainer and Tucker Pup's without reservation. The trainer was patient and gave clear instructions with good feedback. Since starting this class, Franny is more controlled and easier to handle. She is more responsive to us now that we know how to better manage her behaviors. She still gets distracted and will run away. That's why I asked about registering her for Manners 2.

- Maggie and Joe Crulcich
---
We greatly enjoyed the training course and will be enrolling in polite puppy II. The skills that our dog has learned is helping us to manage his lifestyle better.

- Jay and Noelle DiPrizio
---
The training was very helpful and fun. The trainer was very good to work with and spent time with each dog in the class to make sure each was benefiting from instruction. The direction of what to work on at home were also beneficial.

We would certainly recommend Tucker Pup's to friends and family.

- Gina Jacobsen
---
We enjoyed Good Manners 1 and will probably take the 2nd class down the road. Charger did really well, so I think it would be beneficial for him to continue.

- Jennifer Dietz
---
The class went well! Quinnie definitely learned some new obedience prompts and we use them in our day-to-day life.

- Sara Clary
---
Since moving to the West Loop and using Tucker Pup's services, I have been very pleased. My dog, Scout, has been groomed at Tucker Pup's, and we recently finished the "Good Manners 1" course. Scout tied in first place as class valedictorian (or valiDOGtorian, as I call her). Whenever I take Scout in to Tucker Pup's, the staff are very friendly and kind to me and my dog. After grooming, Scout is clean as a whistle, and always in high spirits.

I chose Tucker Pup's because I had heard many good things about the organization, and because the website was so friendly and easy to navigate.

I have a dog walker from another local business, but would have hired Tucker Pup's as walkers if they offered that service.

I plan on taking more discipline classes when my schedule allows.

-Rebecca Fons
Looking for information on prices, our trainer, upcoming classes, private lessons, behaviors we address, and much more?