Staff Profile
Return to Staff Summary Page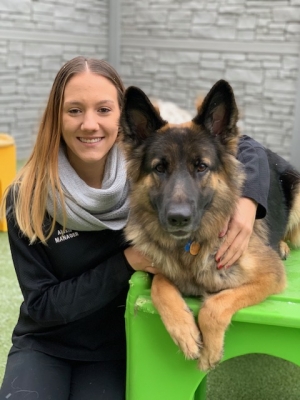 CPR-certified for adults and children.
I've volunteered in an animal shelter over the summer a few times. I have experience in bathing, feeding, and walking dogs and I've always been a very big animal lover!
I currently have one handsome fella named Rufus! He is mixed with a Mastiff and Pit bull and weighs about 85lbs. Hes every energetic and thinks he is a lap dog!
Basic dog behaviors and how to handle dogs.
I love all breeds of dogs but I have a special soft spot for bigger breeds. I really love cuddlers and dogs that I can take on a little jog or play ball with!
I spend most of my free time with my nieces and nephews. I love doing anything outdoors or anything related to traveling! When I can, I like to play volleyball or sports in general. I love being active and keeping busy!
My future career goals will absolutely include college. I am currently trying to decide on what to major in but my choices include something in the medical field (animals or infants) or the criminal justice field. I have yet to decide!
I'm more of a homebody but love to try new things!
I am the youngest but tallest of four sisters!