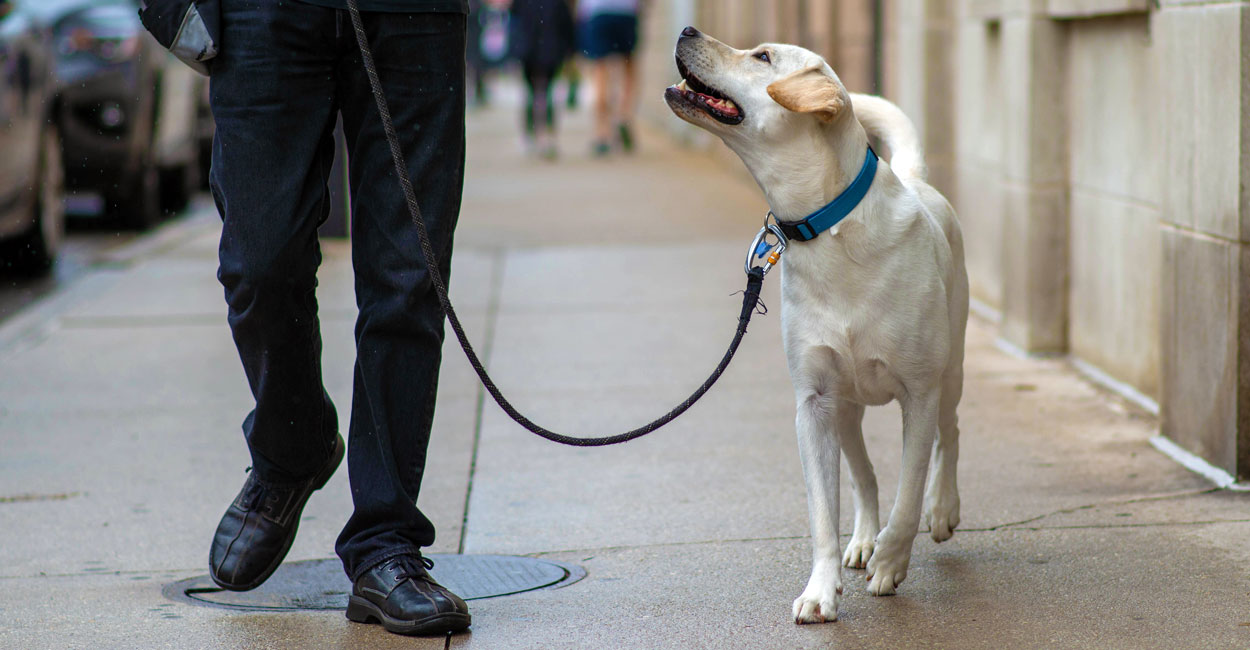 The Best Dog Training in Chicago
Whatever your goal or challenge, we've got you covered. You can mix and match our services to help get the best from your dog.
Not sure if training will work for your dog? Wondering how you would fit training into your schedule?
Talk to us! Our trainers are happy to have a free, 20-30 minute telephone consultation with you - no obligations or strings attached. You've got nothing to lose!
The call is designed to discuss your goals, talk about our program, and help you decide if it is a good fit. Want to have that conversation in person? Not a problem - you are welcome to come to our offices.
Bring Out The Best In Your Dog
When you own a dog, training is the single most important action you can take.
It helps you communicate better with each other, creating the foundation for a happy relationship.
Many people wait too long, or don't train their dog at all. This can lead to behavioral challenges that are much harder to correct later on, and can make your life unnecessarily stressful.
Are You Settling for Unwanted Behaviors?
Don't just accept unwanted behavior! Many people believe that "dogs are dogs and there's nothing I can do." This is not necessarily true - most dogs respond well to effective training. We have helped thousands of dogs overcome their challenges, and we can help yours, too.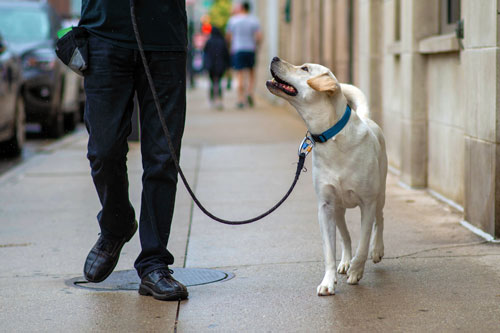 Walking on leash without pulling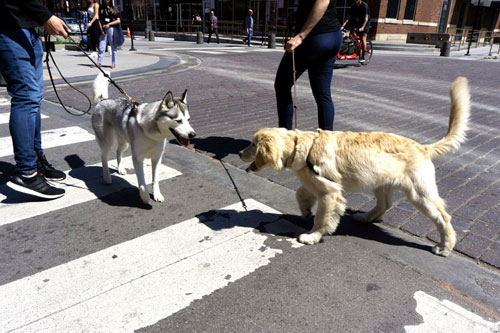 Passing other dogs nicely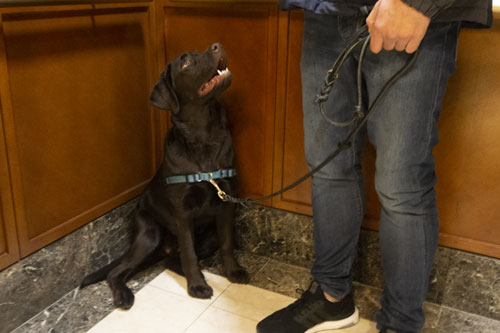 Calmly riding the elevator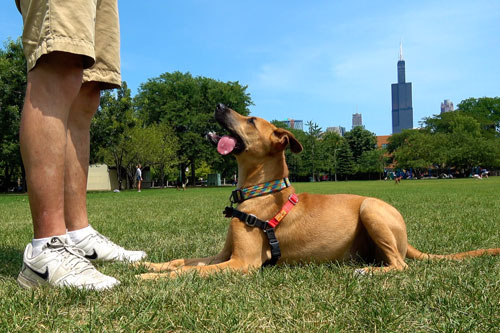 Listening, even under heavy distractions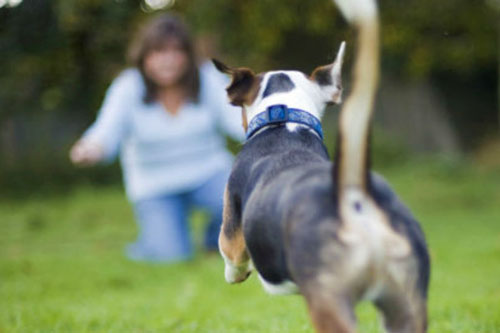 Coming to you when called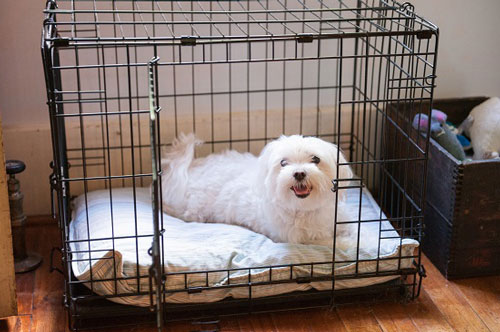 Crate training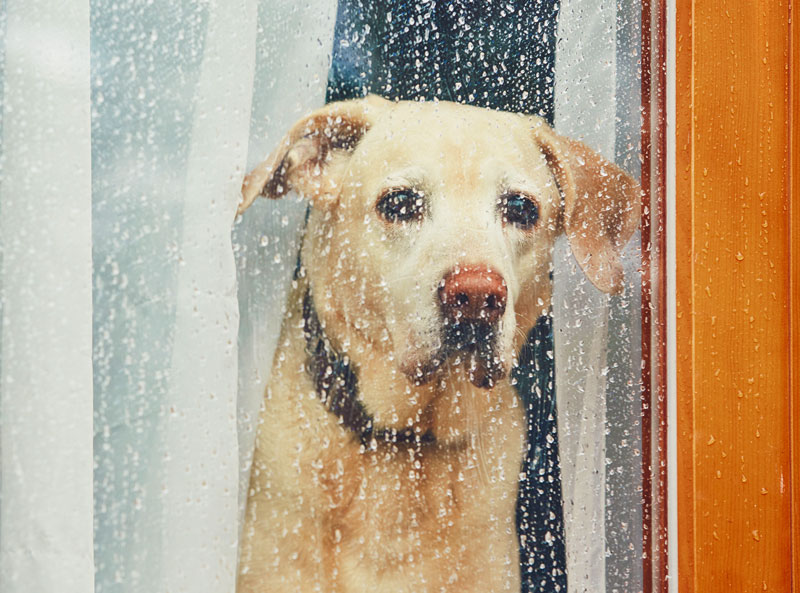 Separation anxiety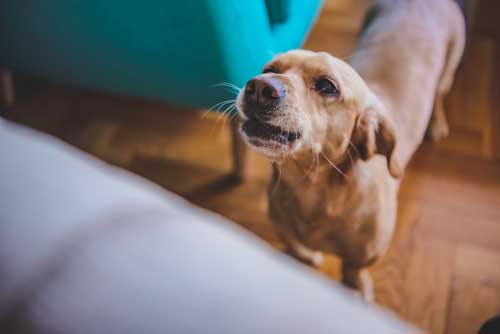 Barking
These are just the tip of the iceberg. There are many more behaviors that we can help you resolve in your dog, using only positive reinforcement techniques.
Our training program takes a comprehensive approach towards improving your dog's skills and behavior. We can help correct and prevent unwanted behaviors, plus instill good habits in both you and your dog that will last a lifetime.

How it Works
Identify the behaviors you want to prevent or change. Our trainers are very experienced and can help you with just about anything. If you have a puppy or want to focus on a broad set of skills, that is no problem - we can cover quite a lot, especially in a class, and follow a standard curriculum based on our professional experience
Set up a free consultation, if you need help deciding on the best approach, based on your particular dog, home environment, lifestyle, and goals
Choose your training format, such as private lessons, classes, or turnkey training. We can help you make this choice. For some dogs it is a combination of multiple formats over time
We show you how to address the behaviors, using positive reinforcement methods. We demonstrate the exercises, then immediately correct your techniques when adjustments are needed
We give you home exercises that should take 30 minutes or less per day. You can incorporate these exercises into many of your current routines, such as when you feed your dog, go through doorways, and go for walks. You must practice these exercises each day in order to instill the behaviors in your dog reliably. The home exercises are easy and fun for both you and your dog, and are really like games. If they seem too easy or too hard, we can adjust the level of difficulty. The exercises also are designed to build off each other, in order, so you start with a strong foundation and go up from there
Use our online portal to:



Access the home exercises and other helpful content (starting in the Fall of 2019). This is helpful because once you're alone with your dog, you may not remember everything the trainer covered. It's also great because you can access the information even if you miss a class. You can easily view the information on any phone, tablet, computer, or other Internet-connected device
Log your exercises using our online tool, TrainTrack™. This helps you remember how many repetitions you put in per week, and even what other people (e.g., your spouse) have worked on with your dog throughout the week.

Call your trainer if you need some quick advice in between sessions, if you are having difficulty and simply can't progress. We can typically give you a power boost
Your dog improves! You'll be amazed at the progress if you use our methods as instructed, and put in the repetitions consistently
We make the exercises much more challenging. We don't want to just teach super-easy behaviors such as sitting. We want your dog to master the behavior under any condition, so we make the exercises harder and harder, under a variety of circumstances. For example, he comes to you when you call him, but will he do that while at the dog park, playing with other dogs? When walking or running away from you? Our "progressive difficulty" model is how you build long-term listening and reliability
You decide how far you want to go. Stop after one course or 6-lesson private lesson package? Continue to intermediate and advanced training? Delve into agility or other sports? Gain certifications? Visit hospitals with your therapy dog? We can help you go quite a long way and bring out the best in your dog
Train-the-Trainer Approach
Training a dog is the easy part. Training humans to change their behavior is much harder! If you don't change your ways, your dog's improvement will not last long. That's why we need to train YOU to train your dog. Once you're at home and no trainer is around to help, you must be able to work with your dog effectively.
Skills, Listening, and Self-Control
Many people teach their dog a few commands, which may work well indoors with no distractions. However, everything goes out the window when taking the dog outside, where it's highly distracting, inviting, and sometimes stressful.
With our program, we show you how to teach your dog a broad set of important skills, not just a few. Our exercises help your dog to learn to listen the first time, every time. Your dog will learn self-control, so it remains cool and calm, no matter the situation. You will notice the difference right away!
Amazing! Can Your Dog Do That?

Official Training Partner for The Anti-Cruelty Society
The
Anti-Cruelty Society

is the oldest and largest animal welfare organization in Chicago. They are located in River North, only a few minutes from Tucker Pup's. They rescue and adopt out more than 4,000 dogs per year.
We are very proud that The Anti-Cruelty Society has selected Tucker Pup's as their official training partner. We provide classes, private lessons, socials, certification tests, and more at their facility, plus private lessons and turnkey training at peoples' homes. Our goal is to help people train their adopted dogs so they can reach their potential, live happy lives, and avoid being surrendered to a shelter.
The room is very large, and parking is free in their garage, located at Grand and Wells.
Didn't adopt your dog from the Anti-Cruelty Society? No problem - you can still use our training services at their facility.
Think You Don't Have the Time?
It Only Takes 30 Minutes per Day
Are you pressed for time? Not sure about training because it will take too long?
Our training program is designed with you in mind. We give you homework exercises in between sessions that should take 30 minutes per day. Can't spend the time on a particular day? That's OK. Just keep working on the other days.
We show you how to complete the exercises while in class or in private lessons. Our trainer has hand-selected them based on their simplicity and effectiveness. They get progressively more challenging throughout the program, which helps your dog learn them really well.
The best part is that you can incorporate these exercises into your daily routine. You can easily practice them when you go to feed your dog, take it on a walk, go down the elevator, go to sleep at night, and so forth.
Within a short period of time, your dog should be showing remarkable improvement, as long as you have put this time in and followed the trainer's advice.
Frustrated that your dog won't listen? Tired of dealing with leash reactivity or pulling? Want to learn about how you are probably reinforcing unwanted behaviors?

Watch our free webinar about how the Tucker Pup's training program can transform your dog.

Hear directly from a few of our customers whose dogs have shown remarkable improvement after going through our training program.


Resolving Archer's Leash Reactivity




Helping Dixie with Self-Control and Focus

Positive Reinforcement Only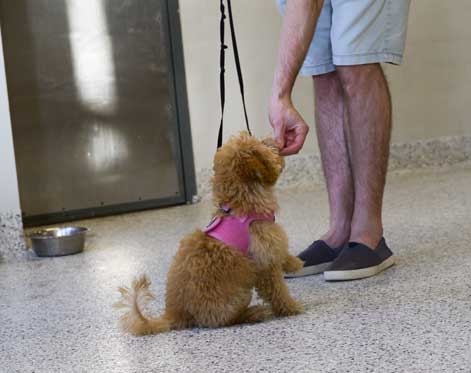 Dominance Methods Not Necessary
Positive reinforcement is the cornerstone of our training philosophy.

We do not use dominance methods, including shock collars, physical force, or raised voices. These methods create an environment based on fear, and the learning typically does not last very long. In addition, these methods don't create as loving of a relationship with your dog over its life, and can create great frustration for dog and owner alike.

In a positive reinforcement environment that is properly implemented, dogs actually want to make the right decisions, the learning is lifelong, and dog and owner are much happier.

We have been using positive reinforcement with great success for many years. Our techniques have been proven to work effectively, not only by us, but also by leading trainers across the world. These methods work well on all breeds, ages, and sizes of dogs.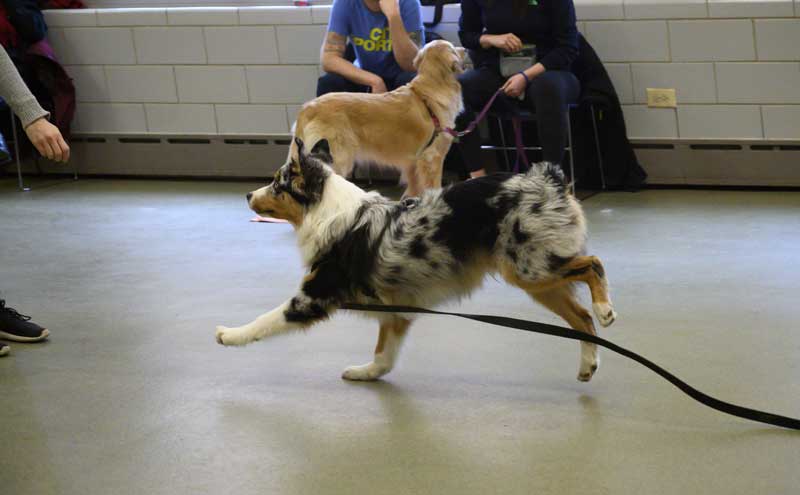 We are raising the standard of care in dog training.

Here are some of the highlights:



Positive reinforcement methods only - no dominance methods
We offer private lessons at your home, group classes, and seminars
We address a wide range of challenges, from obedience to behavioral issues such as leash reactivity
Pre-paid private lesson packages at a discount
Trainers who are professional and highly experienced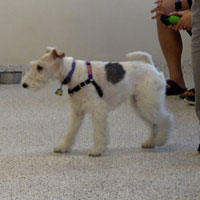 We enjoyed the training with David. He was always patient and positive and unstood our wiredhair fox terriers stubbornness.

Tamara Hirsch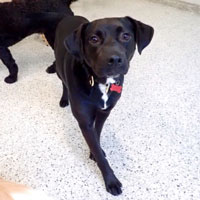 David is a great trainer! I emailed him a few times with questions and he was very responsive. The techniques he uses produce results. I would highly recommend him and Tucker Pups for training.

Elissa White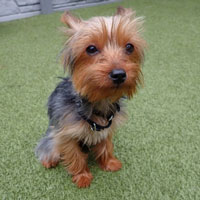 David was very professional and extremely patient with our puppy. His tips were helpful and we are continuing with our at home training. I would highly recommend Tucker Pup's to all our friends!

Steve and Lisa Pascua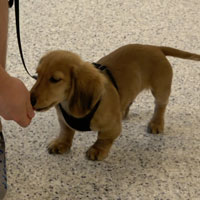 Classes were great, we learned a lot of training tips and tools that we will be able to use outside of class. David is a great teacher and is very knowledgeable.

Joe Wilush an Alex O'Connor