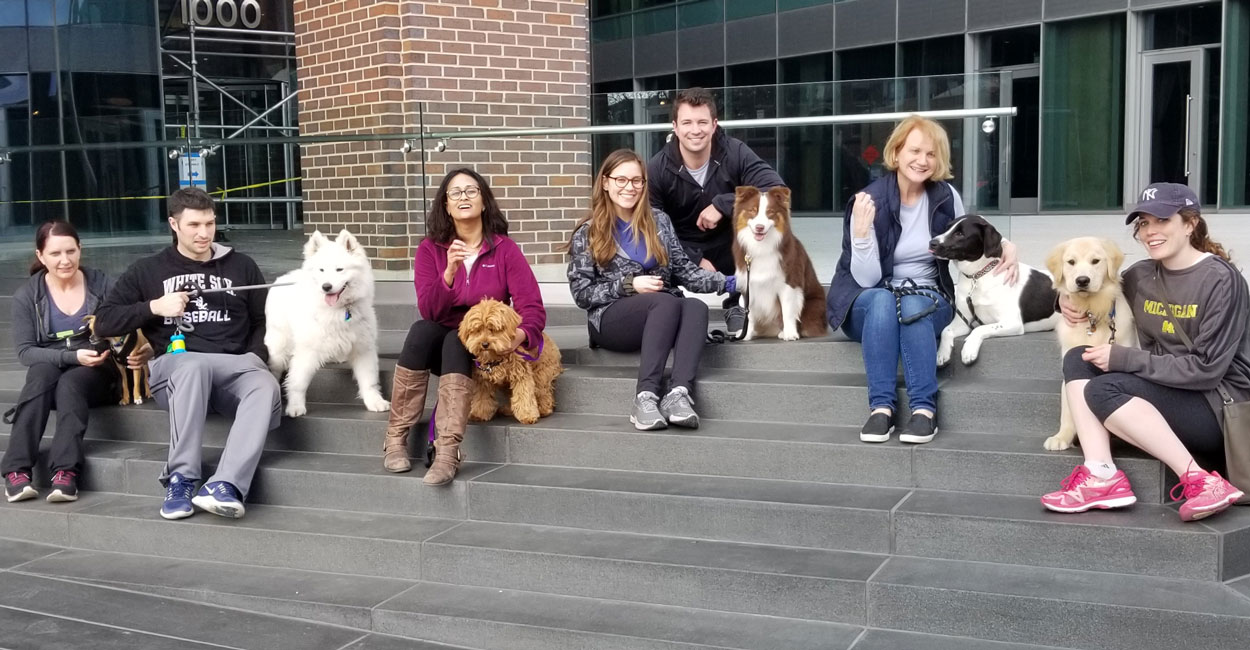 Back to Training Overview
Kathleen was great with Gunnar and Rosie! They responded great with her. She provided me with the tools to continue working with them on my own for their leash reactivity.
- Angelina Keating
---
Margaret is an excellent , caring, knowledgeable trainer.
- Karen Singer
---
Susy did a great job with Bertie and Prep School! He is already improved on some of his problem behaviors. Her training sessions with me were very clear and easy to understand. Bertie responded to my commands and it was clear that he loved working with her.
- Kathy Buck
---
We attended the Confidence Builder course led by Veronica. Our dog made amazing strides that we were not expecting to happen so quickly, if ever. Veronica is clearly very knowledgeable and experienced in this type of training. She led a great class and taught us many useful things we can utilize at home. We will definitely return for more classes.
- Blake Fields
---
We just finished the 3 week Prep School program for our 8 month old Goldendoodle and loved it so much! Our trainer Cailin was amazing. She was kind, patient, and very knowledgeable. Our dog loved her as well! After just one week of the training she was acting like a new dog! Highly recommend the Prep School if you are looking for a structured program during the week that gives your dog good repetition and routine.
- Sydney Fox
---
David was great and helpful. He really helped our dog and all the other dogs in the Intermediate Manners class. Our dog Ryno is much better on walks and listens. Dialing her in is the key and David helped with that. Practicing at home and watching the videos is a key. Class alone won't cut it.
Thanks again!
- Bryan Surek
---
Bones has been doing SO WELL on walks since going through Prep School with Jessie. It's made super long walks possible because it's so much more enjoyable thanks to her help. And Bones has been LOVING those. He did discover birds (ha!) but we've been working on that with the techniques Jessie armed us with, and he's making progress.
He is also great with other dogs approaching. Every once in a while, especially when the other dog is excited, we need to take a step back. But he has been so wonderful. He even sits sometimes and just waits for the other dog to pass like the most polite boy there ever was!
We've done some polite greetings with other dogs as well, and he does really well with that, too! We're still working on more consistent polite greetings with other humans, but we're making progress. As long as we are in more familiar areas (our home, elevator, the block around our place) he does really well. Even when humans are using that super high-pitched voice he loves.
We've had a couple of excited approaches from people where we have to walk away, so we're continuing to work on that. BUT, he's mastered polite greetings with our friends and family for sure! They are all blown away at how much he's learned!
Thank you SO MUCH. We really appreciate how you've helped us become better owners for Bones. :)
Thank you!!
- Cassidy and Bill Lacy
---
David was an excellent instructor for our Intermediate Manners class. He is a bit tough, but that made for a great environment to learn and grow. We would definitely seek him out as an instructor for our next training class.
- Mark Gutzmer
---
David is such a fantastic teacher. Advanced Manners was our second class with him, and we continued to learn so much from him. We wish there was a "Super Advanced Manners" class and we're sad to have completed Gus's schooling because we loved it so much.
Thank you for being wonderful, David!!
- Dan Thompson and Angelina Cole
---
David is an amazing teacher! We enjoyed getting our pup to the next level of training in the Advanced Manners class, and doing things I didn't think he would be able to do.
We wish there was another training course we could take.
- Alexis Burstein Andrews
---
Our instructor, David, was an excellent trainer for the Advanced Manners class. He took time with us after class to provide us with needed tips and feedback. We, along with our pup Ivy, learned a tremendous amount.
- Kelly and John Lawrence
---
We had a fantastic experience at Tucker Pup's! Cailin is OUTSTANDING and I would recommend her to absolutely anyone looking for dog training. She was incredibly effective with our pup and also kind, flexible, and patient. I would give Cailin an 11 out of 10 if I could. We are very grateful for the time she spent with our 1-year-old lab and we saw huge improvements over the course of the 3-week prep school program.
- Jessica Bollow
---
I enrolled Charlie (our doodle) in the Prep School program and was impressed from my initial conversation with Kim through graduation day. I cannot say enough great things about my experience.
Susy, our trainer, far exceeded our expectations in all regards. Susy seemed to form an instant connection with Charlie and they formed a great rapport that continued to develop each day he worked with her! She was upmost professional and has helped Charlie learn some amazing things and overcome others in a short amount of time (three weeks)! Seeing how excited he was to work with her and how well he responded to her mentorship was phenomenal!
- Chad Parrish
---
Awesome puppy class. Jordan was so accessible and supportive!
- Michael Gutwaks
---
We took the Puppy Manners class with Margaret, who we absolutely LOVED. She was so incredibly patient, encouraging, and would help us redirect our puppy when he would disturbingly bark throughout class... She was so great at explaining instructions in multiple ways when dogs didn't pick up on things the first time. Thank you so much, Margaret!!!
- Courtenay Boron
---
Jordan was our trainer for the Adult Manners course. She has taught us so much about training techniques, why positive reinforcement is effective, and really how to get our dog to value our attention. This was a beneficial experience and helped us learn how to build the right foundation for our dog now and any dogs we have in the future. This class was great and Jordan is an amazing trainer!!!
- Jessica Rehder-Swallow
---
Adult Manners training at Tucker Pup's was fantastic! Margaret was so enthusiastic and showed special attention to each dog! I would highly recommend others to take classes at Tucker Pup's and with Margaret!
- Sara Markham
---
Our trainer Margaret was great. She listened to what we wanted to work on and consistently gave feedback and tips. Highly recommend. Just wished we had more classes to attend. Time flew!
- Maria Cicarelli
---
The puppy social sessions are excellent. This is our second one and the instructors do such a good job.
- Sarah Connolly
---
David is the BEST!! We sincerely cannot thank you and the team at Tucker Pup's enough. At the onset, our expectations were set given that we were only in Chicago for a few weeks and desperately needed to work on some behavioral issues that our Prince Fluffy was portraying, that only got worse with COVID and the lockdowns enforced back home.
We are heading back overseas today and I can truly say that our training with David was the best investment ever for our Fluffy.
Thank you so much for everything you do and the lives you change (pets + owners)
- Hager Altwegieri
---
Margaret was absolutely amazing. Rigel is a rescue and a little new to me, but Margaret made the whole experience so easy and reassuring.
- Aditi Singh
---
Kathleen was always on time, attentive to our needs and requests, very good with our golden doodle puppy. We keep doing our homework and already seeing significant improvement in loose leash training, jumping, sit and stay. We definitely recommend her to others!
- Jeff Heinzl
---
Jessie and her training apprentice were WONDERFUL. They were able to really get to know all the dogs, came to class with such a positive attitude, and provided really tailored and individualized feedback.
- Molly Wilensky
---
As a first time dog mom, I was really unsure how to properly and effectively train my puppy. This class was great! My pup and I learned so much and feel it set a good foundation for future learning. Jessie, our trainer, was awesome. She was really knowledgeable and worked with the pups and owners individually. What I loved most about the course is what we learned was very useful. It wasn't random tricks like roll or paw or dance, it was actual commands/skills that are needed everyday to be well-mannered. Highly recommend this class!
- Michele Kidd
---
Prep School with Susy was excellent, and our dog Teagan loved her.
I believe Susy installed a good foundation for all of Teagan's future training. She was also very helpful in scheduling training and our meetings.
- Gabriel Hardy
---
We loved having Kathleen help us with our dog's fear stage behaviors. She was extremely helpful, and the results were incredible! Our dog is doing so much better now with new people. We will absolutely call Kathleen back when we have future training concerns.
- David Stefl
---
Extremely grateful for the Advanced Manners course, especially with David. David pushes the trainers and holds us accountable for our dogs. He is a master of his craft and we are lucky to have him. I brag to my friends that we have the opportunity to work with David!
- Michael DiDonato
---
Kathleen has been wonderful with our dog Harry. They had an instant connection and he was excited every time he saw her. We've extended our work with Kathleen another 10 sessions so she can work with our other puppy, Bella. Kathleen is an amazing trainer and we're grateful to get to work with her!
- Laura Amin
---
Margaret Fraser is an amazing trainer- very patient and great at teaching humans how to work with their pups. My dog was the youngest in the group and as a first time dog owner I was nervous, but Margaret reassured me of my dog's progress and by the last class he was a confident pup with a few commands under his belt.
- Victoria Nieto
---
Veronica did a great job leading the Confidence Builder Puppy Social. Our puppy, Luna, made some new friends and we learned a lot too!
- Charlaine Plath
---
We loved the Adult Manners class and thought the instruction was incredible. Thank you!!! We will be back for the next round at the end of the summer :)
- Gina Slesar
---
Loved Jessie and Adult Manners class - so patient and gave great tips for Jordy! Would definitely recommend to friends.
- Sydney Winkler
---
The Confidence Builder social was amazing! The trainer was very positive. I was convinced that my very anxious and shy dog was just going to sit under the chair the whole time, but seeing two pups playing made him curious and started to sniff dogs. When we got home, he started some sniffs with the same dogs he'd run away from! Wow! Already signed up for another round. Thanks for this puppy social.
- Angel Colina
---
The trainer was extremely knowledgeable and laid out an effective and simple training plan for my young puppy (Sadie). She enjoyed the Puppy Manners class, as did my husband and I. Thank you.
- Ashley Muelhausen
---
We loved spending one hour every Tuesday watching Archie interact with other puppies his age and learn from Jamie. Both trainers were extremely pleasant and knowledgeable, giving us enough guidance and advice throughout the whole process. Thank you so much!
- Giovanna Oliveira
---
Kathleen is a great training when working with reactivity and leash training. She came to our home, and was so prepared to drive right in and get to work. She went over several things that we could do, and explained why the dog reacts the way she does. Overall, it was a great experience, and within a couple of weeks, our pup was walking like a pro on the leash. I would definitely recommend her for training!
- Roxana Hucko
---
David is an excellent trainer, very receptive to giving new tricks and tips if something new comes up with your dog that you are not sure how to handle. Very pleased with this trainer and the class. My dog is much better to have gone through the Leash Reactivity course.
- Brent Combs
---
Veronica was patient with Emi, who is currently shy and scared of other dogs. She talked us through the play behaviors we saw with the other pups and also discussed how to redirect as needed. The exercises we practiced were very helpful and we will definitely be using them at home!
- Nahid Husain-Habib
---
The Leash Reactivity class was very helpful. We made great strides with our dog and are really happy we did it.
- Michelle Silver
---
The Whippersnappers puppy social was amazing. The trainer Veronica was super helpful
- Jessica Sharpe
---
This is a review for the beginner Adult Manners class.
Margaret was awesome and went above and beyond to enrich our training class when she realized that our dogs were doing so well. She also was gracious enough to offer some customized 1-1 tips for some behavioral stuff outside the scope of the class. She was super friendly, extremely helpful, and we found that our dog Pepper really improved over the course of the 6 weeks. We're definitely considering doing the Intermediate Manners class next!
- Alex Gurvich
---
We had a great time in our Adult Manners class! We felt like each pup in the class received great one-on-one attention from Margaret, and also that the temperament and personality of each pup was really respected and appreciated! We're going to really miss this in our weekly routine!
- Lindsay Culbert-Olds
---
We really got a lot out of the Adult Manners class! It was well-structured and easy to practice everything at home. We have noticed a difference with Luna for sure.
- Jenna Ferrari
---
Margaret is a great instructor. The at-home videos really were important to reinforce the training points, there's only so much you can remember from being in the class with an active puppy at your feet.
Very thoughtful and well put together. We have already signed up for Intermediate class, see you in June.
- Ellen Chapman
---
Margaret was absolutely fantastic both as a trainer and just a friend to Sammy. He's really grown a lot thanks to her turnkey training, giving him the foundational skills to make my life easier with him.
- Joe Calderone
---
Attended our first puppy social and had a great time. The trainers were observing and making sure the puppies were safe the entire time, which made me feel very comfortable. It helped when she was explaining what was going on and giving us info the entire class! 10/10!
- Kyle Misteravich
---
Margaret is a great trainer with the perfect personality for puppies. The logic and order we learned commands during Puppy Manners made sense, and she was very patient. I also appreciate that every class she spent time with each student to ask if there was specifics she could help with.
- Katie Kern
---
Margaret was amazing from the beginning; she met with us before we even picked Emi up and answered our millions of questions to help us feel comfortable about our first week with the puppy. Since then, she has provided us practical tips and strategies to work with Emi, modeling the training each time and helping us practice so we know what we're doing. She has been encouraging, supportive, and knowledgeable and we are so thankful to have worked with her to have a solid start with Emi! THANK YOU Margaret!
- Nahid Husain-Habib
---
Angela was great and Bubs learned a lot during turnkey training. I am worried about consistency, because he is SO tenacious, but he sure does listen to her! His attitude has gotten much better and he loves doing his "push ups"...for treats of course! Thank you SO MUCH Angela!~
- Shannon Day
---
Kathleen is the best at what she does! My puppy loves her! Any dog would be blessed to have her as their dog trainer! If you want your dog to get really good training? You need a trainer that will love your dog so much, bear so much patience, and have yummy dog treats ready to reward your doggie on a job well done! My suggestion is Kathleen's your dog trainer!
- Samantha Verdaguer
---
Cailin has been wonderful. She's very patient and cares a lot about our dog, Beau. We are very appreciative of all of her work!
- Derek Sullivan
---
The puppy social was exactly what we were looking for! Susy was great and I liked that there was a small, controlled group of dogs. I would highly recommend to new puppy owners and I wish I knew about this sooner! It was a great opportunity and we look forward to returning, and starting the Adult Manners class soon. Thanks to Tucker Pup's and Susy for a great first experience!
- Nikki Gaub
---
I was so impressed with the puppy social! Not only was it a safe and well supervised environment to give my puppy a positive experience with other pups, I loved how training techniques were also practiced! The amount of pups was perfect and the trainer was very knowledgeable and helpful in explaining everything throughout the session. I will be back!
- Ariel Breaux
---
Angela was very informative, positive, and helpful with fun tips and tricks to get our pup well-trained.
- Taylor Mack
---
Margaret was a great trainer and very engaging in the Adult Manners class. She kept class interesting and knew how to respond/react to my individual pup's needs.
- Lauren Cassel
---
Adult Manners class was a great entry program and Lewis has shown great improvement since starting. We look forward to the Intermediate Manners class!
- Joey Lipton
---
Jessie is wonderful! She is warm, friendly and clearly loves dogs. I trust that she'll be good to our puppy, but not let her get away with shenanigans. :)
Jessie connected via email throughout the 3 week Prep School program to give updates, advice and check-in. We loved that!
Our private training sessions were great. I loved that she was able to give alternative options when our dog, Ripley, didn't seem to respond to the usual commands. That was helpful.
I can't imagine what our pup would be like without going through this training! I'm so happy we did it!
- Julie Richardson
---
Margaret was great. We also really appreciated the opportunities for off-leash play - not only did Cora love it, but it also reassured us that our dog can be trusted to behave in those situations. We also saw a lot of progress over the 5 weeks and know we're capable of continuing to train our dog so that we're all happier.
- Victoria Schiffman
---
Angela was wonderful, very professional, excellent skills and knowledge about dogs. Paxton has learned so much from her and so did we. Thank you very much.
- Roza Ilieva Kononelos
---
We absolutely loved training with Angela! Puff learned so much and was able to pass the CGC test thanks to Angela's instruction and support. Puff is a high-energy dog, and it can be tough to get her to focus during training. This could make class frustrating at times, but Angela let us know that Puff's energy is wonderful and showed us additional tricks to get her to focus.
- Jessica Jones
---
Angela was great! We learned a lot about how to train our new puppy. Really glad we took the Puppy Manners class.
- Susan Lucas
---
Cailin was amazing for Prep School. She was helpful, clear, and so patient. Ziggy is doing so much better and I feel confident I can continue his training at home. Cailin laid a great foundation. I can't believe what he is now capable of.
- Elie Portnoy
---
Wonderful puppy social! Very well organized. Hedy had a great time socializing with the other pups. We learned a lot and felt that it was a safe environment for play. Thank you!
- Anna Huber
---
We have been SO impressed with the training classes here. We did both puppy manners and intermediate manners with David, and he is an incredible trainer. David is extremely knowledgeable and truly cares about the dogs and their progress. We have learned so much from him, he gives such great advice and feedback. Also loved the videos online to reference while practicing the exercises at home in between classes. I always highly recommend David and Tucker Pup's training programs to any pup parent, whether they're puppies or adult dogs. Such an amazing experience, thank you!!!
- Alexandra Babalian
---
All my experiences with Tucker Pup's have been incredibly positive. Everyone who works there is kind, genuine, and professional. Most importantly, they have proven to be extremely trustworthy and responsible in their care of my dog.
My dog, Ziggy, has been participating in "Prep School" and he learning a lot and enjoying himself. His trainer, Cailin, is amazing. She is so patient with me and Ziggy and clearly loves dogs and puts her whole heart into her work. I can't recommend Tucker's Pup's enough!
- Elie Portnoy
---
Jordan is a wonderful trainer! Even while juggling multiple dogs in Puppy Manners class, she was still able to give personalized advice for Maple!
- Rachel Mcgovern
---
We loved the Confidence Builder puppy social! Susy was so helpful and talked through everything that was going on with how the pups were playing. We already signed up for a Tiny Tots social with her next week!
- Rachel Mcgovern
---
So grateful for the Confidence Builder class to allow our pup, who was very nervous about other dogs and hadn't really socialized much, to socialize in a more 'at her own pace' environment. Susy offered great advice on what good play behavior looks like, tips for home, and what our pup was or wasn't ready for.
- Ashley Olszewski
---
Jordan was great at giving tips specific to my dogs needs. She also went out of her way to email me and check in on my pups progression. I would recommend Tucker Pup's classes to anyone who is a first time dog owner. She made the training specific to real life scenarios in the city, which is important to my dogs safety.
- Kathryn Slunecko
---
The puppy social was so great. Good amount of puppies, and a good mix. Susy the trainer was great at being calm and explaining "good play" vs "bad play" for us anxious puppy parents. It helped us a lot going home and gauging how to introduce our new puppy to other family members' dogs.
- Patty Bogyo
---
Our trainer, Claire, was very positive and helpful in the puppy social. She gave me is lots of tips about reading a dog's body language and what was normal vs not. Our dog was shy but she never tried to force an interaction.
- Emily Owaki
---
The puppy social was fantastic! Loved the trainers and experience.
- Robert Wott
---
I thought the puppy social went great! I've been to two other places for puppy socialization classes, and Tucker Pup's was the only one that did actual training during our time there (e.g. name recall, relaxation time, introducing new environment); they don't just let the puppies roam and play nonstop the entire time. I like that there's structure and two active trainers there the whole time giving helpful information. The trainers did a wonderful job at making sure every pup was doing well and monitoring any aggressive behavior. I can see why these socials sell out fast.
- Esmeralda Tenorio
---
I have been so impressed with the training that we received from Tucker Pup's prep school program and Jessie the trainer! Our puppy, Zeke, has truly transformed after the three weeks. Furthermore, I feel equipped to continue with the exercises with Zeke. The 1:1 training sessions were great and did so much to build our confidence in working with Zeke on our own. All in all, he is so much more balanced, and we're equipped with much better tools to continue to strengthen our bond. Couldn't be happier!
- Virginia Venable
---
I recently completed the Leash Reactivity Course with David and learned a few new techniques to help my dog navigate situations that lead to reactivity. While continued training and consistently are going to be imperative to longer term success, David did a great job listening to each of our individual needs and making recommendations about handling technique to improve the way I interact with my dog.
- Stephanie Acker
---
Jaime is outstanding. She demonstrated expertise, patience, flexibility and professionalism throughout our private lessons. We've signed on for an additional session with her! Jaime is amazing and we are so grateful for how she's helped our family adjust to raising and training a puppy. She is so patient with our little kids and really engaged them in our family sessions. We are definitely better off because of her.
- Heather Hoeppner
---
We attended the puppy social with Susy and had a great experience. Our puppy is very shy so she did a great job of explaining his behaviors and how the puppies interacted with each other. Reassured us that our puppy isn't aggressive and he just takes a little bit more to be warmed up!
- Liana Imbrogno and Matt Albin
---
The Puppy Manners course was good and covered a lot of helpful skills. I really liked that the puppies had time to socialize too! Thank you for a great experience!
- Jessica Schultz
---
Susy was very kind and patient. Our puppy was reluctant to come in and go up the stairs, and she took time with us to encourage her to walk up on her own. She had very good control over the social. We appreciated her and look forward to joining next week again!
- Mark Gutzmer
---
Kathleen Jager-Wilcox is wonderful! She came to our home today to help us learn how to manage Freyja's anxiety around going for walks and being less reactive to loud noises. Freyja loved her immediately and Kathleen gave us a lot of helpful tips moving forward. Kathleen was knowledgeable, personable, patient and kind. I highly recommend Kathleen and look forward to working with her again.
Thank you!
- Michele Bailey, John Wittenborn and Freyja :)
---
We loved our first puppy social with our trainer, Claire. She was very attentive to the puppies who were playing and offered behavior corrections. We were pleasantly surprised that play time had breaks for some training and desensitization - that was a big plus for us. The Whippersnappers social was a great energy level for our 4 month old corgi, Wally, and we will be back again!
- Stephanie Tena
---
Puppy Manners class was awesome and Angela was a great teacher! Would definitely recommend to others!
- Katie Centurione
---
Angela was an amazing instructor!! I thought I knew everything I needed to know to get Lumi started but she exceeded my expectations! Thanks so much for paving an amazing path for Lumi and we can't wait to start Intermediate Manners!!
- Chezka Eusebio
---
Angela is an excellent teacher. She clearly cares about the success of her student puppies. My little Teddy is shy and can be uncooperative but Angela worked with her, and she learned her manners quickly and well.
I recommend Angela - she gets it and transfers her warmth and intelligence and genuine caring for dogs to us - her students (and I refer to dog owners and dogs alike).
My best to you all.
- Marilyn Rinaldi
---
The Intermediate Manners training class with David was informative and necessary for providing required groundwork for future trainings. Our dog learned a lot in the past six weeks and more importantly provided her much needed exposure to other dogs, something that has been very lacking due to the COVID-19 pandemic.
- Rosalyn and Adam Flores
---
Really enjoyed Puppy Manners class. Willow absolutely benefited from all interactions (social and behavioral) with the other dogs and the trainer Jamie. Her suggestions were realistic and practical. Looking forward to intermediate lessons.
- Anna Govert
---
Angela was great. She was really great at demonstrating, giving tips, and making individual suggestions. Puppy Manners class really helped us a lot. We may do the intermediate class next!
- Bryan Surek
---
We had a great time. Maximized our time and loved the little training breaks.
- Hilary Kremzir
---
David was very knowledgeable and a great trainer! Will leave some additional feedback through social media highlighting how happy I am with Tucker Pup's and will sign up for advanced training later on.
- David Suarez
---
Intermediate manners was our second training class with Angela. We were once again very pleased with her as an instructor! She challenged us during the class to help us prepare for the CGC test. I would definitely recommend the Intermediate class to anyone who is dedicated to having a well-trained dog.
I was surprised with how quickly the 5 weeks of class went leading up to the test. I would emphasize to anyone who is interested in the CGC test that they be prepared to practice a LOT outside of class. If you are willing to put the work and time in you'll notice a big improvement!
- Michelle Peniak
---
Great instructor. David gave specific directions and made the Intermediate Manners class fun. My dog and I learned a lot. The videos were extremely helpful to review techniques. I am not sure I would have taken this class without the videos, since we had to miss a couple of classes.
- Mary Jaklevic
---
The Intermediate Manners class was very helpful and gave us new tools to support Phoebe's growth.
- Emil Bielecki
---
We loved the Adult Manners course and have already signed up for Intermediate Manners in April. Ivy had a great time and all three (Anthony, Ivy and I) all learned a lot. We are very excited to continue training Ivy and to watch her grow into the best dog she can be.
Thank you!
- Katie Ashbaugh
---
David is a god-send. Our 8 month old Labrador, Jack, dragged me in to Tucker Pup's without any impulse control at all. At home, clothes, pillows, couches, shoes, and everything else he could reach was doomed to be destroyed. He never slept more than an hour without whining/yelping loudly as if he was in pain.
We forgot what a good-night's sleep was. In public he was far worse: barking, biting, panicking, pulling on the leash to the point of injury (him and me). Going into any kind of a store was a fool's errand. Displays destroyed and people terrified. Not fun.
After Week One of Prep School, Jack was like a different dog. David taught us that Jack needed guidance, but so did we.
Personalized tips and tactics got us on the right track immediately. Now we remember why we have a Lab. The Kool-Aid is delicious, may I have some more!
- Jessica Kurland
---
The puppy play date was wonderful. Great mix of activities. Nice staff that seemed experienced. I would do it again.
- Kate Moon
---
Angela gave us some really good training tips that we were able to apply with our puppy immediately. We saw the positive effects of the training during walks, at the dog park, and around the house. We have already recommended the course to all our puppy owner friends!
- David Chao
---
Angela was an excellent instructor for our puppy manners class!
- Meredith Quarello
---
The class was great and made great adaptions with Covid. I really loved the positive environment and Angela was amazing and helpful and friendly!! Could not recommend more.
- Samantha Cutler
---
I am so impressed with Angela's training ability. She taught my dog to sit, stay, go for walks, lay down; all as a puppy.
Thank you for the great experience!
- Naomi Huerta
---
Angela was great in working with each puppy and took the time to answer questions and give examples. I thought the class was very well-structured and a good learning environment and experience.
- Anuj Gupta
---
Angela was fantastic. She gave me the tools to take my dog to the level I want him to be at. Angela was available for calls to discuss my concerns, constructive in her feedback, and she is evidently very talented and knowledgeable - she makes it look easy. I would consider further instruction from Angela in the future.
- John Loecher
---
The trainer, Angela, was very knowledgeable and very helpful during class. She is a pro, and you could tell by the way she conducted class, interacted with the dogs and the humans! We will continue with Tucker Pup's training courses and seek out Angela as the trainer when available!
We also found the TrainTrack online tool to be extremely helpful. This is SO much added value. It definitely makes Tucker Pup's stand out from the other available training options (that are the same price even!)
- Katie Corley
---
My puppy Westley and I are very happy with our experience in the Puppy Manners class with our trainer, Angela. She did a nice job explaining each command and checked in with each individual regularly. The structure of the course made it easy to track progress and the class was well-adapted to accommodate covid precautions. I'm confident that taking this course was a great first step for my puppy and I'm looking forward to continuing our training journey with Angela and Tucker's Pup's!
- Angela Calabria
---
Angela was excellent. She is clearly incredibly committed and knowledgeable. We appreciated the time she took to get to know our dog and the full context, and then all of the advice she shared on how to proceed with our pup.
- Monique Wilson
---
Angela was incredibly helpful, especially as some one who has not owned a dog before. She took the time to get to know each pup respectively and provided incredibly personal advice tailored to each individual. I'm grateful for the opportunity to learn some basics.
- Lara Gossman
---
Puppy Manners training has made such a huge difference for Brodie. We really enjoyed training and learned a lot that we can keep practicing on.
- Judd Gatbonton
---
David was absolutely amazing with Mila. He is extremely knowledgeable and personable. It was a pleasure to work with him. Mila progressed so much during Prep School and I can't wait for her to continue learning with David and the Tucker Pup's team!
Thank you!
- Marissa Pinto
---
Angela was an incredible trainer. She gave us the confidence to handle our giant breed puppy Lomo. She paid for herself when she advised us to get his ears checked after working with him (he had a double ear infection). I cannot say enough good things about her and her methods. It's obvious that she cares about dogs very deeply. 5 out of 5. We recommend Tucker Pup's to everyone we meet.
- Ariani Oehrlein
---
Your trainers are FANTASTIC! I truly felt that they had almost as much affection for Charlie as our family does! They trained her with love, gentleness, and patience. Charlie completed 2 weeks of Prep School and we are thrilled with the results. We have every intention of registering for Intermediate Manners class once we have worked with her for a few weeks on the stuff she learned in Prep School! I am so excited to have found a training program that does not use prong or pinch collars! KUDOS TO TUCKER PUP'S!
- Heidi Berke
---
We are way more than satisfied with Prep School! Winnie is a completely different dog in every single aspect. Starting with the training, she has learned so many new things that make our every day lives so much easier. Prep school was the perfect option to get her trained fast since we both worked all day from home and weren't able to focus as much time on training as we wanted to. David, Jessie and Jordan were absolutely wonderful to work with and genuinely cared and loved for Winnie way more than I could've asked for.
We started bringing her to Tucker Pup's when she was a little puppy which naturally made me nervous, but I am so glad we did. Moving onto the daycare portion of Prep School, wow! This made the whole experience even better. All the handlers were absolutely awesome! Winnie was very timid at first and did not take to other dogs like we wanted her to. She would stand off in the corner and keep to her own... 3 days in she started to come out of her shell and here we are now, she LOVES to play with any and all dogs! She is the sweetest, most well-behaved dog, and we have Tucker Pup's to thank for that. I can't say enough good things! We will continue to bring Winnie back for daycare every once in a while because she loves it so much. I don't think we will ever feel comfortable bringing her anywhere else for training or daycare.
Thank you for all that you do, Tucker Pup's!
- Nicole Morin
---
Angela was absolutely amazing at Adult Manners. Her experience shows through in everything she teaches. Thanks again.
- Alex Cestero
---
Angela is so good at what she does. Kevin's behavior significantly improved. It meant so much to me that I could tell she really loved my fur baby. He could tell too and that trust and adoration really went a long way. He wanted to please her and instantly started responding to her training.
- Abigail Morris
---
Angela was an excellent trainer! She was always on time and was patient with us and our dog. She offered creative solutions to make the training more effective for our dog, and even brought her dog once to help our dog with its interactions with other dogs. If you have any issues with your dog's anxiety this training is invaluable!
- Timothy and Karly Hackert
---
We loved the Adult Manners training! Our dog, Pepper, especially enjoyed the play time at the start and end the class. Angela was a wonderful teacher and it is clear she has a LOT of experience. Any question asked she was able to thoughtfully answer and give a recommendation. Also her energetic, and encouraging attitude along with demonstrations helped when a new skill was difficult to grasp.
- Michelle Peniak
---
Angela was a wonderful instructor. We learned a lot and are very grateful for all her help with our puppy Simba. Thank you!
- Lauren Schiappa
---
The size of the class was perfect for my puppy just starting out - she was able to socialize but also focus on training. Angela did a fantastic job whenever I came across any road blocks!
- Carly Oberg
---
We loved our puppy manners class! Angela was so helpful - there were commands we had been trying to train our puppy for months that she was able to help us achieve in 15 minutes with just some slight adjustments. Her experience and knowledge was evident, and every class flew by. We would definitely recommend Tucker Pup's to friends and will be back for Intermediate Manners.
- Lindsay Hamilton
---
We had a great training experience! Angela did an amazing job on helping us with training basics for our puppy and we saw quickly a difference!
- Kristin Gomez
---
Training with Angela was such a great experience. I thought it was a wonderful balance of learning and play time. Angela was very knowledgeable and made it fun for everyone!
- Kristi Harshbarger
---
Angela is an amazing trainer. My baby pup knows several commands thanks to Angela's expert experience with training dogs.
- Naomi Huerta
---
Enjoyed the sessions. Appreciated the expertise/knowledge of Angela and her willingness to answer our questions about training our puppy.
This was a great glass for our beagle. The social interaction with people and other puppies, and the training. These past 6 weeks really helped build up my puppy's confidence.
- Wayne and Crystal Phillips
---
Angela was a fantastic trainer! She did a great job of explaining the why behind everything we did but also being able to interact with each family as well. We learned so much from her and became better dog parents because of this class.
Thank you Angela!
- Kelsey Millin
---
I'm ecstatic with the gentle, kind, training David and his team are giving to my sweet dog, Charlie! I'm so glad I found you guys!
- Heidi Berke
---
The Intermediate Manners class with David Roos was absolutely outstanding! I would highly recommend this to anyone who has taken basic manners as a terrific way to bond with your dog. David is an excellent teacher and my dog's behavior and consistency improved exponentially.
- Mallory Thompson
---
David Roos is so great! We loved working with him and our dog really responded to the training.
- Kimberly Eyers
---
We've been in both the Intermediate and now Advanced Manners class. David is an incredible trainer, teaching real-life commands and providing individual feedback! It really has been a great experience.
We also had two privates with Angela when our dog was still a small puppy before going into a group class. She came to us, was completely prepared with a mask and just so patient with me as a first time dog owner!
Finally, the service has been amazing. Every time I've interacted with the staff, on the phone or in person has been a complete pleasure and they were willing to answer all my questions (which I had a lot).
We also had Finley groomed and in daycare. If you want consistent high quality for all your dog needs this truly is the best in Chicago! And I did ALOT of research before hand.
- Kelly Jacobson
---
Where to begin? The dog our trainer Angela met 6 weeks ago was a completely different pup than the one we have now! Angela greatly succeeded my expectations, and I am happy to report our once extremely fearful pup has now properly learned to cope with any uncontrollable stressors in a completely different and healthy way thanks to Angela. Angela was very patient with Mollie from the beginning and greatly helped build up Mollie's confidence. She was always willing to answer any questions I had and brought much positivity and fun to our sessions. We are forever grateful to Angela for her services and look forward to continuing to improve on all we learned together over the course of the last 6 weeks.
- Christina Pickren
---
Lola and I worked with Angela in the Adults Manners Class. Angela was very responsive and worked to find ways of tailoring the class experience to our individual needs and issues. Angela is very encouraging and clear in her instruction. We really got a lot out of the class and hope to build on the knowledge.
- Tammy Ho
---
Angela was a fantastic instructor. She was clear, organized and so perceptive. Always positive and open, she was able to identify where and how we needed to be clearer communicators. We thoroughly enjoyed the class and feel that we learned a great deal. It shows with Charlie!
- Tonray Ho and Bob Fisch
---
We had an excellent experience with Angela in her Saturday morning Puppy Manners course. Angela is patient and attentive to all those she works with. She always checked in with us as the start and end of every class and was sure to address any concerns. I highly recommend Angela and Tucker Pup's for training services. We left class feeling successful and confident in our ability to train and support our puppy.
- Shavon Mathus
---
David was a wonderful trainer! My puppy Charlie learned so much during the class. We are excited to come back to Tucker Pup's for more. Thanks so much, David, for your diligence and patience with Charlie!
- Abby Blachman
---
David was a fantastic trainer who helped prepare us to learn with our dog! He provided behavioral education on ways to make our home life better with Poppy while also creating a fun and positive environment to help us (and Poppy!) train together.
Thank you!
- Nicholas Batchos
---
David is an excellent trainer and was very effective with our dog Molly, who is a 5 year old Labradooodle rescue. The classes were well organized, allowed for both group interaction and individual coaching. I especially appreciated David's training on how to walk your dog on a loose leash. Molly is 70 pounds and pulled me all over the streets. She's not perfect yet -- but enormously improved -- mostly because I now know what to do. David was very patient with Molly and us, and by the end of the program, between his classes and access to TrainTrack -- she was pretty solid on most commands. We have already signed up for Intermediate Manners.
Thank you!
- Barbara Shomaker
---
I love Tucker Pups and so does my dog Gooze! In Adult Manners class with David we learned so many great beginning commands. We really expanded our tool box and it started with amping up our treats and using all positive reinforcement. His leash walking has made huge strides, he listens so much better, he is gaining important socialization skills, and we are excited to see how these skills will continue to sharpen in the intermediate course. It is evident how much experience David the trainer has and how individualized his feedback for each dog is, very impressed!
- Brianna McCormick
---
We had such a nice time at our Puppy Social. Jordan is a great teacher and our pup was such a tired girl.
- Max Hester
---
Angela Love was assigned as our trainer for our turnkey in home puppy training.
Murphy absolutely loved training with Angela and we saw notable improvements in her basic commands and outdoor attention. She had him mentally exhausted at the end of each session (a good thing)!
So happy we decided to do the three week program. Very happy with the results and trainer.
- Andrew and Erin Nigro
---
This was a great training, with a great environment to train your dog. Gave me the right tools to go forward.
- Caroline Casper
---
Excellent class and the trainer was fantastic. I think this was extremely helpful in training my dog.
- Shawn Barnett
---
Angela was fantastic! She is a top trainer and we will want to work with her in the future for any training needs!
- Andrew Luckman and Samantha Spitz
---
Angela was amazing! She is very knowledgeable and was able to handle many dogs at once and still give very individualized training and education. I would highly recommend her to anyone as Dart loved her.
- Erik DeLaney
---
We had a great time at our first puppy social! We'll definitely be back.
- Ashlee O'Neil
---
Violet (my dog) and I did the Whippersnapper puppy social with Jordan Wright. This course serves as an excellent way to safely socialize our dogs during COVID-19. We took this puppy social course before our obedience classes. As for the instruction of the course, Jordan was knowledgeable, gifted at puppy-appropriate positive reinforcement methods, and handled the puppies (and their families) well. The social was such a great experience that my dog and I thoroughly enjoyed. I learned so much about how my dog socializes, plays and communicates. This offering went above and beyond my expectations of the course. I look forward to our basic obedience course at Tucker Pup's, and many more trainings to come!
- Mary Donner
---
I loved the puppy social!! The trainer was so sweet and made it feel so safe! My pup learned how to go up and down stairs in ONE SESSION!! I'm so impressed and have signed up for more sessions.
- Julie Alfaro
---
Angela has been an amazing resource for us. We always have said the humans need more training the dog, but she has been a blessing in disguise and great teacher for us!
- Jourdan Blackwell
---
Personal training worked best for my Lola. Angela was great training not only Lola but me as well, and I feel we have a great foundation to continue working to improve. Would highly recommend Angela.
- Donna Iwanski
---
We felt that the social was professionally run and helpful in exposing our puppy to new experiences, items and play time. She was totally tired out afterwards which is great! We will attend more sessions in the future.
- Kelly Ferneding
---
Angela was excellent. Murray loved her more than anyone he's met so far, and now knows everything we had Angela teach him. She was fabulous to work with.
Thank you!
- Meredith and Elliott Hyman
---
The puppy social when great. The trainers did a good job of explaining behavior and ensuring the dogs were able to express themselves, only interjecting with things seemed to cross the line. I'll definitely be attending more.
- Jared Casey and Danielle Markus
---
I took puppy, intermediate and advanced classes with Tucker Pup's - and David Roos as trainer. David was awesome. He took time with all of us, followed up on concerns, and was always positive and friendly and professional. Classes were fun for me and Dudley.
All-in-all, a wonderful experience and I highly recommend.
- Laura Girardi
---
David is a knowledgeable teacher who knows what reactive dogs need, and how to train their humans to meet those needs.
Loki was a very leash reactive dog and struggled a bit with the group aspects of class, but was able to participate by the end.
David differentiated class to meet the needs of each dog, and told us what to work on each week to help build Loki's confidence. He also spoke to us about medication (which my husband was on the fence about and David helped tip the scales). He was available via cell to answer my questions which I felt went above and beyond.
Thank you!
- Sarah Lammie
---
Angela is awesome and she has helped us get our rescue pup in good shape in just six sessions/weeks. We signed up for additional sessions with Angela because we wanted to keep our relationship with her and our training on track going forward.
- Hillary Wolff
---
Angela is amazing and so knowledgeable and kind. I'd love to take more classes with her and we're planning on taking Intermediate Manners.
- Rebeccah Singer
---
Tucker Pups was great to work with. Angela was an amazing instructor and always willing to chat about our pup and answer any/all questions.
Thank you!
- Michael and Cait DiDonato
---
Angela was a great instructor and the Anti-Cruelty Society location was very convenient.
- Saleema Syed
---
The puppy social was great and the trainers were excellent helping us understand our dog's behavior around other dogs.
- Ryan Shannon
---
The puppy social was awesome and really helped Franklin.
- Madison Meersman
---
I had a fantastic time working with Angela. We saw immediate improvements with our puppy, Walter. Angela provided great ideas for helping with behavior issues and the chance to practice the training methods and receive feedback with her was invaluable.
The puppy social we attended was very fun. It was great to watch the puppies interact.
- Ellie Cohen
---
Darla loved her first puppy social! We can't wait to come back. Thank you!
- Julia Meyer
---
I went to the Whippersnappers puppy social and was so impressed! I loved the little introductions to training and thought they were so helpful, as well as the trainer explaining certain puppy actions or behaviors during puppy play. I can't wait to bring my puppy back every week!
- Kacie Diamond
---
The Confidence Builder puppy social was a great way for our puppy to interact with other puppies! The moderator made sure that everything was fun and not intimidating for any puppies involved.
- Bobby Winters
---
The puppy social was great, very helpful getting Bernie socialized with other dogs. We've been to similar events but they haven't taken the time out to do exercises with the dogs. That was great. We'll be back!
- JT Pastor
---
We love David. We have done puppy manners, intermediate manners and will now be attending advanced Manners all because of David.
David is an amazing instructor and truly cares about our pup and our pup loves him.
- Kyle Siranovic
---
Angela was terrific. Her guidance helped me and my entire family understand how to get started with our new puppy. We now have the skills to continue and reinforce basic training. She also helped us with establishing a relationship with our neighbor's dog =) Angela is clearly so knowledgeable and got our whole family involved with supporting our new dog! Our puppy LOVED her and we all will miss her visits.
- Meg Boarini
---
David is truly the best, he knows how to work with any dog in any situation, we are grateful for him!
- Lindsay Zess
---
David is a fantastic instructor. We signed up for Advanced Manners right after we graduated from Intermediate with him and couldn't have been happier with our experience.
He is patient, knowledgeable, and does a great job of correcting your training habits while in class. The pace of the class is pretty quick, which we enjoyed--we were able to cover and practice a lot more advanced techniques because of this. We'd definitely recommend this class if you're looking for more training after Intermediate Manners!
- Stephanie Bakula
---
David is amazing! Our dog loves him, and thanks to him my husband and I were "trained" to communicate better with our pup and raise a lovely dog!
- Linnea Gandhi
---
I took Dudley to Puppy Manners and loved it. So, I took him to Intermediate Manners, from which he graduated last night.
Great course and instructor. Both he and I learned many things to make him a good dog citizen. Great experience for both of us.
David, the trainer, was great and took time with each dog and any individual concerns.
I already signed up for the Advanced Manners class with David.
- Laura Girardi
---
Just finished the intermediate training class with David. It was a great class for both the dog and I. David is very knowledgeable and helpful to guide you through individual issues.
- Sharon Pierce
---
David was amazing!! We have 2 dogs each with their own issues.
The older dog was always in protective mode and would bark at other dogs. It got to the point that the older dog was very difficult to walk because he would sometimes be aggressive when he would see another dog. David was able to train our dog not to be in a conflict mode when he would see other dogs. He also helped my husband and I to be better prepared to prevent any encounter.
The younger dog was a puller. She could have been an Iditarod sled dog or at least that is how it felt when you would walk her. David once again worked his magic and showed us how to encourage her not to pull.
David has made our dog walking life so much easier. He was like Mary Poppins for dogs. He flew in saw the problem and corrected it (and us) immediately. Then he was off to help another family.
We both look forward to working with David in 2020.
- Renee Beam
---
We learned how to redirect negative behavior at home and on walks. Sometimes our dogs would fight with each other so the phrase, "walk away" was extremely helpful. We use the clicker on walks and make sure each dog is focused on watching each handler instead of the other dog. Angela, our trainer, was very patient and our dogs connected with her right away. They were always so happy to see her! She was always punctual and always made us feel comfortable when correcting/adjusting our behavior.
- Tamara Hirsch
---
We had a great experience in David's Leash Reactivity class! I learned so many helpful skills, tips, and tricks to help me manage my dog's reactive behavior when she's outside on a leash. Her behavior has improved tremendously and walks have become so much easier! I can't recommend this class enough.
- Jordan Steiger
---
We completed a few puppy training courses with our first dog Dreidel back in 2007, and were very happy with what we (and Dre) learned. Flash forward to our new puppy Basil in 2019, new trainer (David), and same great results. Basil was having a tough time with "down" and David worked with her and gave us some great tips to help her master the skill at home. We will definitely be back for the next level!
- Jennifer Stuart
---
Puppy Manners was a great course. The trainers were excellent and took the time to work with me and my pup if either one of us was not getting the training concept or process right.
- Aretha Hills
---
Angela was great! Super nice, and had great tips. We will definitely be coming back for more!
- Kyrie Herring
---
Angela was great! She was very patient with Dash, even when he spent most of the time in class barking at things.
- Kendra Posthauer
---
I LOVED this class. I had taken another class with a different school and this class blew them away. I really appreciated the rigor of this class. Our instructors kept us moving the entire time. No time was wasted and we were constantly learning new things. I appreciated the one-on-one attention given to my pup and me when we were struggling. Instructors took time to reteach lessons that weren't picked up the first time. I liked the review of previous lessons learned at the start of each class as well as the time for puppy socialization.
I have recommended Tucker Pup's to friends and colleagues and look forward to taking the next class.
Thank you!
- John Finlay
---
Angela was great! We are so happy!
- Natalie Tomas
---
My 4 month old Rottweiler, Luna, took the Puppy Manners training class with Angela Love. I thought the class was great and that Angela was terrific, specifically with Luna. She had a lot of great advice on raising a large, working dog and was receptive to questions both in and out of class. 5 out of 5 rating from us!
- Brian Baloun
---
David was very welcoming and addressed concerns of a variety of owners with a variety of dogs. His empathy showed through with all he taught.
- Georgia Goldberg
---
We really enjoyed and benefited from the class and we hope to continue more advanced training. We are interested in more classes with our trainer if any others are offered.
- Meg Madden
---
I did the leash reactivity class and was very happy with the progress Scottie made. It was good to be in a class setting and see that other people struggle too even when we are all trying to follow instructions :)).
Scottie made so much progress in the class and our walks are a lot more pleasurable now. He is still reactive at times, but I now have so many more tools to help me either avoid, cut short or diffuse issues. His loose leash walking is amazing now! Just need to get through the winter with all the squirrels visible in the trees! David was an amazing trainer!!! He went above and beyond helping me do a dog park visit in his free time, so that I can be more confident socializing Scottie in that setting. This was one of my goals for this class.
Thank you David for all you have taught me and Scottie!!!
- Elisabeth Beerkens
---
We had a great experience with Angela for our puppy manners class and are excited about continuing our training with her in intermediate class.
- Sarah Karst
---
Awesome experience for us and most importantly, our puppy Simba. We have a great toolkit moving forward and we can't wait to see how he grows up with everything he's learned.
Thank you!
- Emily Wickham
---
David Roos is a jewel. Give the man a raise. I've had dogs all my life and none of them had training. I guess I did not want them tainted. I never had rules either. Just relied on their good nature. I'm not proud of how I screeched and pulled and went crazy. I thought I loved my dog. David is so so positive and a good man. And our dog Rebe thanks him for turning a free-to-do-what-dogs-do dog and her owner into responsible beings.
- Catherine Gill
---
David Roos is a great trainer.
- Brent Linsky
---
Angela was wonderful, passionate, and energetic! We have a whole toolbox of commands and training to keep doing with our dog forever so that we can all live happily ever after!
Highly recommend.
- Kristin Osborn
---
We loved Angela and so did our puppy. We had a really positive experience at group puppy training and at our private sessions with her.
- Cassandra Abboud
---
Angela was a wonderful trainer.
- Cindy Lu
---
Angela was great! She not only taught us puppy manner training techniques, but has also become a great resource for other puppy questions we have! Beau has become a much better loose leash walker, and knows his commands very well.
Thank you!
- Ariella Gelb
---
Angela was a terrific trainer who really cared about the pups and was great to learn from!! Highly recommend her service :)
- Heather Turnbull
---
Angela was our trainer and she has kept her word. She begins and ends each class on time. Equally important, she is careful to explain and demonstrate how each lesson works. Finally, she was extremely helpful in adjusting our training schedule when we had difficulty attending.
- James Wooten
---
Great 6 weeks! David really knows his stuff! We are beyond excited for the next training class.
- Alexis Covarrubias
---
Angela was fantastic! She is very knowledgeable and our dog improved almost immediately.
- Paige Levitt
---
Great Training. My puppy Iggy was provided with the building blocks for better behavior.
- Jason Johnson
---
David was incredibly helpful! We learned so much and have seen dramatic changes in our pup's behavior.
Thank you!
- Alexandra Effrein
---
David Roos not only made us comfortable, my dog Katie was very receptive to him! His ability to adjust his style to each dog and parent, makes his class even more valuable as he helps us navigate through our challenges easier. I'm looking forward to taking another class with him.
- Kamilah Brewton
---
Love Angela! She made it fun for everyone (dogs and owners) while teaching us and correcting our techniques for better results. We had tried other training classes and this was by far the best. She had answers and corrections for everyone. We are interested about even using her for one-on-one training if possible. She is amazing and really made our training a great experience for Domino as well.
- Lauren Little
---
We enjoyed the class. David was a good instructor and our dog came to enjoy him. He did a good job managing the different levels of dogs in the class.
- Micol Werner
---
David's Puppy Manners training gave us the tools we needed to make the most out of the puppy stage! It provided a positive and fun environment for us and our new puppy to bond and learn.
- Hannah Bevis
---
The training class we took with Angela was outstanding. Thank you!!
- Rachel Esser
---
Angela was very nice to our dog and explained everything that we needed to do in order to improve any behavior issues. Additionally, she also brought her own dogs to see how they interact with ours and to provide an assessment on how to proceed with introducing our dog with others in the future.
- Robert North
---
Angela was very professional and excellent with our dogs. She always demonstrated using one of dogs in class which let you clearly see that the dog could perform the task. She always handed out written homework with clear steps outlined. She was very accommodating when we had scheduling conflicts and simply was a pleasure to deal with.
- James Wooten
---
We really enjoyed David and his willingness to give specific instructions per dog, and work with us as owners to know how to be better at training. Kim at the front desk is excellent. Great experience all around.
- Julie and Carlos Munoz
---
The training through Tucker Pup's was very good. I liked how there were different ways of training from working directly with your pup 1:1 to having them do things in groups. I thought it was a great way to prepare them for real life outside the classroom. I've seen a positive change in my pup at home as well and look forward to continuing to work on what we learned in class! I would definitely recommend!
- Jennifer Mathis
---
Angela was fantastic and I know Oakley will miss the Tuesday night classes now that they are finished! Now we just have to keep up all the training that we learned!
- Haley Haracz
---
The Adult Manners 6 week class really helped us bond with our dog and learn her strengths and weaknesses. Even though it was a group class, David made sure to speak to everyone individually about their specific concerns with their dog. Our dog is much more focused now and I feel like training her is actually possible!
- Prith Gadhia
---
We are so happy we worked with David. He makes training fun for the dogs and his methods are effective.
- Christina and Doug Mackin
---
The staff at Tucker Pup's was very helpful with registering. David was very accommodating when we had to miss a class. He really watches how we are training, our motions, our speed, and gives very good feedback on how to improve. He makes the class very enjoyable and gives very easy step-by-step instructions.
- Robert Gallagher
---
I was enrolled in the Puppy Manners class with Angela, and she was absolutely Awesome... I hope to do follow up classes with her. Amazing personality, extremely knowledgeable, patient, and kind.
- Garrick Thurmond
---
I've been a customer of Tucker Pup's for 4+ years with my 3 dogs and always had the best experience due to the high level of expertise their daycare, boarding and grooming staff hold and the exceptional communication they employ; however, I only recently used their dog training services. No surprise, I was completely impressed with my experience here as well.
The real goal of going to dog training is for the owner to acquire the skills to train their dog, a process that continues out of the classroom, not just to train your dog throughout a 6 week class period. David, was an **incredible** instructor. He immediately corrected all of things I couldn't see that I was doing which were inhibiting me from successfully training my dog. Moreover, he checked in with us every week to see make sure we were making the progress we needed to and made himself available by email and his personal cell phone when we were not. I emailed David about a couple of issues I was having between classes and he came back with clear, concise steps to resolve each of them.
I cannot recommend David and the Tucker Pups training class enough. My dog saw immediate results and I have acquired the skills to continue making progress with his training going forward. I will be enrolling my 2nd dog in class shortly!
- Jennifer O'Rourke
---
David was a great trainer. He paid attention to the dogs all as individuals and gave personalized coaching within the bigger group. As someone who has owned dogs my whole life, I was excited to learn new and effective walking and leash techniques. We've seen a great improvement in Bisou's leash reactivity and feel like we are equipped to continue working on her skills post-class.
- Sarah Podella
---
It was great to be able to (and even now after the training) to be able to contact trainer David Roos if we had any questions, concerns or issues in the weeks between training.
- Ana and Nayslan Criollo
---
David was so helpful and wonderful!
- Katherine Harper
---
Our puppy manners class with David was excellent! We plan on signing up for the next intermediate class with him to continue our puppy's training.
David was very attentive to all puppies and owners during the class making sure each got their turn to practice and watching each owner and making any corrections as needed. He was always available for questions whenever we had them and even gave us some great tips on how to correct behaviors specific to our puppy we were seeing at home! He was always very friendly and extremely fun and made the class such a wonderful experience! He had so much knowledge on training dogs and brought so much excitement to the class. We could not have asked for a better trainer.
- Hailey Vraney
---
I really enjoyed the way we we're able to get corrective feedback on our training technique. I also liked how we were taught a few minor tricks in puppy class.
- Ryan Sabherwal
---
Clear directions, Angela was inclusive and encouraging to all members of the class. Upbeat instructor, ready to answer all questions and make you feel so good about your dog's progress! I will be back when the time is right for more training.
- Audrey Perrott
---
Lily loved Angela! And she learned lots. We're looking forward to signing her up for agility.
- Kim Griffin
---
When I made the decision that I wanted a cane corso I knew I would need excellent training. Late April, Tucker Pup's was referred to me as a possible training source. Angela Love, Tucker Pup's trainer, entered our lives in May. She is professional, knowledgeable, reliable and results-oriented. Our corso, Saber, loves her and it has been a wonderful experience! Prior to the training I was concerned about walking my six (6) month-old corso, his pulling, his jumping, my shoulder, etc. Today, I can confidently walk him just holding the leash as he walks in almost perfect heel position; and immediately sits when I stop. We are excited about our next phase of training.
Thank you Angela!
Thank you Tucker Pup's!
- Melodie Kern
---
Angela was awesome. Bentley loved her. She did a great job of training him, and so far we feel very fortunate.
- John McDermott
---
We really enjoyed training with Angela. Our dog made huge strides during the class in becoming more well mannered. Angela offered great training tips and lots of one on one instruction if needed.
- Anthony Tonelli
---
Angela was great! She helped us make significant progress on several issues we were facing with our dog, Zeus. She gave us enough context / explanation to understand why the behaviors were happening and how best to address them. We would definitely recommend the training to others. Having the 1:1 attention in our home made a huge difference and was well worth the expense.
- Aris Theologis
---
Angela was a great personal trainer for myself and Scottie. She had an amazing connection with Scottie from the second they met. She helped me deal with his leash aggression and improve his leash walking. He is not "cured," but has improved a lot and I feel much better walking him now with the strategies she taught me.
- Elisabeth Beerkens
---
Angela was great. Very interested in coming back for more training classes with her.
- Nicholas Liacone
---
Angela is a wonderful trainer. You can tell she is passionate about what she does and she makes class fun. I am so happy I chose Tucker Pup's.
- Dara Richards
---
David knows his stuff! Everything that was applied from class worked on changing our dog's behavior.
- Mike Kaskel
---
David Roos was an excellent trainer and class leader. He listened to and addressed individual concerns, instilled confidence, and taught with clarity and joy. I learned a lot. My puppy did too. Highly recommend.
- Liz Olson
---
Angela was very diligent and nice. The classes helped to reinforce what we were doing right, and what we were doing wrong, and show us additional things to work on. The experience was great.
- Norma Campos and Scott Sundquist
---
Previously, we had taken a puppy training class through another service and were overall dissatisfied. We decided to take another stab at it through Tucker Pup's and are so glad we did!
The trainer was extremely knowledgeable and the small class size allowed our trainer to both work with the group as a whole and make time to help us individually. The commands we learned are useful in every day situations and the other tips and tricks provided have been helpful as we continue training on our own.
- Courtney Wilson
---
David Roos was unreal. I was so impressed with his training and his strategy. Our dog was a piece of work, haha and David's patience and stern attitude really helped him become a better trained dog. I loved this training and LOVED David. He was exactly what we needed.
- Catherine Orf
---
We used Tucker Pups for Puppy 101 Training. David Roos is a fantastic trainer. He works well with the puppies and the owners, often correcting or tweaking little behaviors throughout the class. He is encouraging without being demeaning, like some trainers can be with stubborn dog owners. He ultimately wants the puppies to grow and adapt to be beneficial to the owners' lifestyle, and if something doesn't fit, he provides guidance on changing the command or behavior to something that does fit. I'd recommend David for any new puppy or owners.
- Stacey Randolph
---
We absolutely loved David's Puppy Basic Obedience class. We have all learned so much in the last 6 weeks and Gus has really improved with everything we were taught in the class. David worked with us on his jumping (both on people and tables/counters) and it has greatly improved. I feel like he gave us the tools we needed to raise a happy pup. We had taken another training class at a pet store and we would leave class stressed and frustrated. I never had this with David's class; we always had fun and felt like we had accomplished something. I would highly recommend training courses at Tucker Pup's.
- Kate and Dan Ahasay
---
I loved the structure of Puppy 101. The ability to answer questions at the beginning of class while our puppies burned off some energy is what sets Puppy 101 apart from other training options. David introduced new commands at the right frequency, it was amazing watching Floof master new commands week by week. I look forward to continuing Floof's formal education with the upcoming intermediate course.
- Allison Fox
---
The outdoor leash class was very productive, and my dog is walking with out pulling, and also listening more.
- Jackie Fegan
---
David was very professional and extremely patient with our puppy. His tips were helpful and we are continuing with our at home training. I would highly recommend Tucker Pup's to all our friends!
- Steve and Lisa Pascua
---
David is a great trainer! I emailed him a few times with questions and he was very responsive. The techniques he uses produce results. I would highly recommend him and Tucker Pup's for training.
- Elissa White
---
David and the puppy training class was great! My entire family looked forward to the class all week. We learned how to train our dog easily through this class, including even our 8 and 10 year olds. We even learned tricks we didn't know that we needed to know - like touch! After completing the puppy class our dog can sit, stay, lay down, and come when called. Very satisfied with the small class size and David clearly knows what he's talking about. He was able to get any dog to do the task at hand easily!
- Jordan Robson
---
Classes were great, we learned a lot of training tips and tools that we will be able to use outside of class. David is a great teacher and is very knowledgeable.
- Joe Wilush and Alex O'Connor
---
I just wanted to thank everyone at Tucker Pup's for doing a phenomenal job in every aspect of your services. We have been taking our dog Joey to daycare for the past 9 months and we have enjoyed the experience through its entirety. Joey loved going to daycare and the staff has been nothing but professional through our experience. We also had to board Joey a few times while we went out of town and they took excellent care of him while we were gone. In addition to this, we also went through puppy training at Tucker Pup's and that was an excellent experience as well.
We unfortunately had to move due to being relocated for work and we will surely miss Tucker Pup's. Thank you for everything and I just wanted to let you know how great of a job you and your staff are doing.
- Eric Recker
---
We just completed Good Manners One. I could not have been more impressed. Instructor trained us to train the dog. I especially liked that we did not bring our dog to the first class.This method made understanding how a dog learns that much clearer. We adopted an 8 month old Collie that had spent 6 months of his life in a cage. He had absolutely no training. At the end of the program he could sit, down, stay, walk on a leash, wave, leave food on command and was learing to roll over and play dead. Instructor was always on time, actually if we arrived early she was there and would happily answer any questions. We are planning on enrolling for Good Manners Two.
- Joyce Durante
---
I loved the course and instructor! I\'d recommend it to friends definitely! I learned a lot, and so did my dog. It was a lot of fun.
- Sara Baillie
---
My little wapoo (chihuahua/poodle mix) , Tank, was only 2 months old when he started going to Tucker Pups and he LOVES it! Everyone there takes such great care of him and he is always so happy to go play when I take him in.
He is now 4 months and still loving it! The grooming services are fantastic and the Polite Puppy training classes are really working!
Thanks to Tucker Pup\'s I have a well socialized happy puppy!
---
Tucker Pup's Good Manners 1 course is excellent. We brought our two four year old Westies to the class, and we were pleased with the class setting, with Debbie Bickford and with what we have learned. Debbie is very knowledgeable and clearly conveys the principles of training. She also led us to reading that will help reinforce our learning and expand our training skills. Our dogs are better 'leash walkers' now, and are also getting better at coming when called which were two main issues for us. When we have the time, we would definitely consider taking additional classes with Debbie.
- Lisa Curcio
---
The course met my expectations and I am glad we were able to be a part of it. Debbie was an excellent trainer and very helpful with all of our issues and consistently made sure that she focused and worked with every puppy in the class. Debbie's training has helped us with our puppy and she is behaving much better. We hope to continue training lessons with Kora as we still work to master the basics we have received from Debbie. I would definitely recommend the course to anyone with an unruly puppy!
Thanks,
- Tori New
---
Debbie is great always insightful and Zoey has definitely grown as a puppy. She gives you the tools to help you understand how to have a nice polite puppy and we are very grateful and proud of our little girl.
She is very knowledgeable. Not only does she give you exercises to do in class and at home she helps you understand why those exercises work and how your puppy learns and processes information, giving you the ability to really connect with your puppy and not get frustrated through the process.
Zoey is more social, since being able to play with the puppies in class, she doesn't bite anymore (which is crucial!) and she is learning tricks and good behavior everyday.
Dog training has come such a long way since we were kids and it's so nice to have a better understanding of how puppies think and learn and know that you can have a well behaved puppy/dog by only using positive training techniques. Getting the right treats helps a lot too!
If we hear of anyone getting a puppy we would definitely recommend Debbie and Tucker Pup's.
- Melanie Ludmann
---
This course was fabulous, but more importantly Debbie was fabulous! She was the perfect mix of teacher and friend. She was genuinely excited when my dog did as it was told and very fun. She was the bomb....I am very excited because of her. I would love to have her knowledge and her job! She was an excellent communicator as well as a stern teacher. We are taking our pup to Intro to Agility so we will have more time with Debbie, which is great.
I learned a lot....and I thought I knew a little bit about training a dog! Although my dog isn't perfect she definitely minds much better and now we have some serious tools in order to help train her!
If I can afford it, I'll continue taking classes here periodically...obviously to learn but also because it is fun to have some educational, structured activity with your dog.
There are things we still need to work on but Miley Rae is an excellent dog. Mostly we need to work on leash walking, but that is not perfect most likely b/c we have not practiced enough.
- Nicki Deckert
---
I was really impressed with the class and especially the instructor. Theo is doing great and we've been working on things using the excellent training materials binder. We are happy customers and definitely found value for the price.
- Danah Fisher
---
I remember talking to you over the phone concerning the advantages of me taking the puppy class even though Aero already knew a lot of the material.
Well, I may not have had a lot of homework, but I did pick up on many new techniques that have made duration exercises like 'stay' and 'leave it' more reliable. For example, I didn't know that your dog would 'stay' more reliably if you treat him while he's actually in the stay versus treating him once you release him from the stay.
I really liked learning the impulse control exercises too. I'll admit, I hadn't known that you could actually get your dog to look to you for permission before heading off to play and such. (I thought that this came natural to some more attached dogs, and owners were lucky to have it!)
On Aero's first day of class, Aero was very...I wouldn't say aggressive per se, but he was quick to show his teeth and let out a growl if he was cornered, or another dog tried to interact with him. I did know that Aero is more of people-oriented dog, but I'd never seen him willing and ready to become aggressive. I was discouraged (esp since I felt he wasn't aggressive and said so when I signed up...).
To my surprise and gratitude, Debbie didn't get angry about it at all. In fact, she told me that he was more defensive aggressive, and gave me some tips to ease his discomfort. I did go home and work on what I felt were some of the reasons behind his response (including the way he plays with my other dogs). And I'm happy to report that for the rest of the class duration, he wasn't so quick to bite.
I would recommend Debbie to a friend, and have already spoken highly of her to anyone who asks.
Aero was valedictorian of his class, and I am very proud.
I guess I'll stop talking now. I have plans to take the next level course, and look forward to it!
Thanks!
- Mykela Harrell
---
We had a great time with the Intro to Agility course! Our dog Gunther had already been through obedience training, so we were looking for something fun that would provide him with exercise and fun in the winter when our walks are so short. We could tell he loved being at Tucker Pup's and loved the agility course. He picked it up really well and we had so much fun!
Debbie really took the time to focus on each dog and help them with their individual challenges throughout the course. She is a great trainer and we look forward to taking more classes with her in the future!
- Kara Fromme
---
Poppy started at the bottom of the class, and ended up being the valedictorian! We're so proud of her! Debbie has helped us so much, down to the recommendation on the front facing harness. Our 9 month old maltese improved so much in 6 weeks and the final test last night was a great bonding experience for our family. We were all there, parents and two kids all cheering for her. I can send pictures if you want, as well as a video of the awarding ceremony. It would inspire other students/parents to attend your your future classes.
- Pauline Camacho
---
I just wanted to send a quick repsonse back over to you about the puppy course.
Everything did meet our expectations and the trainer was wonderful, knowledgeable and patient with is something I get a bit nervous about when Oscar tended to act up in certain situations. I would definitely recommend to a friend based on the success and progress we've seen with Oscar over the past 6 weeks. I felt it was time and money well spent and have noticed a significant increase in obedience and maturity since starting the course. With the methods covered in class I am confident we have a much better understanding of the tools we need to use in the future to continue to move forward in a positive and trusting relationship with Oscar.
My fiancee and I will be discussing the Good Manners 2 course over the next several days and will likely be back in touch.
Thanks,
- Jeff Eisel and Megan Moser
---
I cannot say enough about the Polite Puppy class. Minnie had a ball and she learned so much! Her behavior has definitely improved from the start of the class, especially her barking and leash manners. Debbie always kept the tone of the class fun and informative and the handouts at the end of each class were super helpful. Sometimes it felt like information overload but then getting home and reading through the homework made everything make sense. I would definitely recommend and have recommended Debbie's classes to friends and peers.
My coworker is starting a Polite Puppy class in a week or so. Looking forward to other classes!
Thanks,
- Gina Montaleone
---
We had a great experience with our trainer Debbie. We just adopted a rescue and she has been difficult to train, however Debbie taught us many great techniques. She taught us many great ways to train and communicate with our dog. In particular she shows by example and around other dogs way to reward and train various types of dogs. By a few weeks there was noticeable improvement in our dog's behaviors and she is always learning new things. I would definitely be going to more classes and highly recommend the facilities and specifically Debbie as a trainer.
- Tim Floreth
---
We enrolled our 5 month old puppy in Good Manners 1 in the hopes of accomplishing some basic training skills. Our expectations were far exceeded as our dog is so well behaved now and we know how to communicate effectively with him. Our teacher, Debbie, was so knowledgeable and helpful. She took the time to work one-on-one with each dog during class and explained things in such a way that made you go 'duh'. We would recommend this class to anyone! We are looking forward to Good Manners 2 and hope it falls on a Thursday night soon!?!? (hint, hint). In closing, this class was a wonderful experience for all 3 of us and we sincerely miss it.
Thank you Debbie and Tucker Pups!
Sincerely,
- Bobby Lewis, Holly Thomas, and Cooper
---
The Polite Puppy class exceeded our expectations. We were very impressed with the trainer, Debbie. She provided very helpful insight on how dogs learn and why these methods work the best. She was very clear when communicating assignments to us – we liked her so much we'd like to hire her to come to our apartment (but she was a little too expensive for us). I would definitely recommend this class with this trainer to any friend who has a new puppy. The puppy socialization really helped out little dog feel comfortable around other dogs. He was very shy in the beginning and was a completely different dog by the last class. I will miss attending this call Tuesday nights, it was a wonderful way to bond with our puppy while teaching him lifelong behaviors. We had about 8 dogs in our class – that was nice for the socialization and to see the different types of puppies. This class has really jump started our puppy's behavior training and we plan to continue the weekly assignments.
- Haley Duncan
Thanks!
Haley Duncan
---
The Intro to Agility course was super fun and totally met my expectations! I wish it was longer! Debbie is awesome. She relates to the dogs so well and is genuine with them. The course was definitely worth it. I wish it was an entire semester long! LOL, but so worth the money. We will be back.
- Nicki Deckert
---
The agility training course was excellent. Debbie is an amazing instructor. It was clear that she put 100% into helping all the dogs do their best. I would definitely be interested in an agility 2 or agility 1.5 class!
- Grant Tucker
---
The Polite Puppy course did meet my expectations. I wanted my puppy to learn the basic sit, stay, down and walking on a lease with slack without tripping me constantly. I would recommend this trainer to friend. Debbie teaches training in way that is easily understood by my puppy and I. My puppy Marley is really understanding what she needs to be doing. The course is worth my time as my puppy can sit, stay, lay down and walk on a lease. I can communicate with my puppy now in a effective way that she understands. I really did enjoy taking Marley to class each Thursday. I was surprised at how well behaved all the puppies were! The off lease socialization really helped my puppy become more social with other dogs. The first class she was not really into playing with the other puppies as much, just sat between my feet. The next class Marley was more comfortable and now she wants to play with all dogs. She isn't fearful to be off lease with other dogs. I also enjoyed the agility course that Debbie set up. Marley had a blast running through all the tunnels. Marley is a very good girl and Debbie has helped us accomplish that. We get compliments all the time how well behaved Marley is. Thank You Tucker Pup's!
- Brett Cohn and Michelle Kucharski
---
We were happy with the Outdoor Adventure class. We feel more comfortable redirecting Bronson when away from home and he is much better about coming when called. It was fun to meet in various outdoor locations and the skills felt very useful for daily activities. Debbie of course was great, I always learn a lot from her. Next up: agility!
- Laura Adams
---
The Polite Puppy class entirely met my expectations. Debbie is AWESOME. She has suggestions and tips for every question I had about my very energetic Australian Shepherd pup. The relationship I now have with Piper is much stronger than it was before the course. I am also more confident taking Piper in public, and even letting her off leash to play in parks with other dogs (Debbie taught me how to create a strong recall by yelling 'Come' - Piper immediately turns from what she's doing and runs to me).
I would absolutely recommend Debbie AND Tucker Pup's to anyone who asks. We're continuing on with Good Manners 2 and hope to keep going after that with a few more classes! My relationship with my puppy is noticeably better since the time spent at Tucker Pup's.
- Corinne DiFonso
---
The course was perfect. Debbie is the best. The location, parking and space for training were very good. We didn't attend all sessions..out of town, family commitments, but what I learned I am practicing and the class was worthwhile.
Glad to know you are there.
Thanks,
- Donna and Mitchell Yates
---
My puppy, Lily, has become a whole new dog after taking this course. Not only has her behavior improved, but our communication has improved dramatically. She is a good listener now and it gives me a better understanding of how to discipline her as well. This course has gone above and beyond my expectations. I would recommend Debbie to anyone. Her positive reinforcement teaching style works very effectively. Her instruction during class is very clear and concise and the handouts allow me to refresh my memory about techniques once I get home. This course was worth every penny and more!
Thanks a lot!
- Kaori Asano
---
I can't say enough about this puppy class and Debbie. Having a puppy is overwhelming and all you want to have a good relationship with your dog and communicate with them. Debbie has set up such a positive and basic course with easy to follow steps to getting results. My husband and I (and our dog, Nana) learned some much and have seen the result with a dog that knows what we expect and is excited about doing the right thing. I would recommend this class and Debbie's training to anyone, in fact, I already have told so many people about Tucker Pup's and Debbie.
Thanks!
- Cherilynn and Donald Wood
---
The Outdoor Adventure class was fantastic. There are not many classes out there that focus on outside work (where, at least in my mind my dog has more issues - behaving indoors without the world going on around her is easy, outside, not so much, she as ADD and has a much harder time focusing on me).
The class met all of my expectations, we learned lots and are having much more relaxed walks thanks to the class (i.e. less pulling on the leash). Debbie did a great job of explaining our dogs' behavior and also why we were practicing the exercises that she showed us. I'm an inquisitive person by nature, so I very much like to understand the hows and whys of things so her explanations were very helpful.
The leashing walking help was more than worth it, plus Rudy can at times, be reactive on the leash so this class was a great challenge to both of us. For me to keep her calm and for her to remain calm and overall she behaved very well.
Our walks are a lot more enjoyable - she is more focused on me and less focused on dragging me down the street.
I've already recommended Debbie to a few people.
- Katie Lehan
---
We loved our puppy class at Tucker Pup's, and so did Bronson. Although he was only 10 weeks old when he started, he has learned a great deal and we also learned how to communicate with him and teach him. The biggest thing we learned is to be consistent and have patience. Debbie is a wonderful instructor, and made the process fun for us and our puppy. He especially enjoyed the off-leash playtime at the end of class, which was great for his socialization skills. I would definitely recommend Debbie and Tucker Pup's, and we plan to return for additional classes. Please feel free to use this on your website.
- Laura Adams
---
We had a very positive experience in the Good Manners 1 class. Debbie was a wonderful trainer and gave us a lot of ideas on how to better elicit good behavior from our dog. I would definitely recommend the class. Colby's behavior has gotten significantly better after the class - noticeable both by my husband and I and by others who knew him before the class. Thank you for a great course!
- Tara Gunther
---
The course did meet expectations and I would recommend the trainer and Tucker Pup's without reservation. The trainer was patient and gave clear instructions with good feedback. Since starting this class, Franny is more controlled and easier to handle. She is more responsive to us now that we know how to better manage her behaviors. She still gets distracted and will run away. That's why I asked about registering her for Manners 2.
- Maggie and Joe Crulcich
---
I can't speak highly enough of Debbie and the class. Toby is a very shy dog, and he was pretty nervous on his first day. Debbie was great with him, and knew exactly how to make the class fun and low-stress. I felt like he really solidified all of the skills he had some previous experience with, as well as learning lots of new ones. She also did a great job of going over basic psychology and training techniques that will be helpful when learning any new behaviors down the road. I am already looking at what class we want to take next. I think that Toby had a great time, and he came out of the class with a lot more confidence and lots of new tricks to show off!
Thanks!
- Emily Coffey
---
The leash manners class was excellent! Debbie is a great trainer and I plan to take other classes with her in the future. Her knowledge and demonstrations proved that I was learning from someone with extensive experience. And the handouts/homework helped remind me that practice outside of class was important to the success of the entire program.
You've partnered with a great trainer in Debbie.
Thanks,
- James Scholten
---
First of all, I want to confess that we are a bit biased. We met Debbie Bickford about 8 years ago when she led a training class at PetSmart, where our first Boxer was enrolled.
The training methods Debbie taught us were so effective that when we got our second Boxer we knew we had to track Debbie down for a refresher.
I am happy to report that she not only provided a refresher but also taught us new techniques as well as provided some new insight into the psyche of dogs.
My wife and I are very pleased with the results of the training techniques we learned at Tucker Pup's. Not only is our dog better behaved, but more importantly has made a connection between learning and fun which will facilitate future training.
Thanks again and God bless,
Manuel and Belinda Parilla
---
I tell my friends about you all the time, particularly your training, daycare and boarding services.
The Good Manners 1 course was perfectly suited to our 15 month old rescue dog. She needed the exposure to a safe, structured social setting with other people and other dogs. I needed the support and training tips to help her with some of her issues. And we both benefited from working on skills with other dogs around. Debbie is a great instructor because she not only teaches you how to work with your dog, but she encourages you to have fun doing it. Our class also benefited from other wonderful owners and dogs. At last night's 'graduation', all the dogs showed amazing improvement! Our dog started the 6 week program as a jumping, barking, scattered bundle of energy. She is still a bundle of energy, but she finished the program a much more focused, polite little girl. Of course, you have to practice at home - an hour a week in class just scratches the surface. But the support, tips and encouragement you get at class are invaluable.
I will definitely sign up for another class.
- Amy Ripepi and Garry Grasinski
---
Debbie is very knowledgeable and it shows. You can tell she's very passionate about the dogs and helping everyone be the best owners/trainers they can be. She was really great and I liked her a lot. Nigel was a great pooch for demo.
I have a herding dog/barking puppy and she was very helpful on how to help curb the problem. She even called me and gave me some additional info that would help.
Thanks!
- Dawn Lara
---
Mac Rosser (our golden-chow) benefited greatly from Debbie's class. As a middle-aged dog (6 years) we recently adopted, he had much to learn about us as we him. More than anything I think the class gave us a chance to bond with Mac and provided us with the tools to continuing working with him outside the classroom. Debbie is very good about explaining the why's and how's of training methods. It reminds me of the saying 'give a man a fish he eats for a day, teach him to fish he eats for a lifetime.' Debbie is obviously very knowledgeable and loves dogs...she is a wonderful trainer!
Thanks
- Mike and Julie Rosser
---
My boyfriend and I brought my 4 year old rat terrier Drake to Debbie's Good Manners 1 course. I cannot tell you how impressed with were with Debbie and the changes we saw in Drake week over week. He is a different dog now because of her lessons and positive training.
We have and will continue to recommend Tucker Pup's and Debbie to all of our dog owning friends.
It was a great experience for both Drake and us.
- Angela Gentry and Robert Hepding
---
We had a very positive experience with Tucker Pup's. We fully intend to use your business in the future for further training, boarding, etc. as necessary. Debbie was wonderful. She was competent, responsive, and positive. She answered all of our questions patiently. Our dog, Indy, has been doing so much better since our class.
Thank you very much,
- Sarah Gangstad and Tim Trostle
---
We are delighted with the training we received from Debbie Bickford at Tucker Pup's. We took the Agility 2 class with about half a dozen other students and their two-legged companions. The class had a relaxed atmosphere and everybody was comfortable with the pace and content. We've been training in Agility for over two years, with a couple six-month breaks to recover from cruciate injuries - once for Ski and once for his primary trainer in our own neighborhood. We enrolled in Debbie's class because of our extended layoff, having heard from others what a great trainer she is. We were extremely impressed with how much the other students had learned having taken only a single six-week Agility 1 class from Debbie. They were able to run the Agility course along side us, and had great fun doing so. Debbie regularly adjusted the course content based on feedback from the students, focusing on what people enjoyed and had an interest in. Debbie made learning easier by incorporating games and even prizes into a curriculum that can sometimes become challenging. And, of course, Graduation was a great time! I now understand why Debbie is so well thought of in the community of dog trainers, and look forward to future classes with her. And, yes, we also look forward to challenging Nigel on the CPE course some day......
Sincerely,
- Rich Tamborski and Noble vom Kolinstrasse (aka: Ski)
---
Jason, Ripley and I think that Debbie must be a goddess. No, scratch that, we KNOW that she is a goddess!
I am a farm girl. I've spent years with a panoply of species and Jason and I spent a long time preparing for our 'city-puppy'. Seriously, I read no less than a dozen 'training books' and bring my background w/ animals to the table so I thought I knew what I was doing. Within six weeks Debbie made all that history come to life and she added so much more. Her course was common sense, kind, intellectually stimulating and the best thing that we could have ever done for our family. I just wish she trained cats, as we have three that could use it.
Sorry, to be so long-winded, but I am so overwhelmingly impressed with Debbie and Tucker Pup's as a whole. And I am NOT easily impressed. Understand, that Jason and I are singing your praises everywhere we go. And the proof is in the pooch! Daily, people remark on how well behaved Ripley is and we say the same thing: 'Tucker Pup's. Debbie Bickford. Do yourself and you dog a favor and call them A.S.A.P.'
I look forward for a long and loving relationship w/ y'all! Thank you for all the fabulous work that you do.
My sincerest best,
- Amber Almanza-Wade
---
We loved taking class with Debbie. She is very knowledgeable. It was great how she taught us how to use the commands in everyday life. We feel like we have the tools to train him effectively.
- Molly and Matt Nutting
---
We really enjoyed training with Debbie and Nigel. Her positive approach is working well with our Dane puppy, Harvey. Her class was a lot of fun while we were learning. We will be signing up soon to continue training with her.
- Maggie Ratza
---
Ruby and I took Agility 2 Training course with Debbie and we both loved it. I know Ruby had a great time because every Monday as soon as I would get home from work she would run and sit by my car ready to go; she would get all worked up and ready to learn new things. I had a great time spending it with her and watching her have a blast and do things I never thought my dog would do. Debbie, thank you.
I would recommend this course to anyone with a dog that has tons of energy and not too many outlets for it.
- Iwona Kozak
---
We greatly enjoyed the training course and will be enrolling in polite puppy II. The skills that our dog has learned is helping us to manage his lifestyle better.
- Jay and Noelle DiPrizio
---
Debbie was great with all of the owners and the puppies. Buckley did well with responding to the techniques of teaching her different tricks. I learned a lot from Debbie in all aspects of training a puppy and being a dog owner. Thank you!
- Molly McShane
---
Ruby and I took Intro to Agility and Rally Obedience with Debbie and I believe that we both had tons of fun. Debbie did a fantastic job explaining everything to us and was very patient with the pups, never pushed them to do anything that might frighten them or turn them away from agility. I am looking forward to Agility 2 with Ruby and sometime in the spring our younger puppy, Cosmopolitan, will be trying her luck at Agility and Rally Obedience. Great class, fun atmosphere and it definitely is a good way to get your dog's energy focused on learning something fun.
Thank you Debbie,
- Iwona Kozak
---
I've never been through any training previous training classes, but Debbie's class was a tremendous help. Highly recommended! After Basic Obedience, I'm much better equipped with the right techniques to train my 2-year old dog Sally. Sally can now reliably sit, stay, lay down, roll over, and sit up, and I've learned positive techniques to work on her leash skills.
- Jim Kompare
---
I love Debbie! She is great! I thought the class was really fun and much different then the other classes-which i really enjoyed.
- Katie Reader
---
The Good Manners I class was a great basic training course for us and Bogie. Debbie was terrific at explaining how to think like a dog and use positive reinforcement to train him. Bogie has most of his basic commands down reliably, and whenever tricky situations come up, we feel a lot more in control of his behavior overall.
- Bert Davenport and Emily DeAngelis
---
We loved the Good Manners 2 class! We had gone through the puppy class and then proceeded on to this one. It is impossible to say enough good things about this class. Not only does Debbie help you train your dog, she trains you! Our dog loved going to class and not only did our dog learn in class, she worked hard on the homework too. Our 5 month old puppy now will wait for us to walk through doors, walks like a dream next to us and doesn't pull at the leash, sits when meeting new people, doesn't run after dropped food, and loves learning new things! I had a lab when I was younger and he was never this well behaved! The best part about the class is that Debbie teaches you how to work with your dog towards good behavior instead of "at" your dog. "Yes!"
I can't wait for the agility class to begin! I would highly recommend, borderline insist, that anyone who has a new dog enroll in a training class with Debbie. Once you do, you will wonder what took you so long to sign up!
- Kristen Walter
---
The training program was great. Our pup Moose has learned so much from the training class as have we. Debbie is a great trainer and we are so happy that we decided to go with the positive reinforcement approach. We will be coming back for more training for sure. We have also used Tucker Pup's for grooming and were very happy with that service as well.
Thanks again.
- Tom & Beth Walsh
---
We just finished Good Manners 1. My husband, Colin, and I thought it was a great help. Our dog is very smart but rather misbehaved, and this really helped to get him paying better attention to us. Plus, this is my first dog (not my husband's) and I learned a LOT about being a good dog owner/trainer. (I still have much to learn).
Possibly the best aspect about the class was Debbie -- she was fantastic. She's effective and intelligent without being patronizing or domineering. When we go back for another class, we want to take a class of Debbie's. She's the kind of trainer who instills trust in her class (dogs and humans, alike).
And, as we found out on the last day, she bakes a mean chocolate chip cookie!
Many thanks,
- Beth Bullock
---
Debbie is great. Charlie learned a lot and we are very happy with his progress. One thing we would like would be able to contact the other people in the class so we could get the puppies together to play.
- Dave Feldstein
---
I had a great time at the Good Manners 1 class and learned how to work with Seymour on a few things that I felt were really important: come, stay, no pulling on the leash.
Debbie was really helpful and clear. She had great control of the class and all of the dogs.
I really enjoy coming to Tucker Pup's and have nothing but good things to say. Seymour has a great time when he is boarded and we both feel really comfortable with the place and all of the staff.
Thanks!
- Billie Howard
---
The training was very helpful and fun. The trainer was very good to work with and spent time with each dog in the class to make sure each was benefiting from instruction. The direction of what to work on at home were also beneficial.
We would certainly recommend Tucker Pup's to friends and family.
- Gina Jacobsen
---
The Good Manners 1 course was very helpful. Debbie made it easy for me to understand what it takes to communicate with my dog. Though I will have to work away at training (myself as well as my dog) every day, I feel confident with the basic tools learned.
- Sara Gerou
---
We thought that Tucker Pup's did a great job and saw significant improvement with Rocky's training. Debbie was excellent and really did a great job helping us train our dog. Thanks for everything.
The facility was great, we used the day care center once as well and we were very happy with it. As far as pricing, the classes are slightly more expensive than some competitors but we thought that the quality of Tucker Pup's was worth it.
- Jeff Katz
---
We enjoyed Good Manners 1 and will probably take the 2nd class down the road. Charger did really well, so I think it would be beneficial for him to continue.
- Jennifer Dietz
---
We enjoyed the class very much and Scooter had so much fun. We will definitely take the next course once he is a bit older. Debbie was great! She really knows what she's doing. Can't wait for the next class. Scooter loved her!
- Sarah Yang
---
Debbie and Nigel are excellent instructors! While Debbie explains to us humans the hows and whys of dog behavior and how dogs learn best, Nigel shows us just how a proper 'heel' should look or that 'wait means wait 'til Mom says OK!'. We've already had several classes with Debbie and the education we've received so far has been invaluable. We have strengthened the bond between us and our dogs by learning how to communicate with them effectively. As a result our dogs have nice manners and are well-behaved most of the time. When they forget their manners or get up to some mischief, we now know how to correct the behavior quickly using positive methods. The very best thing about classes with Debbie and Nigel? They are FUN!
- Stephanie Hebelka
---
We enjoyed the class and found it very helpful. Debbie did a great job with Gus!! Thanks again.
- Ryan Henke
---
The class went well! Quinnie definitely learned some new obedience prompts and we use them in our day-to-day life.
- Sara Clary
---
My pup learned a lot and Debbie is INCREDIBLY knowledgeable and helpful. We're looking forward to future training classes!
- Michelle Booth
---
I can't speak for the grooming or the daycare here but I can certainly speak on the training class that our lil' Ruby just finished taking. We enrolled our lil' pup for the Polite puppy course and I must say it was great. Debbie is such an amazing trainer and her dog Nigel is such an awesome dog! She has such a great way with all types of pup's. The class was just the right size and I learned A LOT!
Although our lil' Ruby is a daddy's girl I was able to take in everything Debbie taught us and take it home and practice with Ruby. We have a rottweiler and I don't want her to be an unsocialized insane dog, so I'm glad that we enrolled her in this class. We learned from your basic "sit" to our hard to resist "leave it" move. Also the socialization between the other dogs was great also. Don't expect for your dog to sit through this class and miraculously be trained in every way. To me this class is mostly for the owners to take in all the training tips and do's and dont's in order for you to have a well trained dog.
We will definitely sign-up Ruby for the next class!
- Diana Rincon
---
Peanut and I really enjoyed Debbie's polite puppy class. We learned a lot and Peanut always looked forward to her weekly socialization and training. Debbie is an absolutely terrific instructor--we can't wait for Good Manners 2 in July!
- Loraine Woodhead
---
Debbie was great! We enjoyed the training so much, and now Webster is a little gentleman out and about...most of the time. We will definitely continue to take obedience classes with Tucker Pup's and maybe delve into agility...Webster certainly has enough energy!
Thanks again Debbie and Tucker Pup's!
- Gina and Sean Boyland, and Webster :)
---
We were very pleased with the Good Manners 1 course. Debbie Bickford was great -- she made the course fun, interesting, and engaging. We learned so much about how to use positive reinforcement to motivate our pup. The techniques were excellent and very effective, and we are still using them over six months after the course. How true it is that training courses are so much more for the human owners than for the dogs. I am so happy that because I have tools such as reward/withdrawal of reward I have never had to use any sort of punishment with our pup. I've been telling other dog owners about your programs/facility not only because we thought the training was great, but also because I hope positive reinforcement training techniques become even more widespread among dog owners.
Thanks for the great program. We look forward to taking another course again in the future.
-Ann-Marie Vigano
---
I have tried other beginning obedience classes and individual training. By far, Debbie's class exceeds her competitors and she surpassed my expectations. She is very articulate, knowledgeable, and an excellent instructor. In general, many people who try to be instructors know their material yet do not know how to "teach" it to others effectively. I was so happy to be a part of her class and to see she is an expert at what she does. Such a professional touch is her documenting material and homework assignments, provided in take-home material. She goes above and beyond others with "special touches". Without a doubt, Paris will be enrolled in Good Manners 2, in addition to other training classes at Tucker Pup's. THANKS Debbie and thanks Joel!!
- Pamela Ethridge & Paris
---
Since moving to the West Loop and using Tucker Pup's services, I have been very pleased. My dog, Scout, has been groomed at Tucker Pup's, and we recently finished the "Good Manners 1" course. Scout tied in first place as class valedictorian (or valiDOGtorian, as I call her). Whenever I take Scout in to Tucker Pup's, the staff are very friendly and kind to me and my dog. After grooming, Scout is clean as a whistle, and always in high spirits.
I chose Tucker Pup's because I had heard many good things about the organization, and because the website was so friendly and easy to navigate.
I have a dog walker from another local business, but would have hired Tucker Pup's as walkers if they offered that service.
I plan on taking more discipline classes when my schedule allows.
-Rebecca Fons
---
Debbie is an excellent instructor! She is extremely knowledgeable and had very helpful and effective techniques and suggestions. My dog loved her immediately!
- Lesley Ahlberg
---
Thank you for offering the great adult dog training classes with Debbie. Her techniques are practical and easily applicable to Jack's every day doggie life. She is a great human trainer who is also excellent with dogs! In addition, because Jack already loves going to Tucker Pup's for daycare, he is right at home and comfortable during our training sessions.
- Morgan Russell
---
I think the class is great. Debbie allows you to realize that your dog's behavior is a reflection of the owner's behavior. It was also refreshing to see there is hope for your little one. She also makes it look so easy. I learned the timeout technique and it really works.
- Ceta Walters
---
Miss Piggy took puppy and intermediate classes with Debbie at her previous training location. When I was looking into the Canine Good Citizen testing, Debbie's name was on the AKC's list for Chicago contacts. We just had to follow her to Tucker Pup's, which has a great open space for us to practice in. Piggy is so well-behaved, even my vet commented how unusual it is to see such a well-behaved pug. We are looking forward to the Fun with Fido class!
- Natalie Crespo
---
My husband and I wanted to let you know that we were very pleased with the obedience class we took with Debbie. She was extremely knowledgeable with the training techniques and very helpful in answering our many new puppy questions. We saw immediate results with Drake and continue to work with him on what we learned in class. We look forward to our next class with Debbie!
- Lynn and Matt Beck
---
We absolutely love your trainer, Debbie! She was so great with Abby and all the other dogs in our class - even the most difficult pups! The Good Manners I course was exactly what we needed to help Abby overcome some of her behavioral issues and just learn to be an obedient pet and family member. We've seen such a great improvement in her manners and plan to keep working on all the great techniques that Debbie introduced to us. She graduated at the top of her Good Manners I class (Co-Valedictorian), and I'm sure she's been bragging about it to all the other dogs in her daycare group at Tucker Pup's!
- Jennifer Karter
---
Good Manners training with Debbie was just what the doctor ordered for my 8 month old Puggle named Bailey. I rescued him from a puppy farm when he was no longer a puppy, so he had some bad habits. Debbie showed me how to correct his bad habits using positive reinforcement, which made me and my dog both happy in the process. I recommend Debbie and any of her training classes very highly.
- Marnie Ratner
---
After enrolling in the Good Manners I dog training class and Good Manners II class offered at Tucker Pup's Dog Activity Center with our new puppy Zoe, Julie and I wanted to let you know what a great experience both classes have been and what an amazing progress we have made with understanding and guiding the behavior of our very active puppy.
We have to recognize Debbie Bickford and her special skills and obvious talent in training dogs and working with dog owners on training strategies. Debbie made the classes fun to attend and something to look forward to. We appreciated her style of training and being new dog owners ourselves, found she had to train us first prior to addressing Zoe. While the classes were run in small groups, she was able to provide individual attention to us and Zoe.
Results have been phenomenal in terms of general good behavior of Zoë meeting new people, greeting other dogs, heeling while approaching street corners and coming when called; all in a very short time. Most importantly, we are confident in the skills Debbie taught us and in our ability to continue to train Zoe with good behavior and skills in the future.
We give Debbie and Tucker Pups two thumbs (and one paw) way up!!
Best regards,
- Julie and Dan Schmittdiel
---
We were incredibly excited to have our dog, Tyson, attend the Manners I course with Debbie. It was a very convenient location given that Tyson spends his days at Tucker Pup's - and he was comfortable enough in the surroundings to actually listen and learn! Debbie was patient and gave us great insight as to how our dog perceives us humans. He has been much better at his stays, sits, and comes since the class, among many other commands.
- J.P. Machuta
---
Prior to taking Good Manners 1 at Tucker Pup's, Cinnamon (and mom) had gone through a crash course training at a local pet store chain, resulting in little success. During the training with Debbie, Cinnamon not only learned good manners (stay, leave it, heel) but she had a fun time doing it and she continues her good behavior at home now. Debbie is the McGyver of puppy training - she has tips and ideas about how to handle most any situation and she is extremely patient. I recommend the training courses and Tucker Pup's to all my friends!
- Marisa Meadows
---
Debbie was really excellent! My dog got a lot more out of the group class than he did when we were working with a private trainer. Jake's attitude about working on training shifted from dread and fear to enthusiasm--the use of positive training techniques in the class environment felt like play to him. Because the class was small, Debbie provided all of us one-on-one instruction during and after class to make sure all of the puppies were mastering the commands. Also, the group context helped Jake learn to focus on me when he would otherwise be very distracted. I am very satisfied and would highly recommend this class!
- Mimi Landau
---
I am very very pleased with Nico's improvement. Everyone around us has noticed great changes in her behavior. I feel that Debbie fully understands how to communicate with dogs and her knowledge is really helping us. Nico and I are really understanding each other. Debbie has great ideas and helpful homework handouts. She also makes training do-able for any dog, no matter what their level is. Also, Debbie gives us as owners great tools to work with. I feel equipped to carry on with our training after our classes are over. I am excited every week to come to class, and Nico is too!
I really mean it, I couldn't imagine a better more knowledgeable and effective teacher. Thanks so much!
- Desiree Madah-Amiri
---
I took the 'Puppy Polite' class at Tucker Pup's and could not be happier with the results. Debbie explained each lesson clearly and worked with each owner/pet to insure that behavior was being executed properly. All of the commands we were taught are things that are useful in our day-to-day activities with the dogs. The class is a fun, no-pressure environment and one where you can be as diligent with the training as you want to be - I would highly recommend this to anyone with a new dog.
- Evonne Stavrakos
---
We took Newman, our golden doodle puppy, to the Polite Puppy training course taught by Debbie and her extremely well-behaved boxer, Nigel. The class helped with Newman's behavior but more importantly it taught us how to communicate with him in a way that he can understand what is good and what is not acceptable. We are getting ready to enroll him in his next training class and would recommend Debbie and Tucker Pup's to anyone who may need such services.
-Eric Kessel and Shana Vitek
---
My dog Bugsy and I completed both the Polite Puppy and the Good Manners 1 and 2 classes with Debbie. Recently, I was asked by my mom to take her Chocolate Lab, Brutus, to a training class at a popular franchise, whose identity I will not disclose. She had a few errands to run, so I agreed to help her out. Once Brutus and I arrived and his "training" began, I WAS SHOCKED!!! Hands down, no comparison!! They were aggressive in their teaching techniques and Brutus was clearly not responding. Mid-way through the class, I found myself using techniques that Debbie taught Bugsy and me, and we were getting better results! For example, in teaching the "heel," they instructed the owners to aggressively pull both the leash and the dog into the desired position. They later brought out a dog, who was wearing a shock collar, to demonstrate. Unlike Nigel (Debbie's dog, whom she uses to demonstrate) this dog appeared frightened, disheveled, and anxious! I was appalled!! I consider myself VERY lucky!! Thank you all for all that you have done!!
- Agatha Mankiewicz
---
I loved the puppy class so much and saw such immediate results, I now have Hudson in the Good Manners I class. Debbie is a fabulous trainer (fun too). Everything we discuss and practice makes complete sense and I would have never known this on my very own. The class sizes are just right where Debbie can be hands-on. Spring is here and summer is coming, which means lots of people and dogs are out. I am proud I will have a very well-behaved dog at my side for our walks and outings. I highly recommend Tucker Pup's for everything!!
- Kim Cryder
---
Debbie is an exceptional trainer! My exuberant terrier Tenryu and I are happy graduates of Debbie and Tucker Pup's Good Manners 1 and 2 training classes. Prior to Debbie and Tucker Pup's, we took 2 classes on positive reinforcement from 2 different training facilities, and although we graduated, Tenryu and I didn't learn a thing, leaving me convinced that positive reinforcement methods do not work. At last, we were fortunate enough to take Debbie's classes; she is a positive reinforcement master. Her in-depth understanding of dog behavior, superb instruction and pure love for dogs made every class a treat for both of us. We wagged out of class with Great Manners and continue to enjoy practicing everyday.
- Kyoko Ikemoto
---
We enjoyed the class and got some very good things out of it. We're still working with our puppy every day and he has picked up some things quickly, while we're still working on others.
Debbie was a very good teacher, professional and made the class enjoyable.
I'm sure we'll consider future classes for our dog.
- Phil Kenny
---
I just wanted to let you know how well the obedience class went. This was Jake's second go around in organized training sessions, and as you could see, the first group (given by a different trainer and pet-care center) didn't go so well. Debbie is a phenomenal trainer, extremely knowledgeable, and had all the answers. She made it very entertaining and seemed to have everyone's attention 100% of the time. Jake and I continue to train and see improvements on a daily basis. Thanks again.
- Ryan Nelson