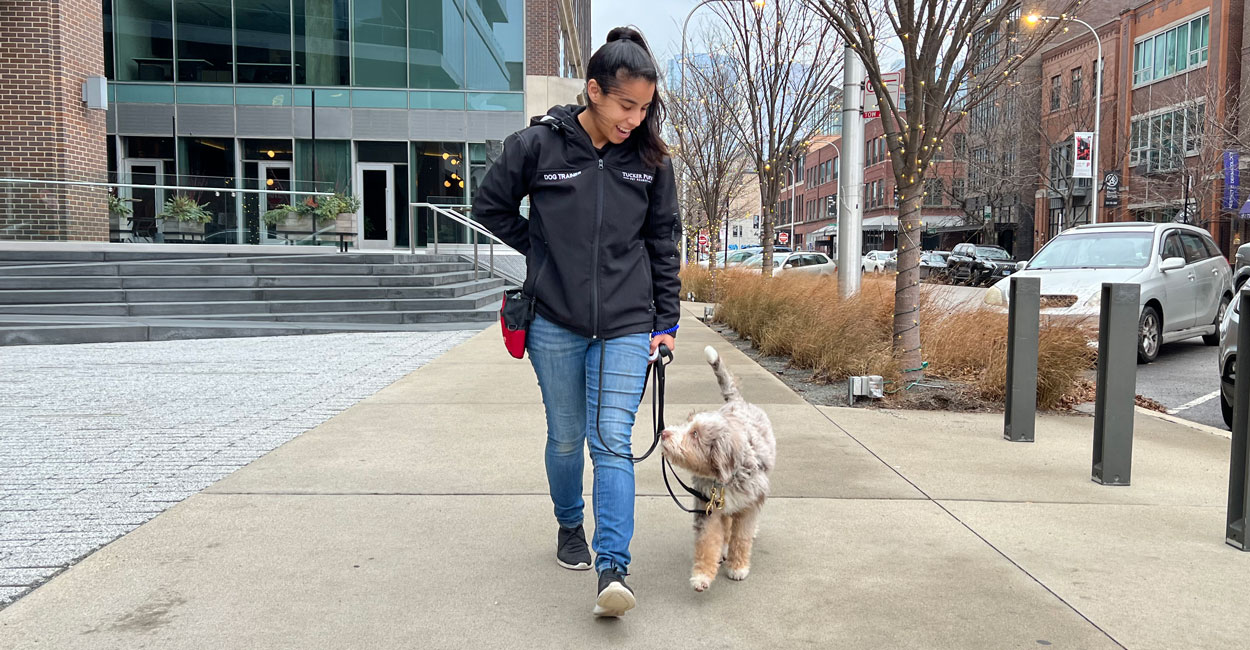 Back to Training Overview
With our Prep School option, we train your dog at our facility for at least two weeks in order to instill basic manners and listening skills. Most people drop off their dog each day - your dog does not need to stay overnight. The trainer will follow a very defined curriculum, plus we can add on some customized training at your request. At the end of the training period, our trainer will show you what we worked on, plus we will give you home exercises so you continue to work on behaviors over time.
Space is limited, and reservations are required.
Benefits of the Prep School Format
Some people prefer Prep School, some prefer private lessons, and some prefer classes. Each has unique characteristics and advantages.
Prep School can be effective because our trainers work with your dog in a highly-focused manner, day after day, to create great listening. Learning new behaviors takes repetition, and we have the time and energy to put in these repetitions. Typically, when we work with a dog in this manner, it becomes very responsive to our methods, and we can train it very rapidly. Your dog can make massive strides in a two-week period. This rapid development is not as realistic in other training formats. Therefore, we're giving you a head start and overcoming frustrating behaviors that your dog may be exhibiting. Most of our Prep School customers don't have the time, energy, patience, or knowledge to make this progress.
Options for Having Your Dog Stay with Us
There are two options for your dog being trained with us: get dropped off and picked up each day, or stay here overnight. Most dogs are picked up each day, so they can still be with you at night. Read below for more information.
Option 1: 10 training days, plus two private sessions at your home
Base price: $1,600 for 10 days of training (normally Monday through Friday, then off for the weekend, then back for the second week). This price assumes you drop your dog off each day.
If we keep your dog overnight, the additional price is $40 per night.
There would be two private sessions, which would take place at your home if you live within our radius. If you live outside our radius, you would need to work out a plan with the trainer to meet, such as at Tucker Pup's or at a park. The first private session would be after the first five days, and the second private session would be at the end.
Option 2: 20 training days, plus four private sessions
Base price: $2,800 for 20 days of training (normally Monday through Friday each week, then off for the weekend, and repeat for four weeks). This price includes dropping off your dog each day.
If we keep your dog overnight, the additional price is $40 per night.
There would be four private sessions, which would take place at your home, if you live within our radius. If you live outside our radius, you would need to work out a plan with the trainer to meet, such as at Tucker Pup's or at a park. The private sessions would take place after each five-day period. We would also give you access to TrainTrack, our online video platform, so you can see videos of exercises you need to keep working on at home.
Payment Terms
Payment must be received up front.
You have the option to pay with
PayPal Credit

, giving you the ability to spread out the payments over time. PayPal does not charge interest if paid within six months.
Included in Your Tuition
Initial in-person consultation with the trainer
Multiple training sessions each day, as described below
Equipment:

Treat pouch
Clicker
Walking harness

Multiple play sessions per day, with dogs here for daycare and boarding
The private in-home sessions as described above
Behaviors We Address:
In Prep School, we try to implement the same curriculum and behaviors that we use in our classes.
Basic manners / listening:
Loose leash walking
Coming to you (recall)
Waiting for permission
Focus and attention
Leaving items alone
Staying in place
Counter surfing
Jumping
Minor leash reactivity
Intermediate / advanced manners: (normally for dogs in our 24-session program)
All of the behaviors mentioned above, plus:
Add distractions to all behaviors above
Off-leash heeling (walking at your side while staying very focused on you)
Go to a place, such as a crate or mat
Finish (end up at your side after coming to you)
Sit, down and stand from a distance
Emergency stop
Front command (come directly to my feet and give me eye contact, in the sit position)
Basic tricks
We CANNOT work on the following, as these are specific to your home. These would require private lessons.
Potty training
Dog-human aggression or reactivity
Separation anxiety
Barking
Major leash reactivity
Correcting off-leash play behaviors such as biting or playing roughly
Training Sessions per Day:
We will work on training for three sessions per day. When not in training, your dog would be in a boarding suite (typically asleep on the bedding that you bring) or in play for short periods of time. Play time is limited so we don't wear out your dog, which could impede training progress and learning.
Training Workspace:
If the weather permits, we will primarily be working outside. If the weather does not permit, we will work indoors, but may be limited in some ways on what we can accomplish. However, we would try to make up lost ground the next day.
Location:
Tucker Pup's Pet Resort
219 N Carpenter Street
Chicago, IL 60607
Requirements:
At least three months old
All vaccinations up-to-date, including canine influenza, bordatella, distemper, and parvovirus. Rabies is required for dogs 7 months and older
Not reactive towards people
No crate / kennel aggression or reactivity
Be able to be in play with other dogs
What Sets Apart Our Prep School Experience?
You may find other businesses offering some version of in-house training, and may be wondering why you should choose ours. We can't comment on other businesses, but we feel confident that when you ask lots of questions of others you may be considering, the choice is clear.
Your dog would be working with our Senior Trainer, who has over 20 years of dog training experience, numerous industry-standard credentials, and leads a full team of trainers here. He's not someone who just calls himself a trainer.
We also have other staff members who help our Senior Trainer, so your dog would also gain exposure to other staff members, which is important for socialization purposes.
We only use positive reinforcement. No choke chains, shock collars, prong collars, or dominance methods. We are very transparent and have nothing to hide. The fact that some call it "Boot Camp" should be your first red flag that they may be using domination, which is not necessary and is very outdated.
Your dog does not need to stay overnight - in fact, most people drop off each day. For places that offer a "Boot Camp" where your dog is gone for 2-3 weeks (or longer) this can be very stressful and demoralizing for them. In our format, your dog will go home each night, building his relationship with you and sleeping in his own bed at night. They typically come bounding through the door the next day and are happy to be here.
Training is a major component of our business and we take it very seriously. We have the most comprehensive dog training program in Chicago, including with classes, private lessons, puppy socials, and more. This is not something we just happen to do on the side.
Your dog would be in play for a portion of each day, for socialization purposes. The play includes our outdoor play area, which is the nicest in Chicago and includes grass meant for dogs, pools, and playground equipment.
We train indoors and outdoors, including on walks around the neighborhood.
We have a very structured system, where exercises build on each other and get more and more difficult, so that by the end of the program, your dog should be able to perform a wide range of skills very reliably.
We include several retail items in our package, such as a walking harness and treat pouch.
Our trainer will come to your home multiple times, depending on which option you purchase, in order to review the exercises and methods and answer all of your questions. If you don't live in our zone, you would need to meet the trainer at our facility.
Need Transportation?
Tucker Pup's does not provide transportation, but can put you in touch with transportation companies. You can also schedule rides with companies like Uber and Lyft - you just need to tell them you are bringing your dog.
Drop-off and Pickup Times
If you are dropping off your dog each day, please arrive between 6:45am and 10am and pick up between 3pm and 7pm. You can keep your bed and toys here from one day to the next.
What if my Dog isn't Learning, is Too Anxious, etc.?
We try to give dogs ample time to adjust. We are very honest, and if it seems like it's just not working out, we will call and tell you. If we jointly decide to stop, we would prorate your remaining amount as a refund or credit.
If Dropping Off Each Day, Can We Come Every Other Day?
In our experience, it is best to come here each day without skipping a day. This is not an absolute requirement. You can discuss the plan in your initial meeting with the trainer, who will then set up the reservation.
What if I Can't Make it on a Particular Day?
You may be able to work out a customized schedule with the trainer, if done in advance. If you simply didn't show up, or cancelled with less than one week advance notice, we would still consider the day as used, because by giving you a space, we took one away from someone else.
What if I Need to Keep My Dog There for Only a Few Nights?
You can mix and match which days you drop off, and which days your dog will stay with us overnight. It's very flexible. You just pay the extra fee for the overnight option at the end of the program, based on how many nights your dog actually stayed here.
What's the Difference Between Prep School and 'Stay and Train?'
Even though we train your dog in both 'Prep School' and 'Stay and Train,' each has unique characteristics.
Prep School:
More defined curriculum and structure, with a minimum of 10 training sessions.
Pay in advance.
In-home private sessions included.
Equipment included.
Stay and Train:
We would work on a few behaviors, but not a full curriculum like in Prep School.
Less training time per day than Prep School.
No in-home private sessions.
Pay when you check out.
If your dog is boarding with us, there is a minimum of three training days. If here for daycare, we can train just on that day. For Prep School, there is a minimum of ten training days.