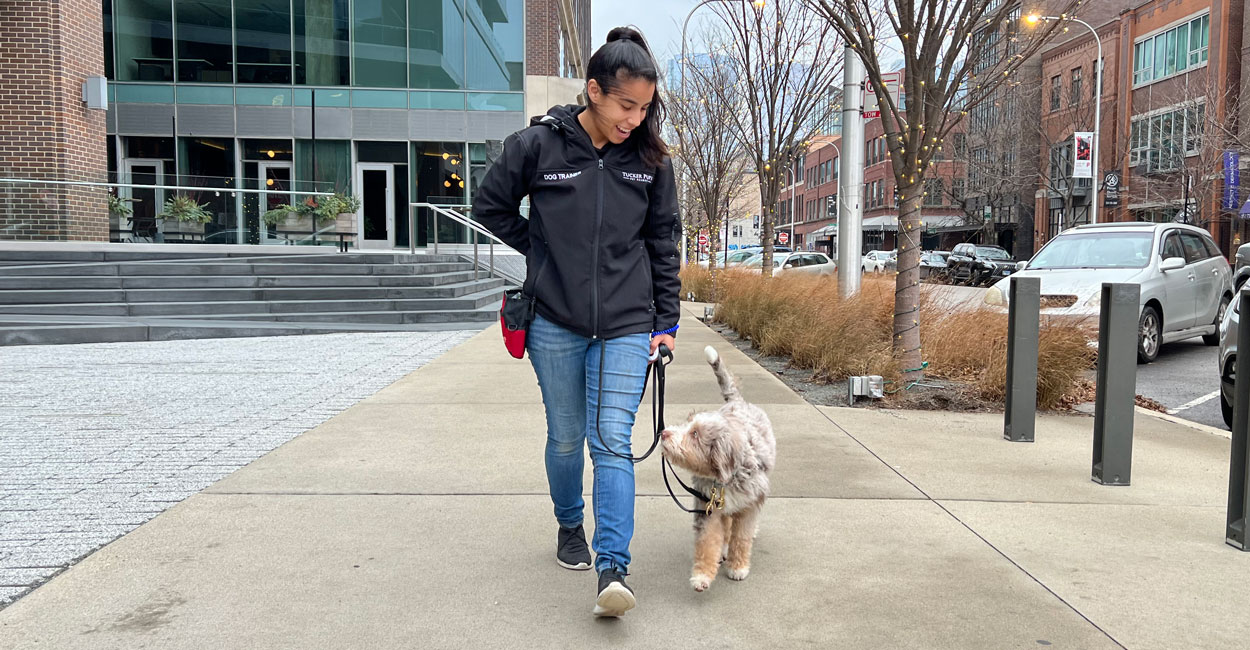 Training Overview
With our Dropoff Training option, you drop off your dog at our training facility three days per week for three weeks, and one of our trainers will work one-on-one with your dog to instill a full set of manners, listening, and self-control skills. We work both indoors and outdoors, depending on the weather, and spend a lot of time walking your dog in the neighborhood.
Once per week, you meet with your trainer at our training facility for a progress meeting, so you can learn how to keep using the exercises at home. We also answer your questions and make sure that we're all on the same page.
Dropoff Training also has the option to include daycare each day that your dog is here. This socialization can be an important factor for a dog's behavior. In our daycare environment, we separate the dogs into groups based on size and temperament, we have the nicest outdoor area in Chicago, and staff members monitor the dogs at all times.
By the end of the program, most dogs have made massive progress, and our customers are delighted that they have a great listener.
Space is limited, and reservations are required.
Sample Behaviors Taught in Dropoff Training (2:20)
Benefits of the Dropoff Training Format
Dropoff Training can be effective because our trainers work with your dog in a highly-focused manner, day after day, to create great listening. Learning new behaviors takes repetition, and we have the time and energy to put in these repetitions. Typically, when we work with a dog in this manner, it becomes very responsive to our methods, and we can train it very rapidly. Your dog can make massive strides in a three-week period. This rapid development is not as realistic in other training formats. Therefore, we're giving you a head start and overcoming frustrating behaviors that your dog may be exhibiting. Most of our Dropoff Training customers don't have the time, energy, patience, or knowledge to make this progress in such a short period of time.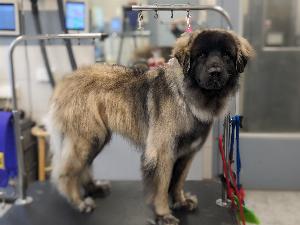 So much progress in Dropoff Training. Jess is great.

- Jonathan Jung
Pricing
Base price: $1,300
Included in your tuition:
Initial in-person consultation with a trainer at our facility, to review your goals, answer your questions, and discuss the plan.
Nine days of training at our facility (three days per week, on weekdays). You drop off and pick up your dog each day. Multiple sessions each day with a trainer.
Equipment

Starter set of treats that we recommend
Treat pouch
Walking harness
Optional clicker

Three progress meetings with your trainer, once per weekend for one hour each, at our facility. We will show you what we've been working on and how to be consistent at home.
Daycare Add-On Option
Additional Price: $300
Includes:
Everything mentioned above.
Multiple daycare sessions per day while here for training. This helps with socialization, which is an important part of training.
Free trial daycare day for your dog, to help become acclimated to our play environment.
Please note that if you pay for the daycare option, but group play is not working well once the training begins, we can switch to the non-daycare option and offer a prorated refund or credit for the difference.
Reserve in Advance
Our Dropoff Training program tends to fill up quickly, and we have a limited number of spaces each day.
If you are considering starting in the near future, we strongly encourage you to reserve it in advance, so you get the dates and days of the week that work best for you.
It may be possible to start right away if you are interested. Feel free to inquire about availability.
Payment Terms
Payment must be received in advance, in order to hold your reservation.
Payment options:
Credit card, including over the phone or in person
PayPal Credit, where you can pay over time, and pay no interest if paid in full within six months. Learn more
Cash or check
Behaviors We Address:
Option 1: Adult Manners
Loose leash walking
Coming to you (recall)
Waiting for permission
Focus and attention
Leaving items alone
Staying in place
Not jumping on dogs or people (polite greetings)
Minor leash reactivity
Option 2: Puppy Manners
All behaviors in Adult Manners, plus:
Crate training
Option 3: Mix and Match
We can customize a curriculum to your specific needs, mixing and matching behaviors you want us to work on
Please note that some advanced behaviors may not be possible until going through basic behaviors first. You would need to discuss with your trainer for what is realistic, and together create a plan
Option 4: Intermediate Manners
Add difficulty to all Adult Manners behaviors listed above
Off-leash heeling (walking at your side while staying very focused on you). Please note that we never go off-leash outdoors.
Go to a place, such as a crate or mat
Finish (end up at your side after coming to you)
Sit, down and stand from a distance
Emergency stop
Front command (come directly to my feet and give me eye contact, in the sit position)
Basic tricks
In order to take Intermediate Manners, your dog must have already gone through Dropoff Training or a manners group class.
Behaviors We Cannot Work On in Dropoff Training:
We CANNOT work on the following in Dropoff Training, as these are specific to your home and not conducive to a facility. These would require private lessons.
Potty training
Dog-human aggression or reactivity
Separation anxiety
Barking
Major leash reactivity
Correcting off-leash play behaviors such as biting or playing roughly
What Sets Apart Our Dropoff Training Experience?
You may find other businesses offering some version of in-house training, and may be wondering why you should choose ours. We can't comment on other businesses, but we feel confident that when you ask lots of questions of others you may be considering, the choice is clear.
Our Dropoff Training program is run by experienced trainers.

Our trainers have many years of combined experience and numerous industry-standard credentials. We do not just hire people who call themselves a trainer.

Your dog will gain exposure to multiple trainers and staff members,

which is important for socialization purposes.

We only use positive reinforcement.

No choke chains, shock collars, prong collars, or dominance methods. We are very transparent and have nothing to hide. The fact that some call it "Boot Camp" should be your first red flag that they may be using domination, which is not necessary and is very outdated.

Your dog goes home each night.

For places that offer a "Boot Camp" where your dog is gone for 2-3 weeks (or longer) this can be very stressful and demoralizing for them. Our format helps your dog build his relationship with you, and he will be able to sleep in his own bed at night. Dropoff Training dogs typically come bounding through the door the next day and are happy to be here.

Training is a major component of our business and we take it very seriously.

We have the largest and most comprehensive dog training program in Chicago, including with classes, private lessons, puppy socials, and more. This is not something we just happen to do on the side.

Your dog has the option to be in play for a portion of each day,

for socialization purposes. The play includes our outdoor play area, which is the nicest in Chicago and includes grass meant for dogs, pools, and playground equipment.

We train indoors and outdoors,

including on walks around the neighborhood. Our training facility is spacious and is great for indoor exercises, such as with the use of cones.

We have a very structured system,

where exercises build on each other and get more and more difficult. By the end of the program, your dog should be able to perform a wide range of skills very reliably.

We include several retail items in our package,

such as a walking harness and treat pouch.

You meet with your trainer once per week

at our training facility for progress meetings, so you can stay consistent at home and have a deep understanding of what we are working on. In many other businesses, you only have a brief meeting at the end, if at all, and it can be very overwhelming to take it all in.
Locations:
We work both indoors and outdoors (weather permitting). Our primary indoor space is at our Training Center at 1046 W Fulton Market Avenue, right around the corner from our main facility.
Tucker Pup's Training Center
1046 W Fulton Street
Chicago, IL 60607
This is where we work on exercises indoors. We have traffic cones, wide-open spaces, and other equipment to help teach your dog the exercises.
Tucker Pup's Pet Resort
219 N Carpenter Street
Chicago, IL 60607
This is where you will drop off your dog, and where we have daycare and the boarding suites.
What if it is Snowy or Rainy Outside?
If the weather doesn't permit on any given day, we would work indoors.
In the winter time, we encourage you to bring boots and a jacket for your dog. We can put them on your dog before going outside. It can be helpful to still work on outdoor walking, to teach your dog to not pull you in icy conditions. If we feel it is too cold for your dog, we would head back inside.
Requirements
At least four months old
All vaccinations up-to-date, including all boosters for puppies, for canine influenza (H3N2 or bivalent), Bordatella, distemper, and parvovirus. Rabies is required for dogs 7 months and older.
Spayed / neutered if 7 months or older
Not reactive towards people
No crate / kennel aggression or reactivity
If choosing the daycare option, able to be in play with other dogs
No contagious conditions, including but not limited to giardia and coughing
Sign our Liability Waiver and Dropoff Training Agreement
Need Transportation?
Tucker Pup's does not provide transportation, but can put you in touch with transportation companies. You can also schedule rides with companies like Uber and Lyft - you just need to tell them you are bringing your dog.
Drop-off and Pickup Times
If you are dropping off your dog each day, please arrive between 6:45am and 9am, and pick up between 4pm and 7pm.
What if my Dog isn't Learning, is Too Anxious, etc.?
We try to give dogs ample time to adjust. After two days of working with your dog, we should have a strong sense of whether the training is working well. We are very honest, and if it seems like it's just not working out, we will call and tell you. If we jointly decide to stop, we would prorate your remaining amount as a refund or credit. After two days, if your dog is responding well to the training, Dropoff Training is non-refundable, because by giving you a space, we took it away from someone else.
What if I Can't Make it on a Particular Day?
You may be able to work out a customized schedule with the trainer, if done in advance. If you simply didn't show up, or cancelled with less than one week advance notice, we would still consider the day as used, because by giving you a space, we took one away from someone else.
What if I Need to Keep My Dog There for a Few Nights?
If you need your dog to stay here on certain nights, that is a possibility, although we don't recommend it for a long stay. You can mix and match which days you drop off, and which days your dog will stay with us overnight. It's very flexible. You just pay the extra fee for the overnight option at the end of the program, based on how many nights your dog actually stayed here. The price for staying overnight is $60 extra per night.
What's the Difference Between Dropoff Training and 'Stay and Train?'
Even though we train your dog in both 'Dropoff Training' and 'Stay and Train,' each has unique characteristics.
Dropoff Training:
More defined curriculum and structure, with a minimum of 9 training sessions.
Pay in advance.
Multiple private sessions included, at our training facility.
Treats and equipment included.
Stay and Train:
We train your dog while here for boarding or daycare.
We work on a few behaviors, but not a full curriculum like in Dropoff Training.
Less training time per day than Dropoff Training.
Pay when you check out from boarding or daycare.
If your dog is boarding with us, there is a minimum of three training days. If here for daycare, we can train just on that day. For Dropoff Training, there is a minimum of nine training days.
Private session available at our training facility, after your boarding stay, in order to review what we worked on. This is at a reduced rate from our normal private lesson fee.
Treats and equipment sold separately.
Health Warranty Program
Dogs in Dropoff Training are covered under the same terms and conditions of our
Health Warranty Program
as dogs in daycare and boarding.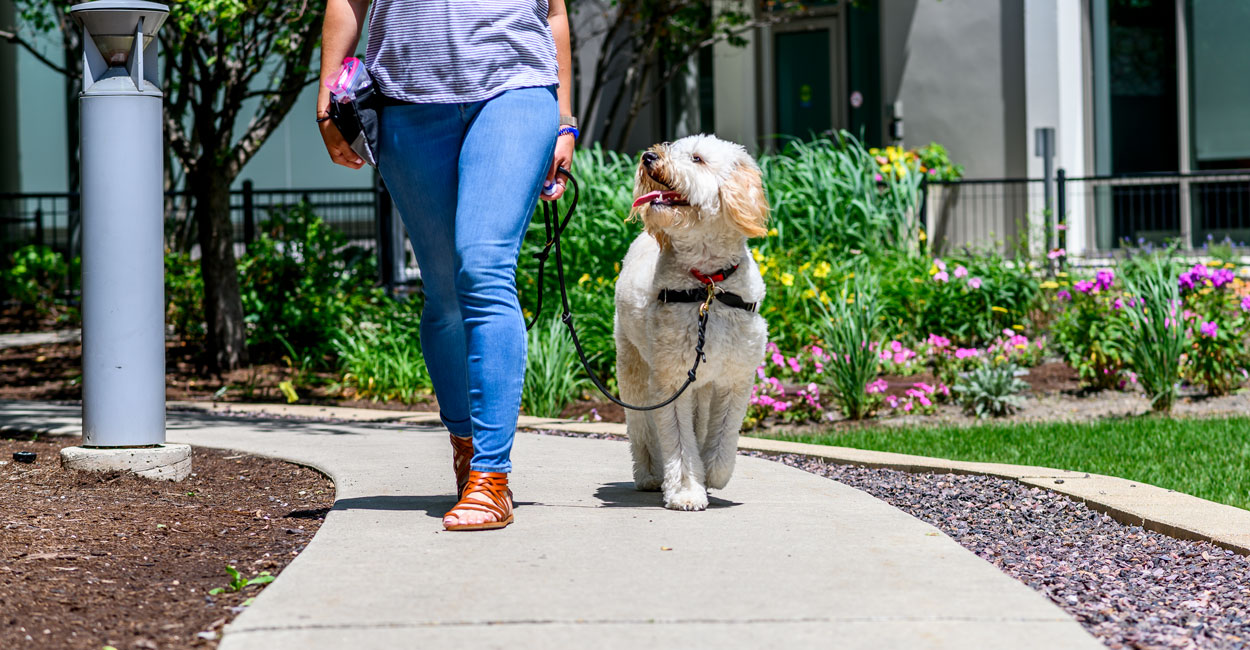 Ready to Improve Your Dog's Behavior?
Book Now