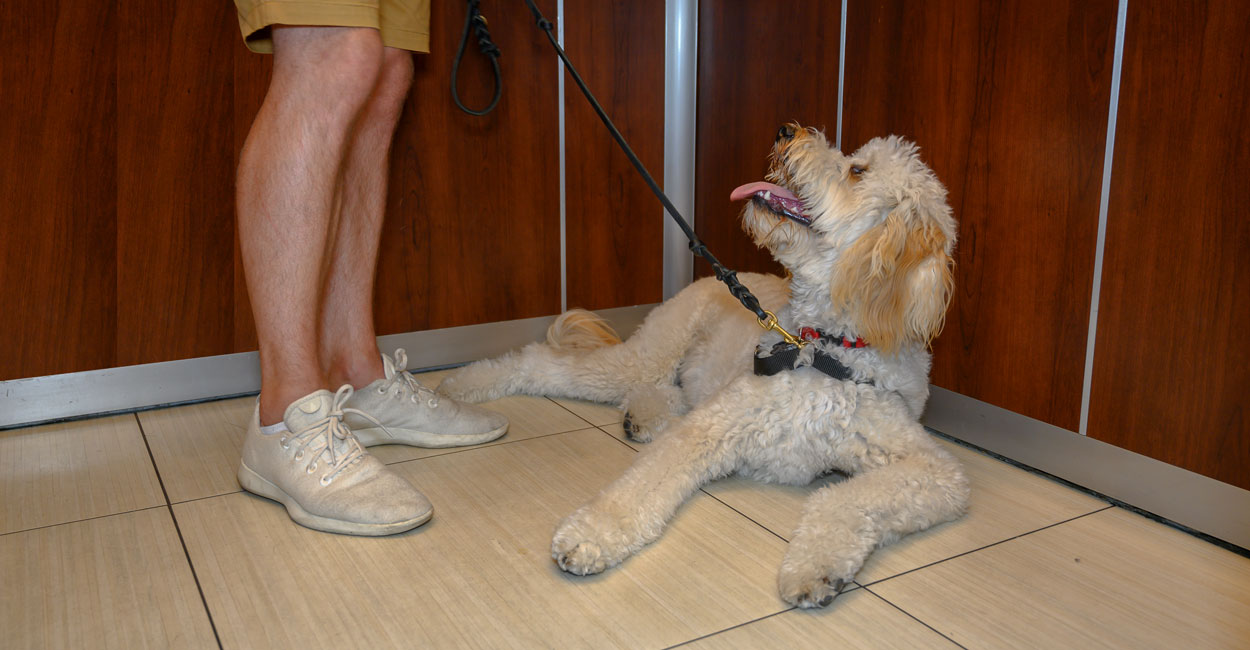 Back to Training Overview
Tucker Pup's is considered an "essential business" and we are open and available for boarding, daycare, and grooming.
Training is currently on hold through April 7, when the statewide lockdown expires. The government could push this date back, so we are not scheduling any classes or socials until we have more certainty.
We will soon be providing virtual classes and private lessons, where you will participate from your device at home. They would follow the same curriculum, and you would still be able to access TrainTrack in order to view the homework, watch videos, and track your progress. Let us know if you are interested. If you have already signed up for training, we will let you know more very soon.
Learn more
about adjustments we are making during the coronavirus outbreak.
Overview
Does your dog need training but you don't have the time? Our turnkey dog training can be very effective to help resolve your challenges.
With our turnkey training option, we come to your home three times per week while you are away, and work one-on-one with your dog on behaviors that you want to focus on. We then meet with you once per week (for example, over the weekend) to discuss your dog's progress and teach you how to implement our methods.
This can be ideal if, for example, you want to address challenging behaviors such as leash reactivity, riding the elevator, greeting strangers, pulling, walking near the el tracks or other loud noises, resource guarding, and much more.
How Turnkey Training Helped Saber Adjust to the City

Why Does it Work So Well?
Turnkey training can be the most effective and rapid format for changing your dog's behaviors, for several reasons:
We use proven techniques, using positive reinforcement only, to get your dog to respond very favorably, right away
Sometimes the people in your dog's life may be inadvertently contributing towards its behavior, including you, your significant other, dog walkers, kids, or roommates. By having your dog work only with the trainer and nobody else, we can eliminate external factors and achieve results that you may not have thought possible
We have the time to put in lots of repetitions in a very focused way, in different environments such as on elevators, near el tracks, down busy sidewalks, and in stores. Many people do not have the time, energy, or focus to do so
This does not mean that we're simply going to train your dog and you don't have to do anything - you will still need to put in work, and be consistent with our methods, in order to be successful. However, a lot of dogs just need lots of repetition to learn our expectations as humans. Our job is to put in these repetitions with your dog and give you a strong foundation.
Price:
The price for turnkey training is $1,200 for twelve 45-minute sessions.
This price includes:
Three sessions per week with your dog at your home. You do not need to be present. Our trainer will keep your key and set up a schedule with you. From our experience, this level of repetition will deliver the most effective results
One hour-long session with you each week to discuss what your dog is learning and what you need to do going forward
Helping Paulie Overcome Leash Reactivity with Turnkey Training

Your staff is excellent and very experienced. I have a leash reactive dog and it is nerve-racking for us. We did turnkey training with Rachel and Brian. We couldn't be more pleased. They were very knowledgeable and patient. We then began day care and stay and train. Again we cannot be more pleased. From the moment we arrive with Paulie to the moment we leave there has never been any problems. The staff is aware of Paulie's leash reactivatness and accommodates us when we arrive. Paulie also seems to be well-behaved around your staff. This indicates to me the professionalism of the staff and ability to work well with difficult dogs. Thanks again!