Position: Receptionist
Return to Open Positions
---
JOB DESCRIPTION
Receptionists are our primary face to the customers.
This position has the following responsibilities:
Check customers in and out, plus manage reservations, for all of our services
Help answer phones and respond to e-mails and requests during the day
Help keep customer records updated
Keep the lobby clean each and every day
Help sell our retail items in a positive and effective manner
Help provide tours to prospective customers
Help take and publish photographs of the dogs for our website
Spend a portion of each day handling the dogs in daycare and boarding
---
QUALIFICATIONS
Qualified applicants should have professional experience as a receptionist or in retail sales. Experience in a dog facility is a definite plus but not a requirement for the position.
Specific characteristics we are seeking:
Highly professional in interactions with customers
Ability to comfortably communicate with customers over the phone, in person, and via e-mail
Very comfortable and fast in working with computers. Experience in certain programs is not necessary, as we use specific software for our business, but you must be proficient in typing quickly and accessing numerous components of the software with ease
Abiity and desire to sell retail items and our services effectively
Strong ability to stay organized
---
OPEN SHIFTS
TBD
---
COMPENSATION
$17.90 per hour initially, with the opportunity for regular raises based on successful performance reviews and other factors
---
PERKS
Employee discount for all retail items
Five free nights of boarding per year. If no boarding suites are available, you would need to bring a crate for your dog to sleep in at night.
One free bath per month for your dog using our equipment and supplies, if you give the baths. Must be done during times when giving the bath would not disrupt our grooming schedule
One week paid vacation for full-time employees once you have worked here for a year
Time and a half if you work at events
---
PERSONAL CHARACTERISTICS
All candidates must possess the following traits:
First and foremost, you must love dogs. It's what we're all about.
Professional appearance. Please note that our dress code applies to all employees here (dog handlers, groomers, receptionists, trainers, etc.) and does not allow for:

Facial piercings while you work, due to safety hazard
Tattoos that are excessive or located on your hands, neck, or face
Gage earrings
Hair that is dyed an unnatural color such as green or purple

Very personable and professional with customers at all times.
You must have a positive attitude and work well with other people. We don't hire people who are only good with dogs but aren't good with people.
Ability to handle dogs in a positive way while commanding their respect. Verbal or physical abuse of any dog at any time will not be tolerated.
"Presence" with the dogs, meaning they know you are in charge and are not a pushover.
Responsible, reliable, and prompt. We have a "three-strikes" rule because in a retail environment, failure on any of these factors is not an option.
Proficiency with computers. You don't have to know any specific software, as we use industry-specific software, but you must be comfortable with technology.
Please note that Tucker Pup's is a drug-free workplace. We reserve the right to conduct random drug tests over the course of time. If drugs are a part of your life, please don't apply.
---
OUR LOCATION
We are located two blocks north of Randolph Street (right near Harpo Studios).
Click here
for more information about our location.
Transportation options:
Limited parking is available for employees.
CTA Green and Pink line - Morgan Stop. The Green line connects to Clark and Lake (one stop away) and is therefore accessible by all the other lines.
CTA Blue line - Grand Stop.
CTA buses - Routes 65, 8, and 20 are the closest.
We are just a short walk from the Loop.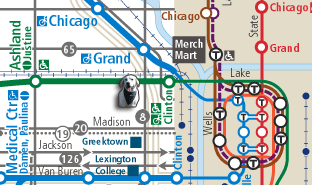 Click here
to check out your fastest route on the CTA website.