Staff Profile
Return to Staff Summary Page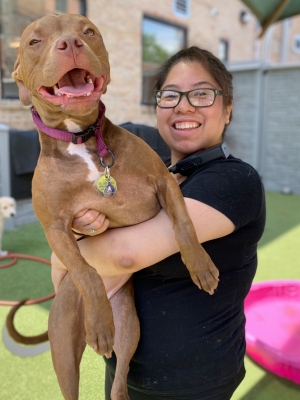 I have learned a lot about behavior from watching my own three dogs. They continue to teach me daily.
I have three dogs named Chapo, Lady, and Maila. Lady is a chihuahua mixed with poodle. She is two years old, loves to eat anything I am eating, and never gets enough sleep. Lady is always with her "grandma." Maila is a Chihuahua and loves to spend time with me. Her favorite movie is Bolt, she never gets bored of that movie, even if we had watched it over and over. Finally we have Chapo, a pit bull. Chapo loves winter and he loves to be outside licking all the snow he can before getting sick or cold.
If I had to pick my favorite breed, it would be pit bulls. They are big babies that love to spend time cuddling and watching movies.
My favorite activities are watching movies, going to the park and listening to music. Especially in the summer when you can watch movies outside in the park, while eating some ice cream.
Where I see myself in ten years would be traveling the world, seeing new places that I could only imagine as a child while reading books.
Learning new things that challenge myself and push me to my limits, then identifying what else I can learn or see.
I graduated from Kelly High School. I also went to Harold Washington College for Criminal Justice. I graduated from there in 2016.
When I was ten years old I went to Mexico for Christmas. I learned the hard way they do not give gifts. I was so heart broken, but my aunt gave me candy in the end, so I was happy!