Staff Profile
Return to Staff Summary Page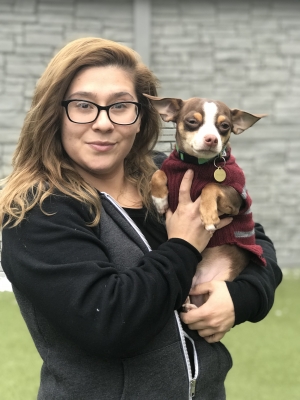 Pet First Aid Certified.
Certified Pet Care Technician.
I provide in-home pet sitting for people who prefer to have their dogs stay in the comfort of their home or mine.
I have been working in the pet industry since 2014. I have dog handling skills to care for any breed, size, or temperament.
- Pablo, a one-year-old Chihuahua.
- Lucy, a six year old pit bull, who is completely deaf. She was rescued and adopted from PAWS Chicago.
- Fred, a nine-year-old basset/beagle mix who was also rescued and adopted from PAWS Chicago.

I enjoy volunteering at Chicago Canine Rescue with my daughter. We spend time socializing with the dogs and taking them on walks. During the Spring and Summer time I help coach my daughter's softball league.
I plan on opening up my own rescue organization or daycare/boarding facility.
I enjoy traveling and sports. Go BEARS and GO SAINTS !!!
I plan on continuing my education and getting a degree in business.
Whenever I travel out of the country, I buy 35-pound bags of dog food and feed the stray dogs I come across.