Staff Profile
Return to Staff Summary Page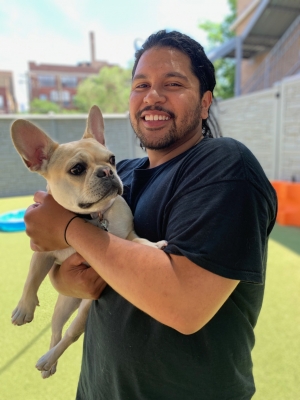 Dog walking, exercise, and bathing
My first dog owned was a Chow-Chow named Capone, who was light brown and resembled a lion. Then there was Oreo my beloved Dalmatian. After Oreo there was Bear, my Shih Tzu for 11 years. Bear had the kindest heart and did not have a angry bone in his body. Currently I have a one year-old German Shepherd named Blackie, who is young and filled with energy, and is a great dog.
My favorite breeds are German Shepherds, Rottweilers, and French Bulldogs.
I enjoy talking my German Shepherd for walks. I love reading books from all genres. I enjoy listening to music and playing sports such as basketball and baseball.
My plan for the future is getting my associate degree in arts from Wilbur Wright and then complete my Bachelor's Degree from Northeastern Illinois for secondary education.
I have a passion for traveling all over America. I also plan on traveling to other parts of the world.