Staff Profile
Return to Staff Summary Page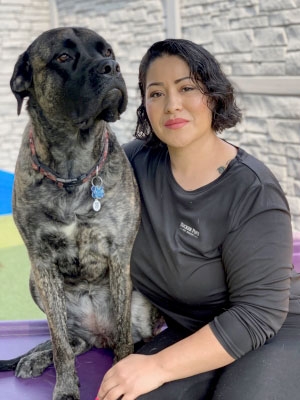 Since I was a small child I can recall having a passion for animals, especially dogs. Throughout my life I have owned many dogs of all sizes and breeds. Prior to Tucker Pup's, I gained 3 years of experience in the pet care industry . I started my career as a dog handler and quickly made my way up to daycare supervisor. I was a former volunteer at the Anti-Cruelty Society and Animal Care and Control. My specialty is working with larger breeds and furry friends who require extra TLC.
I am the proud mommy of two beautiful short-haired Chihuahuas (Sophie and Pancho) and Candy, my sweet Chi-Pug.
Although I love every single furry friend on the face of this planet, I have a weak spot for boxers. They are super friendly, loyal, and full of energy. When I had small children, I learned that boxers make a great family dog due to their gentle nature. It is never a dull moment when you have a boxer as your lifelong companion.
I love anything that has to do with Mother Nature. I am an outdoor person, and love to go camping, swimming and rock climbing. I have a passion for music and dance, and I LOVE Bachata and Salsa!
In the near future, I would like to become a certified groomer and dog trainer. It is my personal goal to open up my own daycare.
I learned how to swim when I was two years old, and absolutely love swimming. I enjoy spending my summer days at the beach and teaching kids how to swim.
At one point of my life, I was the proud mommy of seven rescue pit bulls when I lived in California. I have four beautiful children, who I absolutely adore.