Staff Profile
Return to Staff Summary Page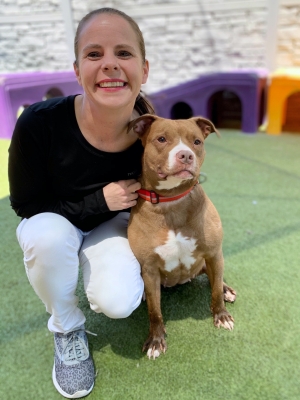 CPR, and I am First Aid Certified for Adults and Children
I have donated my time to shelters and fostering animals to be re-homed for many years. In Missouri I spent time with C.A.R.E rescue facility and helped with adoption events at Petsmart. I am always looking for new places in the Chicago area to continue to donate my time.
My dog experience began at birth, growing up with my German Shepherd, Sam. My love of dogs only became deeper as I grew up and I've always had one or more fur babies running through the house. I have had many breeds of dogs in my life including terriers, Rottweilers, Labradors, boxers, and pit bulls. In my adult life I have volunteered in many capacities to help out our furry friends to rehabilitate and find new homes. I also tend to be a dog magnet anywhere I go.
I have three fur babies currently, all blue-nosed pit bulls, which I got all as little puppies. Laila is the queen of the house and is seven years old. Gucci, my big boy, is four years old. Then I have my Princess Laia, who just turned two. They keep me laughing and I wouldn't trade them for the world!
I have attended various dog training courses in obedience and rehabilitation in Missouri. The many years of pet ownership, training, and experience in daily life have taught me more than I could have imagined.
I love all breeds with a passion but definitely pit bulls have stolen my heart. A close second would be Rottweilers, bull terriers and French bulldogs.
I love listening to music as well as writing and singing. I have a recording studio in my home, and I enjoy mastering down other's music
I have just relocated to the Chicago area looking for a career that I can enjoy and feel rewarded at the end of the day. Off to a great start and happy to be here!
Really enjoying all the good food Chicago has to offer! I love comedy shows, football, and boxing.
Ozarks Technical Community College - Business Management
I once sang on the Pat Boone Show! (ha ha) I also once co-owned a semi-pro football team in Southwest Missouri.