Staff Profile
Return to Staff Summary Page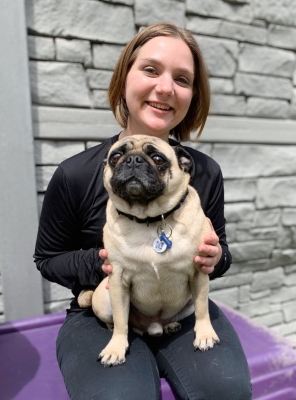 I worked in a grooming salon as a bather for about three years. I found great fulfillment in working directly with the dogs and seeing those tails wag during their visits. I also walked and babysat dogs independently, and have some experience in handling dogs in the show ring.
I have grown up with dogs my entire life, but currently do not have any of my own. I do have two beautiful black kitties named Cinder and Nova.
I am proficient in dog handling safety. I have basic show handling experience.
I grew up handling Collies, but I also love pugs, beagles, and any type of retrievers.
I am an avid performer with a degree in Musical Theater. I have been performing both in competitive dance and theater for most of my life. Some of my recent shows include Phantom of the Opera, Grease, Oklahoma, and The Addams Family. I also love to read and write, and I research new scripts frequently. Cuddles with my cats are my favorite downtime activity.
I am excited to begin my career here in Chicago, both in theater and the pet industry. Some integration of both worlds would be absolutely wonderful!
I do enjoy film as a spectator. I also like to knit during my downtime.
I graduated from Winthrop University with a BA in Musical Theater and a minor in Psychology.
I have competed at the World Irish Dancing Championships twice, once in Philadelphia, and once in Scotland. I am also fluent in German!