Position: Grooming Technician
Return to Open Positions
---
JOB DESCRIPTION
Help bathe and dry dogs, plus provide other grooming-related services such as nail clipping, deshedding, brushouts, helping hold dogs for grooming, and more.
Physical requirements include:
Be on your feet for multiple hours throughout the day, including lots of walking
Be able to lift dogs of at least 50 pounds in and out of a boarding suite
Walk dogs on leash throughout hallways at various times of the day
Walk up and down stairs, including with dogs on leash
---
QUALIFICATIONS
At least one year of experience in professionally bathing dogs at another pet business.
---
OPEN SHIFTS
TBD
---
COMPENSATION
$16.45 with opportunity for raises
---
PERKS
Employee discount for all retail items
Five free nights of boarding per year. If no boarding suites are available, you would need to bring a crate for your dog to sleep in at night.
One free bath per month for your dog using our equipment and supplies, if you give the baths. Must be done during times when giving the bath would not disrupt our grooming schedule
One week paid vacation for full-time employees once you have worked here for a year
Time and a half if you work at events
---
PERSONAL CHARACTERISTICS
All candidates must possess the following traits:
First and foremost, you must love dogs. It's what we're all about.
Professional appearance. Please note that our dress code applies to all employees here (dog handlers, groomers, receptionists, trainers, etc.) and does not allow for:

Facial piercings while you work, due to safety hazard
Tattoos that are excessive or located on your hands, neck, or face
Gage earrings
Hair that is dyed an unnatural color such as green or purple

Very personable and professional with customers at all times.
You must have a positive attitude and work well with other people. We don't hire people who are only good with dogs but aren't good with people.
Ability to handle dogs in a positive way while commanding their respect. Verbal or physical abuse of any dog at any time will not be tolerated.
"Presence" with the dogs, meaning they know you are in charge and are not a pushover.
Responsible, reliable, and prompt. We have a "three-strikes" rule because in a retail environment, failure on any of these factors is not an option.
Proficiency with computers. You don't have to know any specific software, as we use industry-specific software, but you must be comfortable with technology.
Please note that Tucker Pup's is a drug-free workplace. We reserve the right to conduct random drug tests over the course of time. If drugs are a part of your life, please don't apply.
---
OUR LOCATION
We are located two blocks north of Randolph Street (right near Harpo Studios).
Click here
for more information about our location.
Transportation options:
Limited parking is available for employees.
CTA Green and Pink line - Morgan Stop. The Green line connects to Clark and Lake (one stop away) and is therefore accessible by all the other lines.
CTA Blue line - Grand Stop.
CTA buses - Routes 65, 8, and 20 are the closest.
We are just a short walk from the Loop.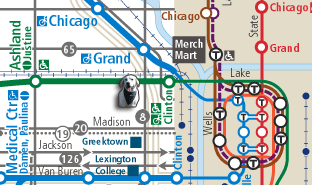 Click here
to check out your fastest route on the CTA website.