Staff Profile
Return to Staff Summary Page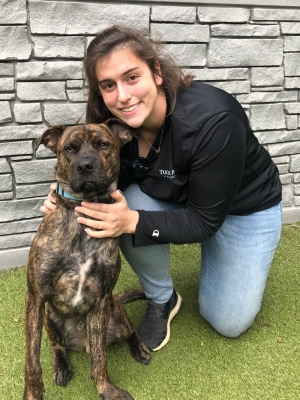 I worked at a clinic in Fairfax Station, Virginia for over six years. While working there I was a Kennel Manager, and would supervise other workers while walking, feeding, medicating, and playing with dogs. I also would help the vet techs with any nail trims and other tasks. I worked at the clinic's pack play, which is a structured doggy day care that runs all day with dogs ranging from small to large all together at once. I would help the clinic's dog trainer with her training sessions as needed.
My dog's name is River! She is a rescue pup that we are told is an Anatolian Shepherd mixed with Labrador. We are not exactly sure what her parents look like. She is a super-loving and happy dog! She wants to play with any and every dog she meets, and loves affection from humans!
I previously worked with a dog trainer for many years. This has helped me gain knowledge on reading appropriate body language (positive and negative) and overall what typical behaviors should be seen as acceptable.
I do not necessarily have a favorite breed but mixed breeds are always the best!
My favorite activities are taking my dog for long walks and playing soccer. I used to play for University of Illinois at Chicago's D1 program, and overall I like to be outside.
My future career goals would be to work in the medical field.
Taking my dog on a run with me or to play with other dogs always makes my day better!
I graduated from Robinson Secondary School in 2016, located in Fairfax Virginia. Currently I am finishing my undergrad degree at University of Illinois at Chicago and I'm graduating December 2020 with a major in Biology.
At the previous clinic I worked at, I would often temporarily foster dogs so that they did not have to spend a ton of time in a kennel. This also helped them feel more comfortable to be able to cuddle up in a home environment.