Staff Profile
Return to Staff Summary Page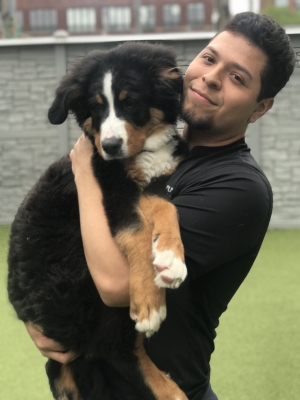 I have been working with dogs my entire life. I have owned over 50 dogs, all different sizes and breeds. I would pick up strays and bring them to my home. I didn't want to see them get put in a shelter so I would work very hard to find them a forever home. I have also volunteered at a few animal shelters. This inspired me to work with dogs on a professional level and it has been the best decision I have ever made.
I currently have a Pomeranian named Bubbles and a miniature Schnauzer named Dolly. They are the highlight of my life. They love to play with other dogs and cuddle up with me when I get home from work or school.
Pomeranian's, Aussies, Retrievers, and Huskies would have to be my favorite breeds.
I love music. I love dancing and going out with friends. I'm a very social person. It's kinda scary how much I love coffee, but going to get a nice iced coffee, (yes, even in the winter), is a daily hobby of mine. I love to bake as well. It makes me feel good to make sweet treats that my family and friends enjoy!
I am currently in school for animal medicine. Dogs are my favorite animal. I plan to continue with school and I want to be a veterinarian or a zoologist in the near future!
I love concerts. Catch me in at least ten different concert events each year!
I am working towards my Bachelor's Degree for Animal Science / Veterinary Medicine.
I visited Europe when I was 16 years old. It was such an amazing experience. Rome is nothing like how it is seen in movies. It is much more beautiful in person!!