Staff Profile
Return to Staff Summary Page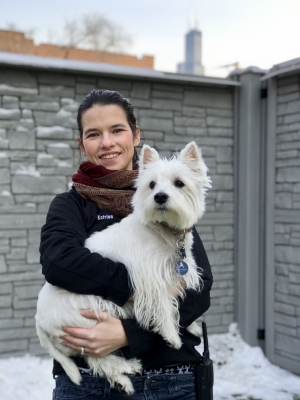 I grew up with dogs, specifically Labrador retrievers and English Springer Spaniels. I helped train our dogs and raise them from puppies.

I also have experience as a dog walker, which was great - getting to meet all sorts of breeds and personalities of dogs. It also gave me solid experience in handling the strength and temperament of different dogs.
I currently own a 3 year-old male orange tabby cat named Colonel Mustard, who thinks he's a dog. He is trained to walk outside on a leash and will sit for treats. I also have a Shih-Tzu/Terrier mix named Starbuck (name from Battlestar Galactica) that I adopted from CACC.

Previous pets have been two Labradors named Lily and Winnie; an English Springer Spaniel named Pooka, and 2 cats, Scabbers and Crookshanks.
I am a big lover of all dog breeds, but I especially love large dogs, all bully breeds, and standard poodles. And of course I also love Labs and springer spaniels, since I grew up with them.
I am an artist and photographer. I love to take portraits and photograph pets and weddings! I also have my own Etsy shop. I majored in Art in college.
I would love to stay in an animal-related field, or some sort of creative pursuit (photography/drawing), or both if possible!
I love gardening - especially growing vegetables! I also rode horses throughout high school, but I haven't been able to ride much since then.
I spent seven years of my life living in Cambodia. I moved there when I was 11, with my family, and moved back when I was 18, to begin college.