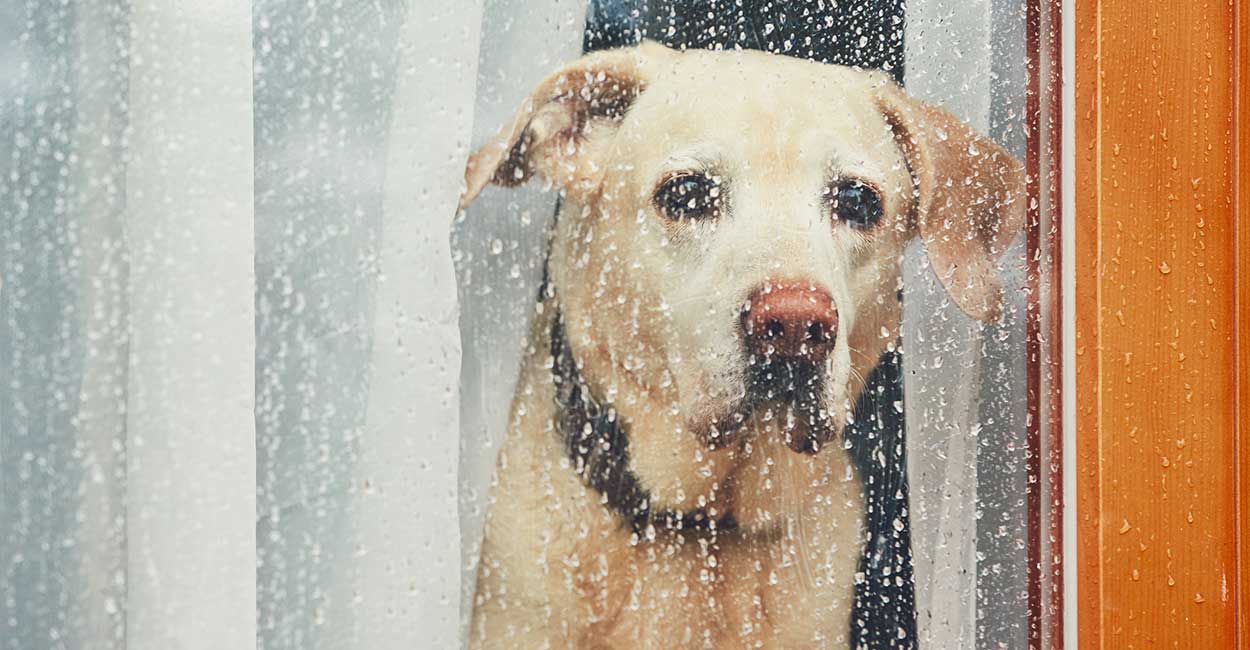 Back to Training Overview
Tucker Pup's offers a comprehensive training program to help your dog overcome separation anxiety.
Separation anxiety is a panic disorder that afflicts millions of dogs across the world. Many people feel like they cannot leave their dog at home to go to work, travel, or even to the store. It has been made worse by Covid, since many people have been attached at the hip with their dog, and are now going back to work, leaving their dog home alone for long periods of time.
Unfortunately, there is no quick fix for separation anxiety. You cannot just do some simple exercises or give your dog some medication and hope it goes away. It's a process that requires training, potential medication, adjustments to your daily habits, time, patience, and empathy. Some dogs take longer than others, and success depends on many factors, which we will review with you.
By going through our program, we believe your dog will have the best chance at overcoming this panic disorder and improving your quality of life together.
We deliver our program in two phases initially. After completing Phase 1 and 2, you have the option to continue to Phase 3. By following this order of operations, you will have the best chance at success.
Phase 1
This phase will include 12 one-hour sessions that cover the following information, delivered in modules that we will review together in person.
Home environment analysis.

If you live within our zone, a trainer will come to your home to analyze the conditions for your dog and give you recommendations on how to alleviate its separation anxiety. If you do not live within our zone, we can try to conduct the analysis via Zoom, or you can come to our training facility and discuss your home environment.

Dog Diagnostic.

We will conduct a Dog Diagnostic, which is a full assessment of your dog's background, behaviors, risk factors, and training skills. We will need you to answer our questions on your computer, and we will ask you followup questions. This will give our trainer the best possible understanding of factors that might be leading to your dog's anxiety.

Home cameras.

We will give your our recommendations for video cameras that you can install in your home, enabling you to monitor your dog's behavior and threshold once you leave. We will discuss different features that are available on various cameras, help you decide which features are most important to you, and give recommendations on their placement. Once you purchase cameras, we can also offer basic technical support to try and ensure they are working.

Medications.

Medications may help your dog become calmer and more able to process information, especially if your dog's anxiety is considered moderate or severe. If it seems like medications would be beneficial, we will give you our recommendations about different options, and can speak with your veterinarian if necessary.

Daily habits.

We will give recommendations for how to adjust your daily habits, as these are likely impacting your dog's anxiety and behaviors.

Positive reinforcement training.

We will show you the fundamentals of positive reinforcement training and how to get your dog to listen and respond to you. We will also show you exercises that are useful for helping your dog learn basic behaviors that lay the groundwork for future advanced exercises.

Food and supplements.

We will discuss recommendations for food and supplements with you, helping you understand how health and diet may be impacting your dog's anxiety.

Enrichment toys.

We will discuss various enrichment toys and strategies designed to occupy your dog when you leave, helping alleviate anxiety.

Support group.

By enrolling in the program, you will have automatic access to our Separation Anxiety support group into the future. Meetings for this support group occur on Zoom, and will be moderated by one of our trainers. You can hear about how other people are coping with separation anxiety, and build relationships with others that you might find useful in the future, such as watching each others' dogs. Participation is completely voluntary.
Phase 2
This phase will include:
Medication adjustment period.

If your dog is prescribed medication by your veterinarian, it will take time for the medication to have its intended effect and enable your dog to become responsive to training. It may also be necessary to change the medication or adjust the dosages during this phase, which you would do in conjunction with your veterinarian.

Checkin meetings.

You can have one-hour checkin meetings with your trainer once or twice per month during this phase. We recommend having these meetings in person, but they could also happen over Zoom. The price includes six meetings, and you can purchase more if necessary.
Phase 3
This phase will include more intensive games and exercises that really teach your dog to cope and soothe itself when you leave. All of the exercises use positive reinforcement, and are fun and easy to implement. Learning these exercises is not realistic until your dog has gone through Phase 1 and 2, as it requires a very solid foundation within our training program.
Phase 3 is not required, and may be unnecessary for your dog. When we reach that stage, we will propose a training plan that includes these exercises, if we believe your dog will benefit from them.
The price for Phase 1 and 2 is $2,500 total, plus any parking fees as necessary if we come to your home.

After these phases, if you decide to move forward with Phase 3, that will be at an additional price that is dependent on how many sessions are necessary. As an example, six sessions would be in the range of $850.

We must receive payment in full, which can be by credit card, cash, or check. We also have an option to pay via PayPal Credit, enabling you to pay the balance in six months with zero interest, then monthly payments after that if necessary.

Aside from the home environment analysis mentioned above, all lessons are assumed to be held at our training facility at 1046 W Fulton, Chicago, IL. There is a mixture of free and metered parking all around our facility.

We can use Zoom if necessary, but prefer meeting in person if possible. This is because the lessons will be more effective, we can focus more easily, and we have equipment that can be used to aid in the training process.

We only use positive reinforcement to achieve results. This means we desensitize your dog through rewards and praise, in order to create repeatable behaviors such as self-control and self-soothing. Our methods are based on science, are used worldwide, and can work wonders. We do not use shock collars, prong collars, choke chains, yelling, and other negative methods, which can typically make the situation much worse. Think about it: if you were afraid of snakes, do you want someone to help you get over your fear, or just yell at you to not be afraid any more?
There is not a guaranteed time to success, as every dog is different, and your dog's progress depends on you following the program we recommend. We do strongly encourage you to keep your definition of success in perspective. If you can't leave for five minutes currently, then being able to leave for five hours could be seen as a major victory. We must be realistic, and recognize that separation anxiety may never fully go away for your dog. If we can reduce it substantially, that is progress, and you might need to keep working at it over time.

Signed Agreement.

We can only move forward on the program once we have received signature on our agreement, which you can digitally sign on our website.

Vaccinations.

Your dog must be up-to-date on vaccinations in order to enter our facility. These vaccinations include bordatella, distemper, parvo, canine influenza, and rabies (if older than 6 months). These are standard vaccinations that your veterinarian should be very familiar with, and are intended to protect your dog and other dogs in our facility.

Initial veterinary checkup.

We require that you get a checkup from your vet in order to rule out / address health issues that may be present and exacerbating the separation anxiety, such as upset stomach, allergies, internal injury, and more. The checkup should include blood work and a fecal examination. We must see the checkup report.

Threshold log.

We require that you keep a Threshold Log, so you can track your dog's progress. We will supply you with the log, and will discuss your progress when we meet.

No contagious conditions.

Your dog cannot have any contagious conditions if entering our facility, including but not limited to: giardia, coughing or upper respiratory infection (URI), or conjunctivitis.

Liability Waiver.

We will need you to sign our Liability Waiver if you have not done so already. You can digitally sign this on our website.
Our Behavioral Specialist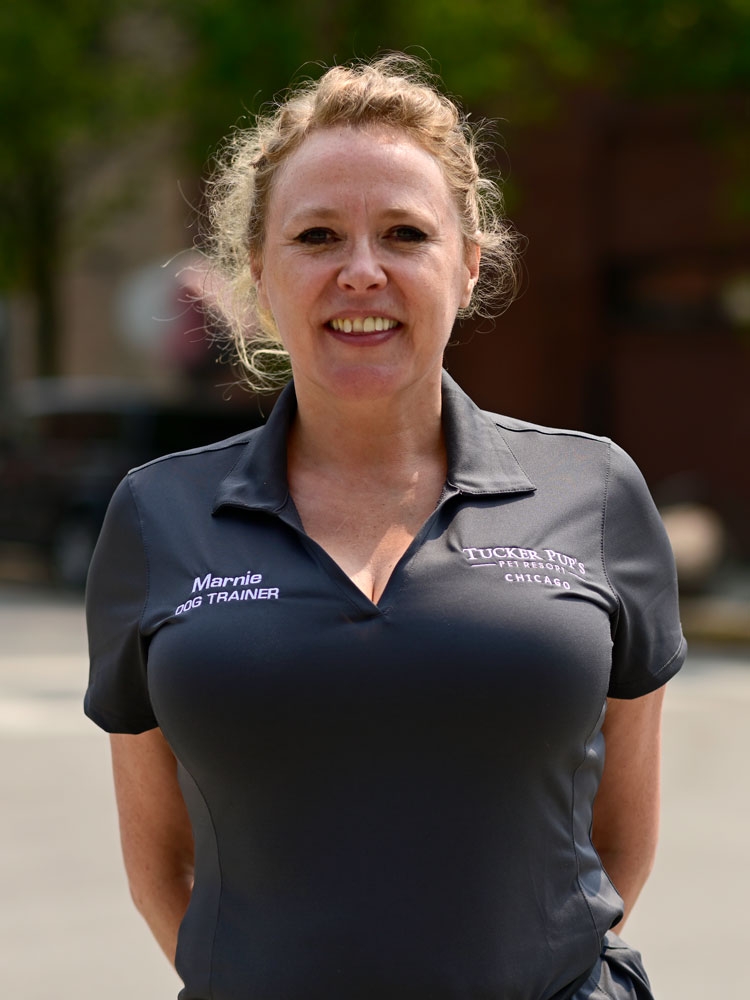 Marnie Harris, KPA-CPT
Our Separation Anxiety Program is overseen by our behavioral specialist, Marnie Harris, KPA-CPT.

Marnie has been training dogs for over 20 years, and has focused on difficult behavioral challenges.

Marnie owned a dog training, boarding, daycare and grooming facility in Colorado for 11 years. She provided one-on-one behavioral therapy for dogs who were reactive, emotional, or aggressive. She also taught group classes, private lessons, online training, workshops, seminars, agility, nose work, and therapy dog certifications.

Marnie has also helped operated several rescues, with a primary focus on dog behavior. This includes serving as the Executive Director of Chicago Canine Rescue, as well as the Canine Manager of Animal Rescue League of Berks County in Pennsylvania.

In addition, she has been a consultant for numerous rescues and shelters across the country, helping resolve their most challenging cases, plus training their staff and volunteers.

Marnie has also rehabilitated dogs in her home that couldn't be adopted out and would have otherwise been euthanized.