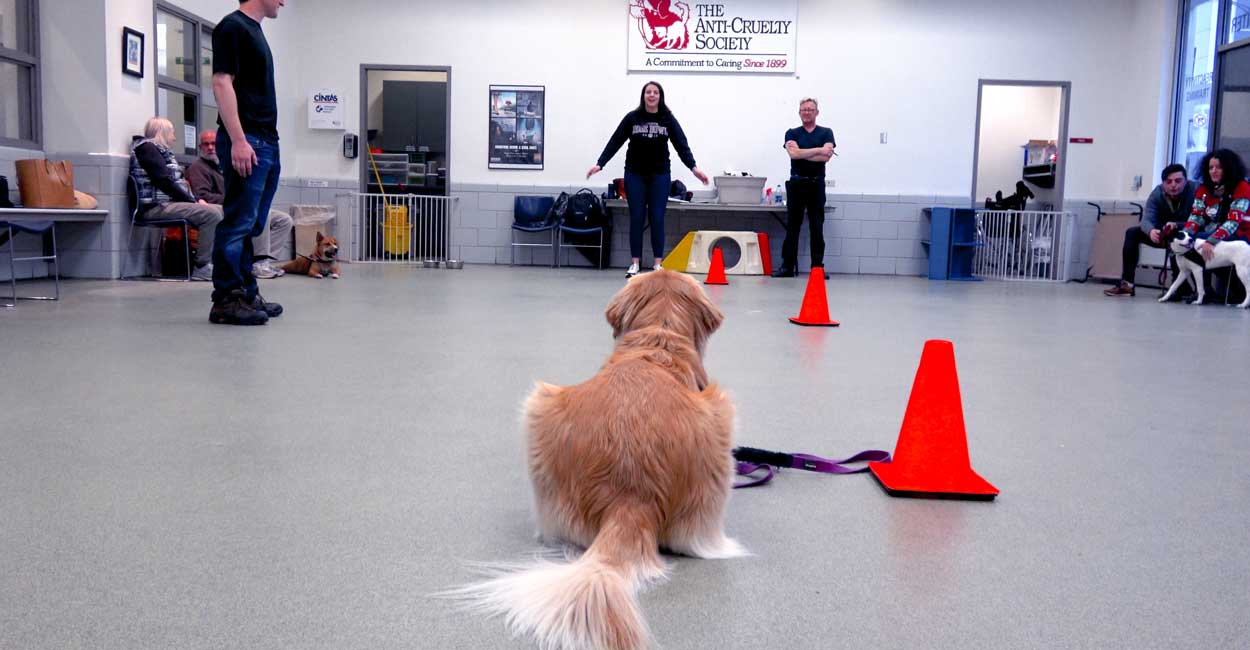 Intermediate Dog Manners and Obedience Classes
Enroll
Return to Manners Classes
If you have taken our Puppy or Adult Manners course, this is the perfect next step in order to help your dog reach his potential.
Now that your dog knows the basics, it's time to make all of the exercises much more challenging. We add the three D's (distance, duration and distractions) plus introduce some new commands in order to help your dog build and keep his focus. The goal continues to be for your dog to do what you say the first time, without repeating yourself.
By the end of the course, your dog should be able to excel at many foundational behaviors, even under highly challenging circumstances.
The course includes:
Training Skills,

including:

Walk next to you politely (even without a leash), including through a crowd of people and past noisy distractions
Stay for a long period of time, even from a distance, with your back turned, as you walk away
Go to a place, such as a mat or crate. This is ideal for times such as when you have a guest come to your home
Automatically go to your side when coming to you
Leave things alone unless given permission (even really tempting things, like a pile of treats)
Spin around in front of you
Go into a sit and down from a long distance
Initial steps towards preparation for the optional Canine Good Citizen (CGC) test and certification

Access to TrainTrack™

Videos of the exercises taught in class. This helps you remember all of the tips once you get home.
Written descriptions of the the exercises taught in class
The homework for each session
Ability to log your exercises and keep track of what you need to work on next
Don't just stop at one Manners course and think you're finished - take the next step and enroll in Intermediate Manners so your dog can continue to improve and learn crucial lifelong skills.
Video:
Intermediate Manners Graduation Day (1:00)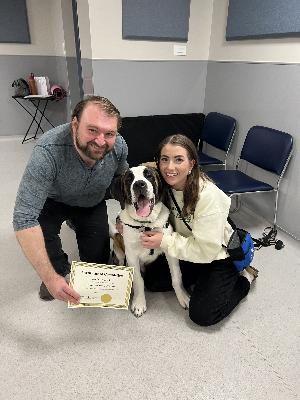 We had Jessie as our trainer for the Intermediate Manners class. My six month old Saint Bernard Zsa Zsa and I looked forward to class each week and we are both sooo genuinely sad that it's over! Jessie was patient, enthusiastic, kind and incredibly insightful and helpful. Zsa Zsa has made so much progress in his training. We can't wait until the advanced manners class!

- Katherine Ostrowski
Number of classes:
6
Time duration:
1 hour per class
Prerequisites:
Adult Manners, Puppy Manners, or Prep School at Tucker Pup's
Ages:
No age restriction
Requirements:
Click here
Schedule and prices:
Click here
Have questions?
Call us at
312-829-8787
, 365 days per year between 7am and 7pm
Not sure?
You can have a
free consultation
with one of our experts to help decide if this is the right class for you
Don't delay - we take enrollment 365 days per year, and answer calls from 7am to 7pm each day. Any request submitted after 7pm will be processed the next morning. Classes fill up quickly.
More information: