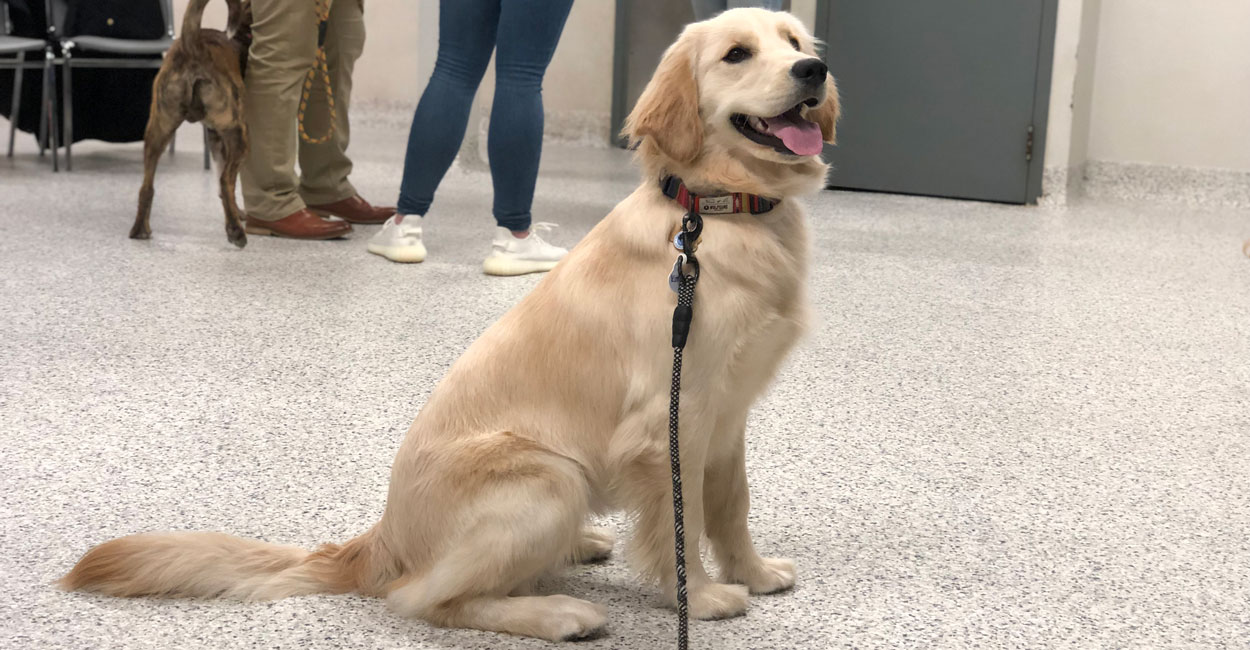 Adult Dog Manners / Obedience Training Classes
Enroll
Return to Manners Classes
Our Adult Manners dog training course teaches fundamental skills, listening, and self-control across a number of different behaviors. This is important because as your dog gets older, its desire to listen decreases, making daily interaction such as walks more challenging.
The course includes:
Training skills:

The course teaches skills such as walking without pulling, focusing on you, coming directly to you, waiting patiently before a command is given, not jumping on people, leaving items alone, and more.

Off-leash socialization:

Each class also includes play time, where the dogs get to run and play with the others off leash. This is important for building their socialization and confidence. The trainer will give you advice about what to allow and watch for during play, and how to correct your dog's behavior in an effective manner.

Class discussion:

A full discussion of important training topics such as:



How and why dogs learn
The importance and use of positive reinforcement
How many people unintentionally create unwanted behaviors in their dog
How to successfully use your voice, posture, body language, and more
Corrective techniques that work
Training equipment and rewards that we recommend
And much more

Access to TrainTrack™

The homework for each session
Videos of all the exercises taught in class
Written descriptions of all the exercises taught in class
Ability to log your exercises and keep track of what you need to work on next
Bonus materials
You will be amazed at what your dog can accomplish in only six weeks!
Manners Class Graduation Day (2:21)
I've been a customer of Tucker Pup's for 4+ years with my 3 dogs and always had the best experience due to the high level of expertise their daycare, boarding and grooming staff hold and the exceptional communication they employ; however, I only recently used their dog training services. No surprise, I was completely impressed with my experience here as well.

The real goal of going to dog training is for the owner to acquire the skills to train their dog, a process that continues out of the classroom, not just to train your dog throughout a 6 week class period. David, was an **incredible** instructor. He immediately corrected all of things I couldn't see that I was doing which were inhibiting me from successfully training my dog. Moreover, he checked in with us every week to see make sure we were making the progress we needed to and made himself available by email and his personal cell phone when we were not. I emailed David about a couple of issues I was having between classes and he came back with clear, concise steps to resolve each of them.

I cannot recommend David and the Tucker Pups training class enough. My dog saw immediate results and I have acquired the skills to continue making progress with his training going forward. I will be enrolling my 2nd dog in class shortly!

- Jennifer O'Rourke
Number of classes:
6
Time duration:
1 hour per class
Prerequisites:
None
Ages:
6 months or older once the course starts
Schedule and prices:
Click here
Have questions?
Call us at
312-829-8787
, 365 days per year between 7am and 7pm
Not sure?
You can have a
free consultation
with one of our experts to help decide if this is the right class for you
Don't delay - we take enrollment 365 days per year, and answer calls from 7am to 7pm each day. Any request submitted after 7pm will be processed the next morning. Classes fill up quickly.
More information: