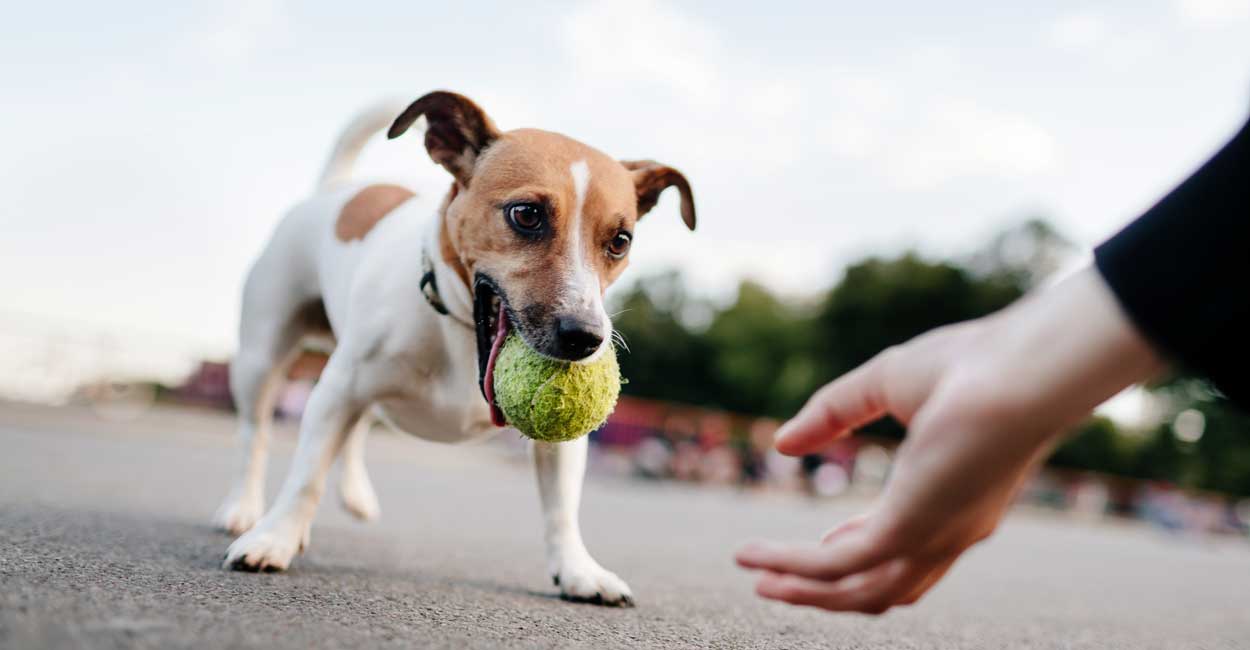 View All Trainers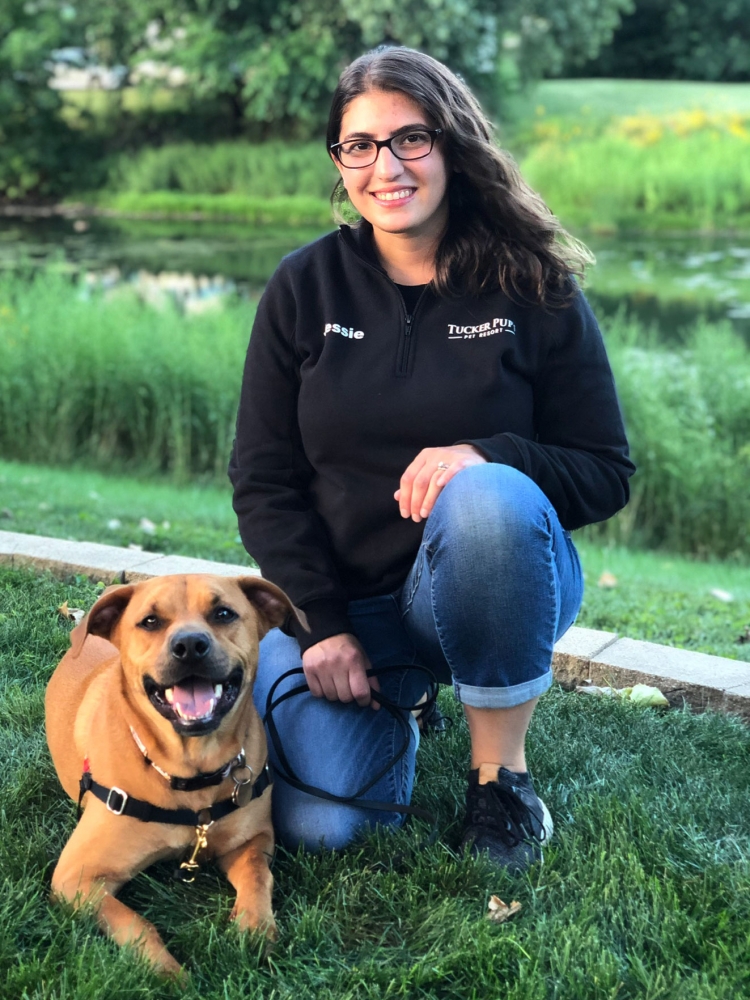 Jessie Sanfillippo
Dog Trainer
Jessie trains dogs in classes, Prep School, Stay and Train, and puppy socials. She is also in the process earning her certification at the Karen Pryor Academy, one of the leading schools for people to become dog trainers. In addition, she is an Canine Good Citizen evaluator with the American Kennel Club, and is in the process of earning her CPDT-KA certification (Certified Pet Dog Trainer).

Jessie originally started at Tucker Pup's as a dog handler, and worked her way up from Staff Trainer to Staff Supervisor, then eventually dog trainer.

Before working at Tucker Pup's, Jessie had her first introduction to positive reinforcement training at the Shedd Aquarium. At the Shedd, she volunteered, interned, and eventually held multiple temporary positions in the marine mammals department, which included rescue dogs! While assisting in the training of beluga whales and dolphins was an absolute dream, it was the rescue dogs that were the most inspiring. All of the dogs at Shedd were surrendered to Chicago shelters for various behavior issues. Watching the Shedd trainers transform these pups with troubled pasts into literal show dogs was life-changing. This experience helped solidify her belieft that all dogs are trainable and can be transformed into well-behaved members of the family.

Jessie graduated from Elmhurst University with a Bachelors of Science in Biology.

Jessie and her dog Wade want to spread the joy and bond created through positive reinforcement training with as many people and their dogs in our community as possible. She believes that training can and should always be fun for both dog and human.

Testimonials

Jessie is wonderful! She is warm, friendly and clearly loves dogs. I trust that she'll be good to our puppy, but not let her get away with shenanigans. :)

Jessie connected via email throughout the 3 week training to give updates, advice and check-in. We loved that!

Our private training sessions were great. I loved that she was able to give alternative options when our dog, Ripley, didn't seem to respond to the usual commands. That was helpful.

I can't imagine what our pup would be like without going through this training! I'm so happy we did it!

- Julie Richardson



---


We are way more than satisfied with Prep School! Winnie is a completely different dog in every single aspect. Starting with the training, she has learned so many new things that make our every day lives so much easier. Prep school was the perfect option to get her trained fast since we both worked all day from home and weren't able to focus as much time on training as we wanted to. David, Jessie and Jordan were absolutely wonderful to work with and genuinely cared and loved for Winnie way more than I could've asked for.

We started bringing her to Tucker Pup's when she was a little puppy which naturally made me nervous, but I am so glad we did. Moving onto the daycare portion of Prep School, wow! This made the whole experience even better. All the handlers were absolutely awesome! Winnie was very timid at first and did not take to other dogs like we wanted her to. She would stand off in the corner and keep to her own... 3 days in she started to come out of her shell and here we are now, she LOVES to play with any and all dogs! She is the sweetest, most well-behaved dog, and we have Tucker Pup's to thank for that. I can't say enough good things! We will continue to bring Winnie back for daycare every once in a while because she loves it so much. I don't think we will ever feel comfortable bringing her anywhere else for training or daycare.

Thank you for all that you do, Tucker Pup's!

- Nicole Morin



---


I have been so impressed with the training that we received from Tucker Pup's prep school program and Jessie the trainer! Our puppy, Zeke, has truly transformed after the three weeks. Furthermore, I feel equipped to continue with the exercises with Zeke. The 1:1 training sessions were great and did so much to build our confidence in working with Zeke on our own. All in all, he is so much more balanced, and we're equipped with much better tools to continue to strengthen our bond. Couldn't be happier!

- Virginia Venable

Jessie's Upcoming Training Events
Upcoming Classes:
Adult Manners
Starting Wed, May 12, 2021
5:30 pm
Tucker Pup's - West Loop
Adult Manners
Starting Mon, May 17, 2021
5:30 pm
The Anti-Cruelty Society
Puppy Manners
Starting Mon, May 17, 2021
6:45 pm
The Anti-Cruelty Society
Puppy Manners
Starting Tue, May 18, 2021
5:30 pm
Tucker Pup's - West Loop
Puppy Manners
Starting Tue, May 18, 2021
7:15 pm
Tucker Pup's - West Loop
Puppy Manners
Starting Tue, May 25, 2021
8:30 pm
Tucker Pup's - West Loop
Puppy Manners
Starting Mon, Jun 7, 2021
5:30 pm
The Anti-Cruelty Society
Adult Manners
Starting Tue, Jun 15, 2021
5:30 pm
Tucker Pup's - West Loop
Puppy Manners
Starting Wed, Jun 16, 2021
5:30 pm
Tucker Pup's - West Loop
Puppy Manners
Starting Mon, Jun 21, 2021
6:45 pm
The Anti-Cruelty Society
Puppy Manners
Starting Tue, Jun 29, 2021
7:15 pm
Tucker Pup's - West Loop
Puppy Manners
Starting Tue, Jul 6, 2021
8:30 pm
Tucker Pup's - West Loop
Adult Manners
Starting Mon, Jul 26, 2021
5:30 pm
The Anti-Cruelty Society
Puppy Manners
Starting Tue, Jul 27, 2021
5:30 pm
Tucker Pup's - West Loop
Adult Manners
Starting Wed, Jul 28, 2021
5:30 pm
Tucker Pup's - West Loop
Adult Manners
Starting Tue, Sep 7, 2021
5:30 pm
Tucker Pup's - West Loop
Puppy Manners
Starting Wed, Sep 8, 2021
5:30 pm
Tucker Pup's - West Loop