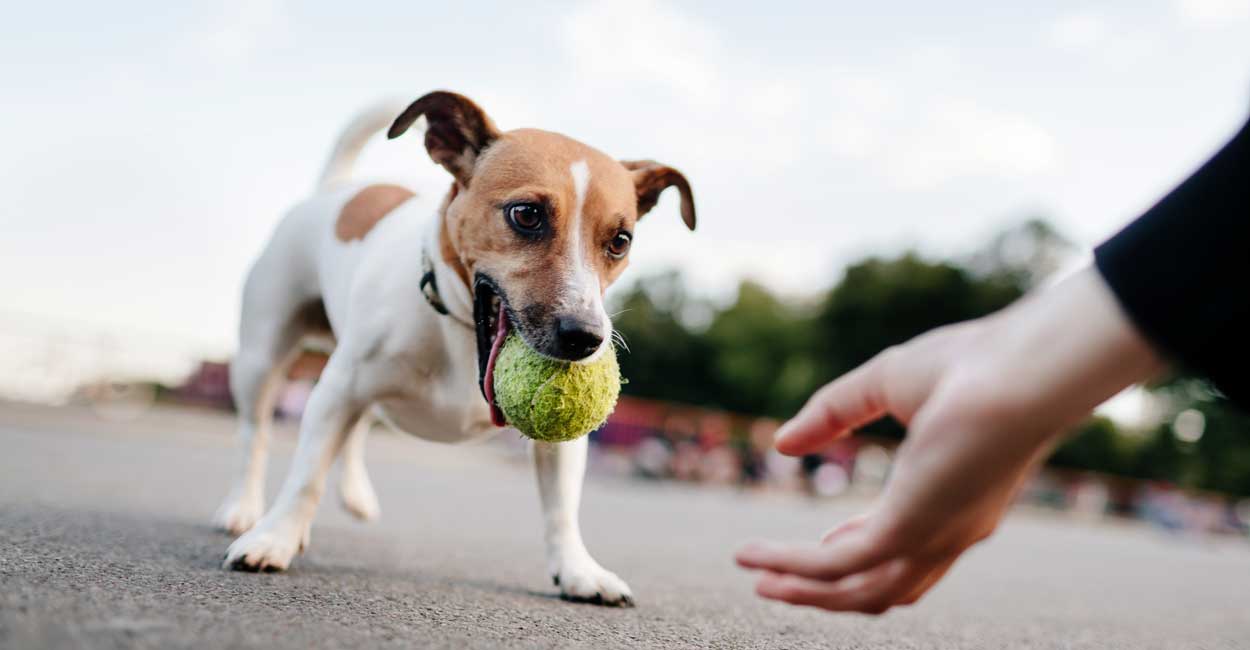 View All Trainers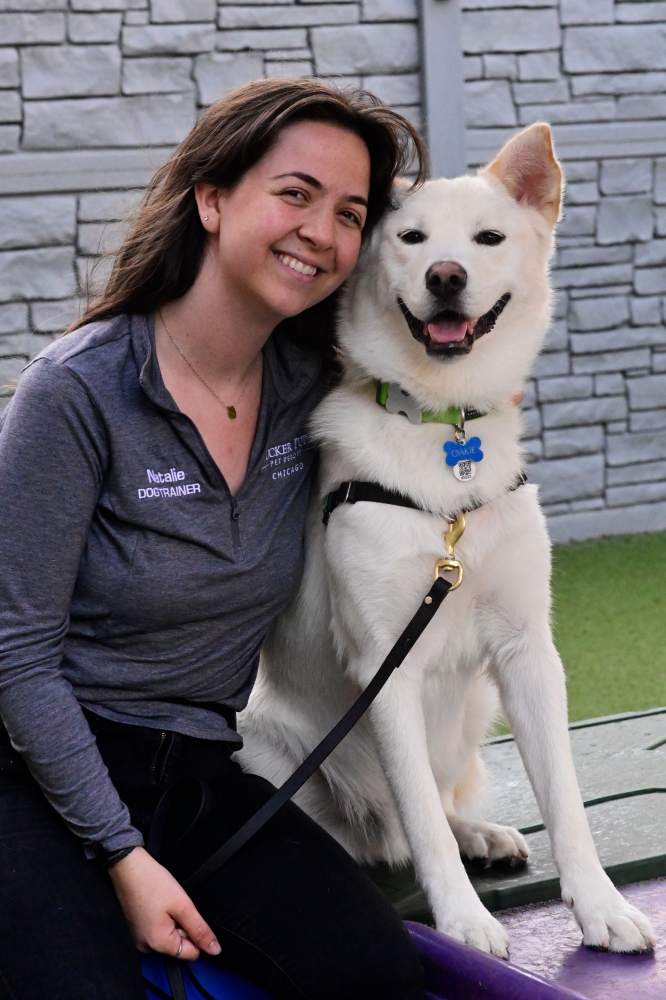 Natalie Bracht
Dog Trainer
My Role at Tucker Pup's
I teach Dropoff Training, private lessons, and puppy socials.

Certifications
I am in the process of earning certifications with Catch Academy, in addition to the Certification Council of Pet Dog Trainers (CCPTD).

Dog Experience
Before Tucker Pup's, I was dog a handler at two doggy daycares for three years. This has given me a solid understanding of dog behavior and socialization. I was also a neighborhood dog walker. My passion for dogs led me to become a full-time trainer, learning under our Senior Trainer, David Roos.

Why I Became a Dog Trainer
I have always had an interest in the way dogs think and behave. I believe that it is important to have an understanding between dog and owner to create harmony in the home. I also strongly believe in positive reinforcement training tactics, and strive to teach others how to apply them.

Testimonials

Jess and Natalie were great and helped us feel confident in our first puppy social. Our little guy is spirited and rambunctious and they helped us without judgment. Great experience!

- Alex Bullock



---


Luca LOVED working with Natalie in Dropoff Training! She is an absolutely awesome trainer who is thorough with what they've trained on for the week and is patient with teaching us as well. She always asked us how things were going at home and tried to provide us with feedback/advice on the areas we were experiencing challenges with. We will definitely be going back to Natalie for intermediate training and can't wait to work together again!

- Diana Hernandez



---


We had the most amazing training experience with Natalie in Dropoff Training . Gus has transformed his behavior and we knew that he was in the best hands throughout the whole process. We have nothing but amazing things to say about Tucker Pup's training experience!

- Alana Harte

Natalie's Upcoming Training Events
Upcoming Socials:
Confidence Builder Puppy Social
Sun, Dec 11, 2022
10:15 am
Companion Animal Hospital - River North
Whippersnappers Puppy Social
Sun, Dec 11, 2022
11:30 am
Companion Animal Hospital - River North
Tiny Tots Puppy Social
Sun, Dec 11, 2022
12:45 pm
Companion Animal Hospital - River North
Confidence Builder Puppy Social
Sun, Dec 18, 2022
10:15 am
Companion Animal Hospital - River North
Whippersnappers Puppy Social
Sun, Dec 18, 2022
11:30 am
Companion Animal Hospital - River North
Tiny Tots Puppy Social
Sun, Dec 18, 2022
12:45 pm
Companion Animal Hospital - River North
Whippersnappers Puppy Social
Wed, Dec 21, 2022
7:15 pm
Tucker Pup's - West Loop
Confidence Builder Puppy Social
Sun, Jan 8, 2023
10:15 am
Companion Animal Hospital - River North
Whippersnappers Puppy Social
Sun, Jan 8, 2023
11:30 am
Companion Animal Hospital - River North
Tiny Tots Puppy Social
Sun, Jan 8, 2023
12:45 pm
Companion Animal Hospital - River North
Confidence Builder Puppy Social
Sun, Jan 15, 2023
10:15 am
Companion Animal Hospital - River North
Whippersnappers Puppy Social
Sun, Jan 15, 2023
11:30 am
Companion Animal Hospital - River North
Tiny Tots Puppy Social
Sun, Jan 15, 2023
12:45 pm
Companion Animal Hospital - River North
Confidence Builder Puppy Social
Sun, Jan 22, 2023
10:15 am
Companion Animal Hospital - River North
Whippersnappers Puppy Social
Sun, Jan 22, 2023
11:30 am
Companion Animal Hospital - River North
Tiny Tots Puppy Social
Sun, Jan 22, 2023
12:45 pm
Companion Animal Hospital - River North
Confidence Builder Puppy Social
Sun, Jan 29, 2023
10:15 am
Companion Animal Hospital - River North
Whippersnappers Puppy Social
Sun, Jan 29, 2023
11:30 am
Companion Animal Hospital - River North
Tiny Tots Puppy Social
Sun, Jan 29, 2023
12:45 pm
Companion Animal Hospital - River North
Confidence Builder Puppy Social
Sun, Feb 5, 2023
10:15 am
Companion Animal Hospital - River North
Whippersnappers Puppy Social
Sun, Feb 5, 2023
11:30 am
Companion Animal Hospital - River North
Tiny Tots Puppy Social
Sun, Feb 5, 2023
12:45 pm
Companion Animal Hospital - River North
Confidence Builder Puppy Social
Sun, Feb 12, 2023
10:15 am
Companion Animal Hospital - River North
Whippersnappers Puppy Social
Sun, Feb 12, 2023
11:30 am
Companion Animal Hospital - River North
Tiny Tots Puppy Social
Sun, Feb 12, 2023
12:45 pm
Companion Animal Hospital - River North
Confidence Builder Puppy Social
Sun, Feb 19, 2023
10:15 am
Companion Animal Hospital - River North
Whippersnappers Puppy Social
Sun, Feb 19, 2023
11:30 am
Companion Animal Hospital - River North
Tiny Tots Puppy Social
Sun, Feb 19, 2023
12:45 pm
Companion Animal Hospital - River North
Confidence Builder Puppy Social
Sun, Feb 26, 2023
10:15 am
Companion Animal Hospital - River North
Whippersnappers Puppy Social
Sun, Feb 26, 2023
11:30 am
Companion Animal Hospital - River North
Tiny Tots Puppy Social
Sun, Feb 26, 2023
12:45 pm
Companion Animal Hospital - River North
Confidence Builder Puppy Social
Sun, Mar 5, 2023
10:15 am
Companion Animal Hospital - River North
Whippersnappers Puppy Social
Sun, Mar 5, 2023
11:30 am
Companion Animal Hospital - River North
Tiny Tots Puppy Social
Sun, Mar 5, 2023
12:45 pm
Companion Animal Hospital - River North
Confidence Builder Puppy Social
Sun, Mar 12, 2023
10:15 am
Companion Animal Hospital - River North
Whippersnappers Puppy Social
Sun, Mar 12, 2023
11:30 am
Companion Animal Hospital - River North
Tiny Tots Puppy Social
Sun, Mar 12, 2023
12:45 pm
Companion Animal Hospital - River North
Confidence Builder Puppy Social
Sun, Mar 19, 2023
10:15 am
Companion Animal Hospital - River North
Whippersnappers Puppy Social
Sun, Mar 19, 2023
11:30 am
Companion Animal Hospital - River North
Tiny Tots Puppy Social
Sun, Mar 19, 2023
12:45 pm
Companion Animal Hospital - River North
Confidence Builder Puppy Social
Sun, Mar 26, 2023
10:15 am
Companion Animal Hospital - River North
Whippersnappers Puppy Social
Sun, Mar 26, 2023
11:30 am
Companion Animal Hospital - River North
Tiny Tots Puppy Social
Sun, Mar 26, 2023
12:45 pm
Companion Animal Hospital - River North
Confidence Builder Puppy Social
Sun, Apr 2, 2023
10:15 am
Companion Animal Hospital - River North
Whippersnappers Puppy Social
Sun, Apr 2, 2023
11:30 am
Companion Animal Hospital - River North
Tiny Tots Puppy Social
Sun, Apr 2, 2023
12:45 pm
Companion Animal Hospital - River North
Confidence Builder Puppy Social
Sun, Apr 9, 2023
10:15 am
Companion Animal Hospital - River North
Whippersnappers Puppy Social
Sun, Apr 9, 2023
11:30 am
Companion Animal Hospital - River North
Tiny Tots Puppy Social
Sun, Apr 9, 2023
12:45 pm
Companion Animal Hospital - River North
Confidence Builder Puppy Social
Sun, Apr 16, 2023
10:15 am
Companion Animal Hospital - River North
Whippersnappers Puppy Social
Sun, Apr 16, 2023
11:30 am
Companion Animal Hospital - River North
Tiny Tots Puppy Social
Sun, Apr 16, 2023
12:45 pm
Companion Animal Hospital - River North
Confidence Builder Puppy Social
Sun, Apr 23, 2023
10:15 am
Companion Animal Hospital - River North
Whippersnappers Puppy Social
Sun, Apr 23, 2023
11:30 am
Companion Animal Hospital - River North
Tiny Tots Puppy Social
Sun, Apr 23, 2023
12:45 pm
Companion Animal Hospital - River North
Confidence Builder Puppy Social
Sun, Apr 30, 2023
10:15 am
Companion Animal Hospital - River North
Whippersnappers Puppy Social
Sun, Apr 30, 2023
11:30 am
Companion Animal Hospital - River North
Tiny Tots Puppy Social
Sun, Apr 30, 2023
12:45 pm
Companion Animal Hospital - River North
Confidence Builder Puppy Social
Sun, May 7, 2023
10:15 am
Companion Animal Hospital - River North
Whippersnappers Puppy Social
Sun, May 7, 2023
11:30 am
Companion Animal Hospital - River North
Tiny Tots Puppy Social
Sun, May 7, 2023
12:45 pm
Companion Animal Hospital - River North
Confidence Builder Puppy Social
Sun, May 14, 2023
10:15 am
Companion Animal Hospital - River North
Whippersnappers Puppy Social
Sun, May 14, 2023
11:30 am
Companion Animal Hospital - River North
Tiny Tots Puppy Social
Sun, May 14, 2023
12:45 pm
Companion Animal Hospital - River North
Confidence Builder Puppy Social
Sun, May 21, 2023
10:15 am
Companion Animal Hospital - River North
Whippersnappers Puppy Social
Sun, May 21, 2023
11:30 am
Companion Animal Hospital - River North
Tiny Tots Puppy Social
Sun, May 21, 2023
12:45 pm
Companion Animal Hospital - River North
Confidence Builder Puppy Social
Sun, May 28, 2023
10:15 am
Companion Animal Hospital - River North
Whippersnappers Puppy Social
Sun, May 28, 2023
11:30 am
Companion Animal Hospital - River North
Tiny Tots Puppy Social
Sun, May 28, 2023
12:45 pm
Companion Animal Hospital - River North
Confidence Builder Puppy Social
Sun, Jun 4, 2023
10:15 am
Companion Animal Hospital - River North
Whippersnappers Puppy Social
Sun, Jun 4, 2023
11:30 am
Companion Animal Hospital - River North
Tiny Tots Puppy Social
Sun, Jun 4, 2023
12:45 pm
Companion Animal Hospital - River North
Confidence Builder Puppy Social
Sun, Jun 11, 2023
10:15 am
Companion Animal Hospital - River North
Whippersnappers Puppy Social
Sun, Jun 11, 2023
11:30 am
Companion Animal Hospital - River North
Tiny Tots Puppy Social
Sun, Jun 11, 2023
12:45 pm
Companion Animal Hospital - River North
Confidence Builder Puppy Social
Sun, Jun 18, 2023
10:15 am
Companion Animal Hospital - River North
Whippersnappers Puppy Social
Sun, Jun 18, 2023
11:30 am
Companion Animal Hospital - River North
Tiny Tots Puppy Social
Sun, Jun 18, 2023
12:45 pm
Companion Animal Hospital - River North
Confidence Builder Puppy Social
Sun, Jun 25, 2023
10:15 am
Companion Animal Hospital - River North
Whippersnappers Puppy Social
Sun, Jun 25, 2023
11:30 am
Companion Animal Hospital - River North
Tiny Tots Puppy Social
Sun, Jun 25, 2023
12:45 pm
Companion Animal Hospital - River North
Confidence Builder Puppy Social
Sun, Jul 2, 2023
10:15 am
Companion Animal Hospital - River North
Whippersnappers Puppy Social
Sun, Jul 2, 2023
11:30 am
Companion Animal Hospital - River North
Tiny Tots Puppy Social
Sun, Jul 2, 2023
12:45 pm
Companion Animal Hospital - River North
Confidence Builder Puppy Social
Sun, Jul 9, 2023
10:15 am
Companion Animal Hospital - River North
Whippersnappers Puppy Social
Sun, Jul 9, 2023
11:30 am
Companion Animal Hospital - River North
Tiny Tots Puppy Social
Sun, Jul 9, 2023
12:45 pm
Companion Animal Hospital - River North
Confidence Builder Puppy Social
Sun, Jul 16, 2023
10:15 am
Companion Animal Hospital - River North
Whippersnappers Puppy Social
Sun, Jul 16, 2023
11:30 am
Companion Animal Hospital - River North
Tiny Tots Puppy Social
Sun, Jul 16, 2023
12:45 pm
Companion Animal Hospital - River North
Confidence Builder Puppy Social
Sun, Jul 23, 2023
10:15 am
Companion Animal Hospital - River North
Whippersnappers Puppy Social
Sun, Jul 23, 2023
11:30 am
Companion Animal Hospital - River North
Tiny Tots Puppy Social
Sun, Jul 23, 2023
12:45 pm
Companion Animal Hospital - River North
Confidence Builder Puppy Social
Sun, Jul 30, 2023
10:15 am
Companion Animal Hospital - River North
Whippersnappers Puppy Social
Sun, Jul 30, 2023
11:30 am
Companion Animal Hospital - River North
Tiny Tots Puppy Social
Sun, Jul 30, 2023
12:45 pm
Companion Animal Hospital - River North
Confidence Builder Puppy Social
Sun, Aug 6, 2023
10:15 am
Companion Animal Hospital - River North
Whippersnappers Puppy Social
Sun, Aug 6, 2023
11:30 am
Companion Animal Hospital - River North
Tiny Tots Puppy Social
Sun, Aug 6, 2023
12:45 pm
Companion Animal Hospital - River North
Confidence Builder Puppy Social
Sun, Aug 13, 2023
10:15 am
Companion Animal Hospital - River North
Whippersnappers Puppy Social
Sun, Aug 13, 2023
11:30 am
Companion Animal Hospital - River North
Tiny Tots Puppy Social
Sun, Aug 13, 2023
12:45 pm
Companion Animal Hospital - River North
Confidence Builder Puppy Social
Sun, Aug 20, 2023
10:15 am
Companion Animal Hospital - River North
Whippersnappers Puppy Social
Sun, Aug 20, 2023
11:30 am
Companion Animal Hospital - River North
Tiny Tots Puppy Social
Sun, Aug 20, 2023
12:45 pm
Companion Animal Hospital - River North
Confidence Builder Puppy Social
Sun, Aug 27, 2023
10:15 am
Companion Animal Hospital - River North
Whippersnappers Puppy Social
Sun, Aug 27, 2023
11:30 am
Companion Animal Hospital - River North
Tiny Tots Puppy Social
Sun, Aug 27, 2023
12:45 pm
Companion Animal Hospital - River North
Confidence Builder Puppy Social
Sun, Sep 3, 2023
10:15 am
Companion Animal Hospital - River North
Whippersnappers Puppy Social
Sun, Sep 3, 2023
11:30 am
Companion Animal Hospital - River North
Tiny Tots Puppy Social
Sun, Sep 3, 2023
12:45 pm
Companion Animal Hospital - River North
Confidence Builder Puppy Social
Sun, Sep 10, 2023
10:15 am
Companion Animal Hospital - River North
Whippersnappers Puppy Social
Sun, Sep 10, 2023
11:30 am
Companion Animal Hospital - River North
Tiny Tots Puppy Social
Sun, Sep 10, 2023
12:45 pm
Companion Animal Hospital - River North
Confidence Builder Puppy Social
Sun, Sep 17, 2023
10:15 am
Companion Animal Hospital - River North
Whippersnappers Puppy Social
Sun, Sep 17, 2023
11:30 am
Companion Animal Hospital - River North
Tiny Tots Puppy Social
Sun, Sep 17, 2023
12:45 pm
Companion Animal Hospital - River North
Confidence Builder Puppy Social
Sun, Sep 24, 2023
10:15 am
Companion Animal Hospital - River North
Whippersnappers Puppy Social
Sun, Sep 24, 2023
11:30 am
Companion Animal Hospital - River North
Tiny Tots Puppy Social
Sun, Sep 24, 2023
12:45 pm
Companion Animal Hospital - River North
Confidence Builder Puppy Social
Sun, Oct 1, 2023
10:15 am
Companion Animal Hospital - River North
Whippersnappers Puppy Social
Sun, Oct 1, 2023
11:30 am
Companion Animal Hospital - River North
Tiny Tots Puppy Social
Sun, Oct 1, 2023
12:45 pm
Companion Animal Hospital - River North
Confidence Builder Puppy Social
Sun, Oct 8, 2023
10:15 am
Companion Animal Hospital - River North
Whippersnappers Puppy Social
Sun, Oct 8, 2023
11:30 am
Companion Animal Hospital - River North
Tiny Tots Puppy Social
Sun, Oct 8, 2023
12:45 pm
Companion Animal Hospital - River North
Confidence Builder Puppy Social
Sun, Oct 15, 2023
10:15 am
Companion Animal Hospital - River North
Whippersnappers Puppy Social
Sun, Oct 15, 2023
11:30 am
Companion Animal Hospital - River North
Tiny Tots Puppy Social
Sun, Oct 15, 2023
12:45 pm
Companion Animal Hospital - River North
Confidence Builder Puppy Social
Sun, Oct 22, 2023
10:15 am
Companion Animal Hospital - River North
Whippersnappers Puppy Social
Sun, Oct 22, 2023
11:30 am
Companion Animal Hospital - River North
Tiny Tots Puppy Social
Sun, Oct 22, 2023
12:45 pm
Companion Animal Hospital - River North
Confidence Builder Puppy Social
Sun, Oct 29, 2023
10:15 am
Companion Animal Hospital - River North
Whippersnappers Puppy Social
Sun, Oct 29, 2023
11:30 am
Companion Animal Hospital - River North
Tiny Tots Puppy Social
Sun, Oct 29, 2023
12:45 pm
Companion Animal Hospital - River North
Confidence Builder Puppy Social
Sun, Nov 5, 2023
10:15 am
Companion Animal Hospital - River North
Whippersnappers Puppy Social
Sun, Nov 5, 2023
11:30 am
Companion Animal Hospital - River North
Tiny Tots Puppy Social
Sun, Nov 5, 2023
12:45 pm
Companion Animal Hospital - River North
Confidence Builder Puppy Social
Sun, Nov 12, 2023
10:15 am
Companion Animal Hospital - River North
Whippersnappers Puppy Social
Sun, Nov 12, 2023
11:30 am
Companion Animal Hospital - River North
Tiny Tots Puppy Social
Sun, Nov 12, 2023
12:45 pm
Companion Animal Hospital - River North
Confidence Builder Puppy Social
Sun, Nov 19, 2023
10:15 am
Companion Animal Hospital - River North
Whippersnappers Puppy Social
Sun, Nov 19, 2023
11:30 am
Companion Animal Hospital - River North
Tiny Tots Puppy Social
Sun, Nov 19, 2023
12:45 pm
Companion Animal Hospital - River North
Confidence Builder Puppy Social
Sun, Nov 26, 2023
10:15 am
Companion Animal Hospital - River North
Whippersnappers Puppy Social
Sun, Nov 26, 2023
11:30 am
Companion Animal Hospital - River North
Tiny Tots Puppy Social
Sun, Nov 26, 2023
12:45 pm
Companion Animal Hospital - River North
Confidence Builder Puppy Social
Sun, Dec 3, 2023
10:15 am
Companion Animal Hospital - River North
Whippersnappers Puppy Social
Sun, Dec 3, 2023
11:30 am
Companion Animal Hospital - River North
Tiny Tots Puppy Social
Sun, Dec 3, 2023
12:45 pm
Companion Animal Hospital - River North
Confidence Builder Puppy Social
Sun, Dec 10, 2023
10:15 am
Companion Animal Hospital - River North
Whippersnappers Puppy Social
Sun, Dec 10, 2023
11:30 am
Companion Animal Hospital - River North
Tiny Tots Puppy Social
Sun, Dec 10, 2023
12:45 pm
Companion Animal Hospital - River North
Confidence Builder Puppy Social
Sun, Dec 17, 2023
10:15 am
Companion Animal Hospital - River North
Whippersnappers Puppy Social
Sun, Dec 17, 2023
11:30 am
Companion Animal Hospital - River North
Tiny Tots Puppy Social
Sun, Dec 17, 2023
12:45 pm
Companion Animal Hospital - River North